(1) Louisville vs. (16) North Carolina A&T
br> br>
(1) Louisville Cardinals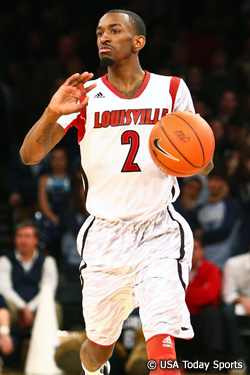 It's very rare that a Rick Pitino-coached team enters the NCAA Tournament without high expectations and this year's squad is no different. After making it to the Final Four last year and losing to the eventual champions, there's plenty of reason to believe that this year's team can advance as far and potentially have a different result. They're one of the nation's best defensive teams, allowing just 58 points a night. They tally 10 steals a game on average, second only to Virginia Commonwealth. They'll also swat four shots a game, with Gorgui Dieng leading the efforts in that category with 2.6 blocks a game. Russ Smith has taken over as the team's leading scorer with Chris Smith and Kyle Kuric now gone. He scores just under 18 a night, but sometimes is a little bit over aggressive in trying to get his points. He's really going to have to harness his aggression, especially in late game situations. The Cardinals will also have to be prepared to adjust when teams pack it in against them as they don't shoot the three particularly well. Overall, this is a very talented team with plenty of options offensively and a stout defense. If they're clicking on all cylinders, they're going to be a very tough out. After losing a five-overtime thriller to Notre Dame, the Cardinals closed out the regular season on a seven-game winning streak.
Loading ...
(16) North Carolina A&T Aggies

At the end of regular season play in the Mid-Eastern Athletic Conference the Aggies (19-16, 8-8) looked like a long shot to end a 17 year NCAA Tournament drought. However, they were able to win four games in five days and shockingly walk away with the MEAC's guaranteed invitation to the big dance. Their defense, which allows just 60 points a contest, has been a big key to their success this season. Offensively they are prone to droughts, scoring just 61 a night on 39 percent shooting from the field and 29 percent from deep on average. Adrian Powell, Lamont Middleton and Jean Louisme are their top scorers, averaging more than half of the Aggies total points. Their strength of schedule ranked 323rd and their RPI was just outside of the top 200. In order to stand a chance of advancing the Aggies have to take care of the basketball and not turn it over like they did in the regular season. They aren't expected of much coming into the tournament, but then again neither was conference foe Norfolk State when they upset Missouri last year.
HOOPSWORLD's Pick: Louisville. We've got N.C. A&T advancing past Liberty, but falling to a true title contender in the Cardinals.