(1) Louisville vs. (4) Michigan
(1) Louisville Cardinals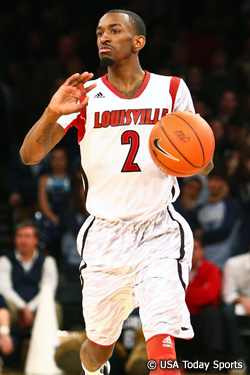 For the first time in the 2013 NCAA Tournament, the Cardinals found themselves in trouble. Wichita State looked poised to pull off the upset for much of the Final Four contest. The Shockers were on offensively, relentlessly crashed the offensive glass and took good care of the basketball, until the game's deciding moments. Louisville's defense cracked down and got the stops they needed, coinciding with an offensive explosion from Luke Hancock, who finished with 20 points, to help the Cardinals secure a 72-68 victory. Without Hancock's eruption, the Cardinals would undoubtedly be watching the championship from home because Peyton Siva and Russ Smith were really slowed down by the Shockers' defense. Siva was just 1-9 from the field, while Smith needed 17 shots to get his 21 points. The contributions of Tim Henderson off of the bench mention warrant as well. He came in and hit consecutive threes at a time when the Cardinals were dying for a bucket. In order for the Cardinals to walk away as the national champions, their backcourt has to revert back to their level of play in the Elite Eight and they can't leave as many points at the free throw line (10) as they did against the Shockers.
Loading ...
(4) Michigan Wolverines
The Wolverines are back in the national championship game, making their first appearance since the Fab Five came up short. The Syracuse Orange's zone defense had been giving teams fits in the tournament so far, but the Wolverines slowed down Michael Carter-Williams defensively and made just enough plays offensively to walk away with the 61-56 victory. Once again, freshman Mitch McGary was huge, finishing with 10 points, 12 rebounds, six assists and two blocks. The Wolverines had 13 offensive rebounds, five of which were hauled in by McGary. Trey Burke was not his usual self, finishing with just seven points and four rebounds; Nik Stauskas had his struggles as well, going scoreless in the contest. The Wolverines did get a good boost from freshman Caris LaVert off of the bench, though. Bench production will be important against the Cardinals in the national championship game. If the Wolverines can handle their pressure defense and slow down the Cardinals' backcourt, we could be seeing an upset. The Wolverines, who are the underdog going into Monday's game, have to like how they match up with the Cardinals and feel confident in their ability to defeat them.
HOOPSWORLD's pick: Louisville. The Cardinals proved that they can win ugly on Saturday and we're going to stick with them as we have with the whole tournament.