(1) Louisville vs. (8) Colorado State
(1)Louisville Cardinals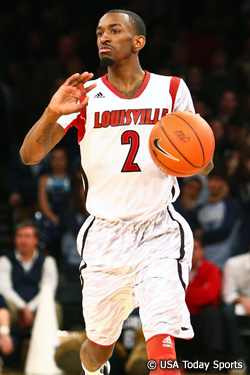 The Cardinals have become the trendy pick to win it all and on Thursday they looked every bit like a team that could rattle off five more wins. They easily dispatched North Carolina A&T 79-48 behind 23 points and eight assists from Russ Smith. The Cardinals' defense forced 25 turnovers and allowed the Aggies to shoot just 41 percent from the field. While the Cardinals didn't have any trouble with the Aggies, there are some areas they're going to have to improve in against the Rams. They shot just 13-22 from the free throw line and 4-16 from deep. They also turned it over 16 times. The Rams are a good enough team to make them pay for struggling like that, whereas the Aggies were not. The Cardinals big guys are also going to have to be ready for a physical battle in the interior. The Rams were the best rebounding team in the country during the regular season and they outrebounded a Missouri team, which was a good rebounding team in their own right previously, by 18.
Loading ...
(8) Colorado State Rams
Looked at as one of the tougher games to call on opening day, the Rams handled the Missouri Tigers with ease 84-72. Their overall depth really shined as Colton Iverson, their leader and best player, was limited to 23 minutes due to foul trouble. He was only able to score four points during that time, but did have a big impact with his rebounding. He hauled in 13 boards as the Rams doubled up the Tigers in the rebounding category. With Iverson a non-factor offensively, Dorian Green became more assertive. He got to the free throw line 12 times and finished with a game-high 26. It's important for him to be playing with a lot of confidence because he's going to have to come up huge against the Cardinals. Their defense is going to make him and the rest of the Rams' ballhandlers work hard on the offensive end. The Rams committed 14 turnovers against the Tigers and will have to be extra careful with the basketball on Saturday against the Rams because if they give it away the Cardinals are likely to turn it into points. The Rams have to play their style of basketball and see if they can get to the free throw line early and often like they did in the opening round.
HOOPSWORLD's pick: Louisville. The physical play of the Rams will bring out the best in the Cardinals' big men, who will help lead the program back to the Sweet 16.