10 Dream Trades We'd Love To See
Not every trade scenario that should happen will go down by this Thursday at 3 p.m. ET, but that doesn't mean NBA teams are not trying to complete deals. It's just that one team's dream trade might be another team's nightmare. Plus, many teams refuse to trade with a team within their division or even within their conference. Helping a long time rival, even if it helps yourself, can be more than some franchises can bare and that ruins many otherwise solid trade scenarios.
The following are trade possibilities that may never happen, but they are definitely the dream trades we would love to see go down.
1. Rajon Rondo for Paul Millsap and Alec Burks


The Celtics are proving to be more resilient than anyone could have predicted after Rondo's injury. This rapidly aging group of stars is showing they could make one last run at the NBA Finals, if only they could shore up their depleted roster. Millsap fills the Celtics' talent gap at power forward and Burks gives them some much needed depth at guard for now and in the future.
This move represents a risk for the Jazz in their attempt to make the postseason this year, but it puts an All-Star at point guard on the roster for next season and the long-term benefits well outweigh the short-term cost. The Jazz have more quality big men than they can afford to keep, so the loss of the highly effective Millsap shouldn't set them back very far.
This trade has the potential to be the answer to both team's dreams.
2. Eric Gordon for Danny Granger
The only gap in the Pacers' starting lineup is at shooting guard and acquiring Gordon would fill that hole with star level talent for the foreseeable future. Granger has become surplus with the emergence of Paul George. It's time for the Pacers to cash in on their former franchise player.
Gordon made it abundantly clear he didn't want the Hornets to match the Suns' offer sheet over the offseason, but the Hornets were not about to let him go for nothing and Granger represents precisely the kind of star player that could bring some stability and savvy to a very young and inexperienced roster.
Both players have injury concerns, but this is a trade both teams should be dreaming about.
3. Dwight Howard for Lamar Odom and DeAndre Jordan
The Dwightmare has taken his show to Los Angeles as once again the best center in the league will not commit to the team he is playing for and fiddles while Rome burns. It definitely is not the Lakers' dream to trade Howard, but the possible nightmare of watching him leave for nothing in July has to be weighing on everyone's mind. The suggestion Kobe Bryant doesn't care if Howard returns doesn't help.
Jordan is an up-and-coming center whose game does fit with Lakers head coach Mike D'Antoni's style of play and Odom has played the best basketball of his career with the Lakers and should enjoy D'Antoni's system. Just maybe Odom can find the spark in purple and gold once again. There is a good chance the Lakers would play better after this trade.
The answer to the Clippers' dream of an inside post presence is Howard. Perhaps more of a fantasy than a dream, but acquiring Howard eliminates any doubt about the Clippers being taken seriously as contenders to reach the NBA Finals this season.
Sometimes your dreams are someone else's nightmare, but a trade between two teams sharing the same building should be everyone's dream.
4. Josh Smith and Zaza Pachulia for Nikola Pekovic, Derrick Williams and Brandon Roy
The Hawks might be looking for draft picks in return for Smith, but acquiring young talent is even better and Timberwolves center Pekovic would finally give the Hawks the player that would let Al Horford be the team's starting power forward. Plus, the acquisition of Williams is significantly better than any mid-first round draft pick. One could argue the Hawks are saving this season's playoff push by making the deal.
The Timberwolves are looking to add talent and they will be hard pressed to acquire a more talented player than Smith at the trade deadline. Pachulia replaces some of the size they are losing in Pekovic and he should be much easier to re-sign in July. There is a risk Smith walks after this season, but every team looking at Smith faces that possibility and the only defense is the max contract no other team can offer. Moving Love to center with Smith at power forward and Pachulia backing them up would be a dream big man rotation in Minnesota next season.
Both teams will face the situation where the key players they acquired will be free agents next summer, but in part that is what makes this a dream trade for both teams.
5. Danny Granger for Shawn Marion and Vince Carter
Sometimes a team is so close to contending that the best move is to trade the present for the future and just go for it. Carter can start and give the Pacers at least 24 minutes of high quality play per night and Marion represents a huge upgrade backing up both forward positions.
The Mavericks' season is toast. If Mark Cuban can add a star to build around next year with Dirk Nowitzki, that's a move he can't afford to pass up.
This trade probably only helps the Pacers this season and next, but when you have a chance to contend, that is what dreams are all about.
6. Carlos Boozer for Andrea Bargnani (and parts)
Toronto has been shopping Bargnani since before he was injured and, as he represents the Raptors' biggest trade asset, team president and general manager Bryan Colangelo has been justifiably cautious in his approach. Boozer would represent the addition of a veteran star player that could take this franchise to the next level and build on the recent addition of Rudy Gay. The only downside is it will move the Raptors into luxury tax territory for the foreseeable future.
The Bulls, however, appear to be dreaming about a life without luxury taxes this summer and trading Boozer may be the only option they have to accomplish that goal. Sure Bargnani can stretch the floor and provide some scoring and Taj Gibson will be on a more level playing field in the fight for minutes, but this would be a financial trade on the Bulls side. Some dreams are made of money.
In Toronto, the fans have been dreaming about a return to the postseason and possibly contending one day. This trade would further that dream along nicely. Besides, it seems Bulls fans have dreamed about moving Boozer since the day he arrived.
7. Kris Humphries and MarShon Brooks for Ersan Ilyasova and Drew Gooden
The dream in Brooklyn is Josh Smith, but the dream that could come true is Ersan Ilyasova. The Nets need a forward that can provide scoring without giving up too much on the rebounding side. While Reggie Evans gives them copious rebounding numbers, it is almost scary to see him try to finish an unguarded layup. Ilyasova is a proven double-digit scorer in 24 minutes a game and might be all that is needed to take this high-priced Brooklyn roster to the next level. The Nets can dream, can't they?
Ilyasova has always looked like he didn't belong in Milwaukee. No matter how well he has played, he never seems to gain the full confidence of his coaches. Gooden is just the price of taking on Humphries' massive contract, but maybe he can find a role in Brooklyn. Humphries' career should get a bounce with the Bucks and getting a promising young shooting guard while moving out Ilyasova and Gooden's contracts looks like a dream come true in Milwaukee.
8. Vince Carter for Iman Shumpert (and parts)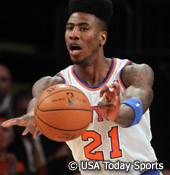 The Knicks are old, brittle and have just enough pieces to threaten the HEAT in the Eastern Conference if only they had a starting wing player that could give them 24 to 30 minutes a night of high quality play. Carter could be the veteran addition to this veteran roster that takes some of the pressure off Jason Kidd and the risk out of relying on Shumpert.
While Shumpert isn't a dream acquisition for Dallas, he is the type of young talent that could help the Mavericks as they retool their roster for next season.
Carter represents a short-term solution to a short-term problem, but the Knicks' dream is to get to the Finals now.
9. Jonas Valanciunas for DeMarcus Cousins
When Cousins keeps his head in the game, he is a star already. The problem is that far too often Cousins losses control of his emotions to his team's detriment. For Toronto, acquiring Cousins eliminates waiting on rookie center Valanciunas to develop and puts a star quality center in their starting lineup immediately.
If Cousins hasn't earned a trip out of town for a fresh start in Sacramento no one has, but there is no way this team can afford to lose a player with this much obvious ability for nothing. Where Cousins can be hot-headed and confrontational, Valanciunas is controlled and attentive and Valanciunas has the potential to become a star center in the future.
Ownership issues in Sacramento may prevent this deal from ever happening, but it could be the dream deal both teams need. It's hard to believe Kings head coach Keith Smart wouldn't be quietly dreaming about a move like this one.
10. Andrew Bynum for Josh Smith (and parts)
When Bynum is healthy, he is considered to be the second-best center in the NBA and there is no better addition out there to play beside Al Horford in the Hawks' frontcourt. If the Hawks dream at all, they should be dreaming of Bynum becoming their starting center.
Smith would give the 76ers one of the most athletic starting lineups in all of the NBA and would immediately take the sting out of watching Bynum resting his sore knees for all of this season.
This dream trade defines how risky trade deadline deals can be as both teams could find themselves with nothing to show for it in July. However, the high risk comes with high reward as the Hawks rebuilding period could be over in October and the new look 76ers will have a shot at the playoffs this year and beyond. This is the stuff dreams are made of.
These trades are the dream moves we would love to see and neither Paul Pierce nor Kevin Garnett is in the mix. Trading the Celtic-for-life or a star that bleeds his team's colors isn't a dream, it's a tragedy. But, the Lakers traded away Shaquille O'Neal for zero All-Stars in return, Pau Gasol was shipped off from Memphis for a package centered around Kwame Brown that hinged on Aaron Mckie un-retiring for two seconds and just two seasons ago the same team traded for the bloated contracts of Gilbert Arenas and Hedo Turkoglu. So, you never know what could happen when it comes to trades.
Are there any dream trades that you would like to see happen by Thursday? Comment below.