2013-2014 Toronto Raptors Season Preview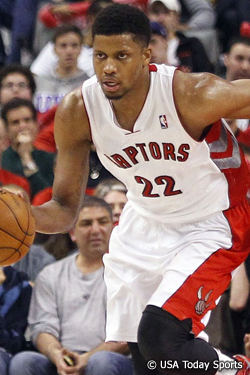 After a dreadful, injury-plagued start to the 2012-13 season, the Toronto Raptors nearly snuck into the playoffs after acquiring Rudy Gay from the Memphis Grizzlies in a midseason blockbuster trade. Gay joined Kyle Lowry, DeMar DeRozan, Jonas Valanciunas and Amir Johnson among others to form a talented young core. After last season's strong finish, the Raptors are hoping to pick up right where they left off and end their five-year playoff drought this season. Toronto hired general manager Masai Ujiri away from the Denver Nuggets, and he put his fingerprints on the team right away by trading Andrea Bargnani to the New York Knicks for a package that included Steve Novak and three draft picks. Now, Toronto is hoping to make the playoffs, and it seems like a realistic goal.
- Alex Kennedy
In & Out
Additions: D.J. Augustin, Tyler Hansbrough, Dwight Buycks, Austin Daye, Steve Novak
Subtractions: Andrea Bargnani, Alan Anderson, Linas Kleiza, John Lucas III, Mickael Pietrus, Sebastian Telfair
Five Guys Think…
Whatever happens on the court this season, the hiring of last season's Executive of the Year Masai Ujiri means the Raptors have a bright future ahead of them.  The Raptors finally purged themselves of Andrea Bargnani, paving the way for a breakout season from second-year center Jonas Valanciunas.  People around the club are excited, not only about that, but about having a full training camp with Rudy Gay and what that means for the outlook of the team.  Kyle Lowry is healthy again, DeMar DeRozan and Gay are geared up to score a ton of points, and the power forward rotation (Amir Johnson, Tyler Hansbrough, Quincy Acy) looks ready to bang some heads.  The Raps might not make the playoffs, but they're not going to be an easy win this year.
3rd place – Atlantic Division
– Joel Brigham
It's really difficult to get a read on the Raptors. On one hand, they have the talent to remain in the Eastern Conference playoff hunt for much of the season. On the other hand, Masai Ujiri wouldn't even commit to keeping this core group together when talking at the NBA Summer League in Las Vegas. It sounds like the Raptors aren't sure what direction they're heading in at this point. If they experience success right out of the gate and exceed expectations, Ujiri will probably keep the team together as currently constructed and see what they can do. If they struggle at the start of the year and seem headed for the lottery, it's possible that Ujiri blows up the roster. As if Ujiri didn't have a hard enough decision on his hands, top 2014 prospect Andrew Wiggins is Canadian and has went on record to say that he'd love to play for the Raptors. Regardless of what happens, expect Jonas Valanciunas to have a big season in 2013-14. He'll have an increased role in the upcoming season and, if his summer league play was any indication, he may be due for a breakout campaign.
3rd place – Atlantic Division
- Alex Kennedy
There's a lot on the line in Toronto and so many guys tied to the franchise will enter the season with something to prove. Forward Rudy Gay has a player option for the 2015 campaign and depending on his play could opt out to test free agency in order to secure a multi-year deal elsewhere. Point guard Kyle Lowry is in the final year of his current contract. So is head coach Dwane Casey.  But putting all of the contract talk aside for a moment, the Raptors are in a solid position to make a playoff push in the Eastern Conference. The team invested heavily in their reserve unit  for this season by bringing in Tyler Hansbrough, D.J. Augustin, Austin Daye and Steve Novak via free agency and trade. However, the team's improvement could come from the organic growth of center Jonas Valanciunas and guard Terrence Ross. If both guys make significant strides, combined with the play of Gay, Lowry and DeMar DeRozan and decent contributions from the improved bench the Raptors could make some noise. Lots of ifs involved in this scenario, but not outside the realm of possibility.
3rd place – Atlantic Division
- Lang Greene
The Raptors made a huge acquisition this summer by signing the reigning Executive of the Year Masai Ujiri away from the Denver Nuggets. Ujiri is one of the best young general managers in the league and someone who will build the Raptors back into a playoff team one day. He's yet to make his imprint on this team, though, because that day may already be here. Ujiri didn't inherit a bare cupboard; the Raptors roster is littered with intriguing pieces, from a legitimate go-to scorer in Rudy Gay, a dynamic wing in DeMar DeRozan and a young big man in Jonas Valanciunas who looks poised to come into his own amongst others. Ujiri is wisely taking the slow and cautious approach, seeing what he has first before making significant moves. The opening months of the season will tell him a lot. This team should be the third best team in the Atlantic Division without any trouble with the talent they have. If Dwane Casey can get the defense up to par, the playoffs shouldn't be much trouble either.
3rd place – Atlantic Division
- Yannis Koutroupis
Like quite a few other teams in the Eastern Conference, the Raptors are a team in transition. Two of the franchise's mainstays over the past seven years—Bryan Colengelo and Andrea Bargnani—are both gone. Newly installed general manager Masai Ujiri will continue to put his fingerprints on the Raptors and head coach Dwane Casey need be weary. Overall, the Raptors are probably a much more talented bunch than their 2012-13 record of 34-48 would suggest. With Kyle Lowry, DeMar DeRozan, Rudy Gay and Jonas Valanciunas, the team has some talented pieces that should enable it to remain competitive for the playoffs. The major question marks are Gay and DeRozan, at 27 and 24 years old, respectively, the clock is ticking. Each has loads of talent, but at this point in their respective careers, still mostly represent untapped potential. In Gay's case, he was widely considered overpaid when he signed a five-year, $80 million max. contract in July 2010. With a strong season and a playoff push, Gay can shake that label and DeRozen can elevate his status among the league's better shooting guards. They may also save coach Casey's job in the process.
3rd place — Atlantic Division
- Moke Hamilton
Top Of The List
Top Offensive Player: Rudy Gay. Gay led the Raptors in scoring last season with 19.5 points per game. There's no denying that Gay can put points on the board either by knocking down jump shots or attacking the basket. However, the small forward isn't the most efficient player, as evidenced by his 42.5 percent shooting from the field and 2.8 turnovers per game in his 33 contests with the Raptors last season. If Gay can become a more efficient scorer, he has the size, length and athleticism to be a match-up nightmare.
Top Defensive Player: Amir Johnson. Even though Johnson spent the majority of the 2013-14 season as a reserve, the 26-year-old led the Raptors in blocks per game with 1.4 and also managed to average 1.0 steal per game. During the 2013-14 season, Johnson should be the full-time starter at the power forward position so his minutes and production will likely increase. Lowry is Toronto's best perimeter defender due to his physical play and ability to disrupt the passing lanes.
Top Playmaker: Kyle Lowry. For much of the 2012-13 season, Lowry battled back spasms as well as torn triceps, which limited him significantly on the court. However, he still managed to average 6.4 assists. This season, expect a huge year for Lowry since he'll finally be healthy and he'll have more weapons around him. During the final month of the season, Lowry averaged 8.6 assists, which is a sign of what's to come this year.
Top Clutch Player: Rudy Gay. Less than two weeks after the Raptors acquired Gay last February, the small forward showed why he's the top clutch player in Toronto when he hit two game-winning shots in the span of three games. After he beat the Indiana Pacers and Denver Nuggets with last second shots just a few days apart, Casey declared Gay the team's closer. The stats back up this decision, as Gay ranked 19th in the NBA in clutch scoring last season.
The Unheralded Player: Jonas Valanciunas. Last year, Valanciunas had a strong rookie season in which he averaged 8.9 points, 6.0 rebounds and 1.3 blocks in 23.9 minutes. However, the 21-year-old's best basketball came late in the year. Valanciunas won the Eastern Conference Rookie of the Month award in March after averaging 11.4 points, 7.3 rebounds and 1.1 blocks, and his scoring average climbed to nearly 15 points per game in April. Expect an increased role for him this season, which means he likely won't unheralded for long.
Best New Addition: Tyler Hansbrough. While it's tempting to list Bargnani's departure due to the potential addition by subtraction or Ujiri since he'll rebuild Toronto into a winner, the Raptors' biggest on-court addition was Hansbrough. He has career averages of 8.9 points and 4.7 rebounds in 246 games, and he'll be a significant reserve for Toronto. Hansbrough is a high-energy player whose hustling and toughness are contagious. Also, Hansbrough is a proven winner, winning a national championship in college and playing in 35 postseason games in four years.
Who We Like
1. Masai Ujiri – In just a few years, Ujiri went from being a relative unknown tasked with trading away Carmelo Anthony to being one of the most respected executives in the league. He has an excellent track record and helped Denver navigate the post-Carmelo era, winning a franchise-record 57 wins last season. Now in Toronto, he kicked off his first offseason with the Raptors with some excellent moves. Not only did he manage to trade Andrea Bargnani when his value was at an all-time low, he acquired three players, a first-round pick in 2016 and second-round selections in 2014 and 2017. Ujiri has done a great job with trades and signings, and he's also widely regarded as a top-notch talent evaluator. The Raptors are in good hands with Ujiri going forward.
2. Jonas Valanciunas – Toward the end of last season, Valanciunas started to break out and show why there are so many people within the Raptors organization that are excited about the big man. In the month of March, he averaged 11.4 points, 7.3 rebounds and 1.1 blocks while shooting 62 percent in March. Then, in the month of April, Valanciunas' averaged increased to nearly 15 points per game. As if that wasn't enough to get you excited, Valanciunas was named the MVP of the NBA Summer League in Las Vegas after he averaged 18.8 points and 10.0 rebounds in four games. The big man has put on weight and seems poised to take on an increased role during the 2013-14 season. Don't be surprised if Valanciunas becomes one of Toronto's focal points this year because he certainly seems ready.
3. DeMar DeRozan – This could be the year that DeRozan breaks out and starts to realize his full potential. This offseason, he was forced to grow up and mature because he had a child. He has also improved as a leader for the Raptors. Rather than doing his own this thing this summer, he was in attendance at the NBA Summer League in Las Vegas, supporting Toronto's young players (impressively, with the newborn in his arms). Last season, DeRozan played well alongside Rudy Gay and he should do well in his first full season next to the small forward. On several occasions, DeRozan has said that he expects the Raptors to make the playoffs in the 2013-14 season. If he can take the next step in his development, that goal may become a reality for Toronto.
4. Terrence Ross – At this point in his career, Ross is mainly known for winning the 2013 Slam Dunk Contest, but that should change in the coming years. The 22-year-old has a lot of upside and it's only a matter of time until he becomes a significant contributor for the Raptors. Not only is Ross a terrific athlete, he's someone who can score in a variety of ways. He's also an extremely hard worker who is determined to maximize his potential. There are a lot of veterans ahead of Ross on the depth chart, but he's someone who could emerge as a franchise cornerstone in Toronto in the coming years.
5. Kyle Lowry – As previously mentioned, Lowry was injured for much of last season. If he's healthy in the 2013-14 campaign, he should be able to fill the stat sheet and ensure that the Raptors are competitive every night. While Lowry's fiery personality has gotten him into some trouble in the past, it's also one of the reasons why his teammates love him and will run through walls for him. Lowry just wants to win and will do whatever he can to put his team in position for success. Lowry has been friends with Rudy Gay, DeMar DeRozan, Amir Johnson, Austin Daye and Terrence Ross for years, even before they were on the same team. That's because they all work out at Impact Basketball in Las Vegas during the offseason. Those off-court relationships are always good for chemistry, and it's particularly beneficial for Lowry because he knows exactly where his teammates like the ball and has a nice rhythm with them due to their summer training sessions.
- Alex Kennedy
Strengths
Toronto has a very talented starting lineup of Lowry, DeRozan, Gay, Johnson and Valanciunas, as well as a promising sixth man in Terrence Ross. The Raptors' chemistry is one of their biggest strengths because many of their core players have been friends for years. Over the past few summers, Lowry, DeRozan, Gay, Johnson and Ross among others trained together at Impact Basketball in Las Vegas, and then they all happened to land in Toronto. With so many weapons, the Raptors have the potential to be one of the best offensive teams in the league this season.
- Alex Kennedy
Weaknesses
Raptors head coach Dwane Casey emphasizes defense, but Toronto must improve on that end of the floor if they want to make the playoffs this season. The Raptors' opponents shot 45.8 percent from the field (18th in the NBA), scored an average of 98.7 points per game (17th in the NBA) and turned the ball over just 13.7 times per game (20th in the NBA). Toronto allowed 104.7 points per 100 possessions, which ranked 22nd in the NBA. The team needs to improve their shooting percentages as well since they shot 44.6 percent from the field (20th in the NBA) and 34.3 percent from three (26th in the NBA).
- Alex Kennedy
The Burning Question:
How good will Rudy Gay be in his first full season in Toronto?
Gay played very well for the Raptors after joining the team last February, averaging 19.5 points, 6.4 rebounds, 2.8 assists and 1.7 steals as Toronto's focal point. However, he only played 33 games for the Raptors so the sample size was relatively small. How well Gay plays in his first full season with the team will likely determine just how successful Toronto will be. If his numbers drop and he struggles, it's unlikely that the team will make the postseason. However, with the transition period, offseason and training camp under his belt, Gay could be even better and have a breakout year. The Raptors are hoping for the latter because they desperately need the 26-year-old to play to his full potential.
- Alex Kennedy