2013 adidas Eurocamp Notebook
With the first full day of adidas Eurocamp 2013 wrapped in Treviso, Italy, the overall talent level of the players involved wasn't spectacular. There were several players on the NBA Draft radar that did get their chance to showcase their game, and it has produced some opinions for sure.
There are a few general themes NBA teams talk about when discussing the talent at Eurocamp, the biggest being that they want to see signs of progression. For many of the draft prospects on the floor this week, this the second time they have been through Eurocamp or, at the very least, the second or third time NBA teams have seen them in a competitive environment and they want to see growth both in their games and their physical approach to basketball.
Here are some notes on the standouts from day one:
Lucas "Bebe" Nogueira – 7'0, 213 pounds, Center
Nogueira worked out on both Friday and Saturday and has shut down the process for the reminder of the camp. In his two days in front of NBA teams, it's clear that he has serious NBA potential. Despite a super slender frame, NBA executives believe that Lucas can put on weight, with one executive saying in the end his ideal size might be in the 230-pound range and felt strongly that level of bulk and strength gain could be achieved with his frame.
Nogueira opted against doing video interviews and did all of his media sessions with the help of his agent, Aylton Tesch, as a translator. One team found that amusing, saying Lucas had great English in their talks with him.
During the media sessions, via translator, Nogueira compared his style of play to Knicks forward Marcus Camby and Memphis forward Darrell Arthur.
Nogueira also said that he would be fine if the NBA team that drafted him wanted to have him stay in Europe for another year, but was honest that he preferred to come into the league but knew that he'd have to land in the right situation and with a team that has a defined plan for him, for him to ultimately have success.
The general opinion among the scouts and executives in Italy is that Lucas would be drafted in the first round; the question remains how high will a team reach to get a super long and athletic front court player that's going to need some time before he really contributes.
Raul Neto – 6'1, 186 pounds, Point Guard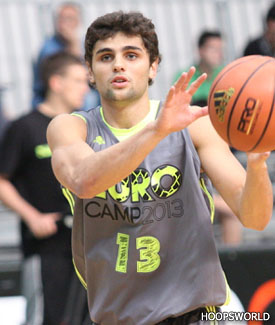 Neto is a polarizing player among NBA personnel here in Italy. In an informal sampling of about a dozen NBA teams, almost half pegged Neto as undrafted, while the other half pegged him as a late second round pick that likely stays overseas.
The big complaint on Neto is that he is not a stellar athlete, however almost half of the dozen teams that commented about him said virtually the same thing. He could go undrafted but in the next three years find his way to the NBA as a free agent after he gains more experience and craft to his game.
Neto may not have enough potential to get himself drafted, but there are some teams that will continue to monitor his progression if he stays outside the NBA.
(Check out HOOPSWORLD's interview with Raul Neto here.)
Augusto Lima – 6'9, 206 pounds, Power Forward
Like Leto, Augusto has his fans among the NBA executives here in Italy. He is a tough and bruising big man who likes to mix it up. He understands who he is as a player and it's clear in talking with teams that he has a shot at being drafted. The knock on Lima is that, very much like Leto, he is not a spectacular athlete and at the next level speed and power are huge parts of the NBA game.
Lima could go undrafted, simply because there could be more athleticism and upside on the board, especially late in this draft.
Lima has a shot, although it seems like a smaller one.
(Check out HOOPSWORLD's interview with Augusto Lima here.)
 Mindaungas Kupsas – 7'1, 209 pounds, Center
Kupsas was in the 2012 NBA Draft for a few weeks before pulling out to return to Lithuania. The big knock on Kupsas last year after working out for a few teams was his strength and power and it's clear he has committed a lot of time to improving that area and that hasn't gone unnoticed by teams here in Italy.
Kupsas is a legit seven-footer with all kinds of potential. He has some solid moves in the post and is a better than expected defender.
The challenge for Kupsas is the depth of this draft at the center position. There are more than 19 players in the 2013 draft that have measured 6'10 or bigger, and Kupsas isn't nearly as refined as some of the players in front of him. Kupsas could have some appeal in a "draft and stash" scenario where a team grabs him and his draft rights in the second round and has him stay in the international game to develop. There is value for the player in that scenario as international teams might invest a little more in Kupsas on a new deal knowing that at some point they might get an NBA buyout for him down the road.
Kupsas is an interesting draft prospect. The question is, with so many bigs in the draft does a team grab one of the more polished players earlier and leave Kupsas without a chair?
Dante Exum – 6'4, 194 pounds, Guard
Exum is not in the 2013 NBA Draft class, but he has been in the gym in Italy throughout all of the workouts. Exum is dealing with a stress fracture and has not played, but did do some light shooting yesterday.
Exum exudes potential. He is a long and rangy player with all kind of moves and skills. He is listed as a point guard on the rosters here at Eurocamp, but can really play either guard spot. There is a scenario in which Exum could graduate from high school in Australia in December making him NBA draft eligible in 2014.
Exum has taken part in a number of showcase events this year, which makes it hard to believe that he's not trying to get a solid feel for what his NBA stock could be. Executives that would comment on Exum were guarded in what they had to say, but it's clear that Exum is absolutely on the NBA radar and that he is almost a lock to be a lottery-level pick, the question is will it be in 2014 or will he make a pit stop in the NCAA for a season and be one of the headliners of the 2015 NBA Draft?
Rudy Gobert – 7'0, 212 pounds, Center
Gobert was scheduled to participate in some workouts, however word hit the Eurocamp yesterday that he came down with food poisoning and was taken to the hospital. A couple of executives laughed at the report, saying that he likely pulled out because his camp has enough of a sense that he'll be drafted in the first round that all he could do was lose ground in Treviso.
Gobert continues to be talked about a long-term project that wouldn't be ready to contribute in meaningful way in the NBA next season. There is legitimate interest in Gobert and most believe he'll go in the 20-to-30 range in the first round.
Giannis Adetokunbo, 6'9, 196 pounds, Small Forward
Adetokunbo did not participate in Eurocamp, however he did play in a tournament roughly 45 minutes from Treviso, which most of the NBA teams attended. The overall word on Adetokunbo is that he is super raw but has NBA size and some level of NBA skill. Adetokunbo didn't blow the doors off the gym yesterday and that left some scouts questioning how good he could be at the next level as he was clearly the best talent in the gym. The joke surrounding Adetokunbo is that he is the "international man of mystery" because no one seems to have a good read on his potential, except to comment on his size and frame.
It's becoming clear that if Adetokunbo goes in the first round as many are projecting, he may be something of a long-term project and that might severely limit the number of teams in which that makes sense.
Look for more from adidas Eurocamp over the next few days and make sure to follow @stevekylerNBA for the latest news, notes and video from Treviso.