2013 NBA Draft: Six Potential Sleepers
One of the biggest keys to having a successful draft is landing sleepers. Sleepers are players whose draft position is not anywhere near indicative of their end value. Manu Ginobili (58th pick in 1999), David Lee (30th pick in 2005) and Marc Gasol (48th pick in 2007) are some of the best examples the league has to offer of sleepers. Sleepers can help salvage a team's draft or take it from being just good to great. But, sleepers are also the hardest to identify. With that being said, HOOPSWORLD tries to pinpoint six players with the most potential to be the sleepers of the 2013 NBA Draft class.
There are a couple of things that immediately start to work against Iverson and his draft stock. First, he only had one good year in college, which came at Colorado State after transferring from Minnesota, where he put in three modest seasons of work. Second, he'll turn 24 shortly after the draft. That makes him one of the older prospects in the draft, where youth is a very valued commodity. Those two things are really going to work against Iverson when being evaluated, but they become virtual non-factors the day after the draft.
Once Iverson gets into the league, his size, strength and willingness to do the dirty work should help him put together a lengthy career. Iverson has really taken to his predraft training, shedding the body fat to help his end-to-end speed and putting in a lot of time on his mid-range jump shot. He has all the necessary tools to be a solid backup center for many years to come.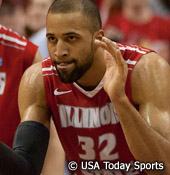 The more that NBA scouts and executives get to learn about Carmichael, the more they find out there is to like. Carmichael has been one of college basketball's best kept secrets over the last two years, hiding out at Illinois State where he developed into one of the best four men in the country.
If Carmichael played at a high major school, odds are he's a surefire first rounder. He brings everything a NBA power forward needs to bring to the table with underrated athleticism, a reliable face-up game, length, speed and toughness. Because he's unproven against elite competition and a senior, odds are Carmichael lasts past the first round. However, expect him to be snatched up early in the second because he is definitely good enough to be on a NBA roster next season.
Everything was in place for Kabongo to have a breakout sophomore campaign. He was going to be in charge of the offense and allowed to showcase his full skill set as a point guard in a manner he wasn't able to as a freshman. However, Kabongo ended up getting in trouble with the NCAA during the offseason and as a result lost all but 11 games in what ended up being his final year of college.
Although Kabongo was solid in his 410 minutes of action this past season, it wasn't enough to keep his place as one of the top-ranked point guards. Now he's grouped up with guys like Erick Green, Lorenzo Brown, Ray McCallum, Pierre Jackson, Isaiah Canaan and Phil Pressey who could go anywhere from 25-60.
As the youngest of the group with an incredible amount of quickness and court vision, there's a lot of reason to like Kabongo the most. If he had played a full season, we're likely talking about a guy going in the top 20, he has that kind of talent. In the right program he could end up being one of the steals of the draft.
From a national perspective Ennis may not be getting a lot of attention yet, but in NBA circles he's helped his much as anyone since the end of the season. Ennis has taken every opportunity to showcase his game, a novel approach that so many have surprisingly gotten away from. Ennis shined at the Portsmouth Invitational, was solid at the predraft combine in Chicago and recently put forth another great effort at the group workout in Brooklyn. This all comes after Ennis made a huge jump from his junior to senior year at Long Beach State.
With such great size, length and scoring ability, Ennis should be able to fit in with any team and style. There are some concerns about how is going to fair once he's consistently playing against the best players the world has to offer, but so far throughout the predraft process Ennis has done nothing but improve his stock. He's now a viable early second round pick, but down the line he could end up being one of the most capable scorers this class has to offer.
They say you're supposed to leave for the NBA when your stock is hot. After his freshman season at Arizona, Jerrett's was anything but. He averaged 5.2 points and 3.6 rebounds in 17.8 minutes of action a night, which is respectable, but far from "leave-now" numbers. Jerrett didn't feel comfortable with the role that he had as a freshman, though, and with the star-studded recruiting class, which is quite frontcourt heavy, coming into Arizona, he felt it was in his best interest to leave.
After getting over the initial underwhelming feeling that comes from watching Jerrett as a freshman, there's actually some serious intrigue there. He's big and skilled with the ability to really stretch out defenses with his ability to shoot the ball. The fact of the matter is, we don't have any idea how good Jerrett is right now, let alone how good he really could be. He certainly has the makings of a solid pro, and some team in the middle-to-late portion of the second round could reap serious benefits down the line.
To say that Ledo is one of the draft's biggest mysteries may be an understatement. Ledo was a highly-regarded prospect in high school and was firmly on the draft radar, but was never ever to get his eligibility intact so that he could actually play. So, all talent evaluators have to go after on Ledo is high school film, practices at Providence and his performance at the combine. That's nothing in comparison to what they have on most prospects.
Ledo is still in a great position to get drafted, though, which says a lot about his natural talent. Most guys would fall off the radar in the same circumstances, but with his size, versatility and ball handling skills a lot of teams are looking at Ledo as one of the most promising two guards in the draft. What works against Ledo is there is a lot of proven talent at the two guard spot in this year's class, so he's going to have to wait for a team willing to take a chance on him. That may not come until later in the second round, but once Ledo lands on a team he'll finally be able to focus solely on basketball and put all of the troubles of the past behind him. That should help him tap into his immense potential.