2013 NBA Playoffs: Top 5 Studs and Duds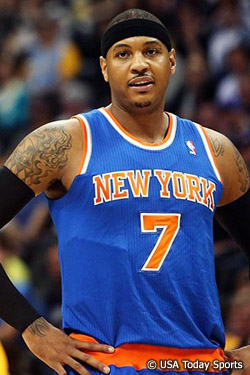 The 2013 NBA postseason is in full swing with teams from coast-to-coast already battling it out to see who has what it takes to make it out of the first round. Playoff basketball is what has separated the men from the boys throughout NBA history with players cementing their legacy – for better or worse.
That being said, let's take a look at who has distinguished themselves on both sides of the coin to start the 2013 NBA Playoffs:
Top 5 Studs:
Carmelo Anthony, New York Knicks
2013 Playoff Stats: 35 PPG, 45.3 percent shooting, 5 RPG
Anchoring two lopsided victories for the Knicks against the Boston Celtics, the NBA's regular season scoring champ has continued his scorching play into the playoffs. The Knicks forward leads all players in scoring by a wide margin over the first two games of the 2013 postseason and continues to be the key factor in NY's success. Even against a stout Celtics' defense that has him squarely in their crosshairs, Anthony has imposed his will as the Knicks look to cruise through the first round.
Stephen Curry, Golden State Warriors
2013 Playoff Stats: 24.5 PPG, 46.5 percent shooting, 11 APG, 4.5 RPG, 2.5 SPG
Golden State should have crumbled in Game 2, missing it's only All-Star in David Lee for the rest of the year, but they didn't because of the 25-year-old Curry's heroics. Second among active players this postseason in assists per game, the point guard has put the Warriors on his back against one of the deepest teams in basketball in Denver. Curry continues to build on what should have been an All-Star regular season by playing some of his best basketball of the year when it counts the most.
Paul George, Indiana Pacers
2013 Playoff Stats: 25 PPG, 41.2 percent shooting, 9.5 RPB, 7.5 APG, 2.5 steals per game
The NBA's Most Improved Award-winner for the 2012-13 season has taken his game to another level closing out the month of April. Posting LeBron James-like numbers through the first two games of the postseason, George is in the top five in scoring per game and tied for third in steals per game. The key has been George's ability to get to the line at will as he's made 21 of 25 attempts, which is the second-most attempts and makes so far in these playoffs.
LeBron James, Miami HEAT
2013 Playoff Stats: 23 PPG, 60 percent shooting, 9 RPG, 7 APG
The likely MVP of the 2012-13 NBA season, James is picking up right where he left off. He has led Miami to a 2-0 series lead against the Milwaukee Bucks. Miami's leader in points, assists and rebounds per game during the regular season has gone about his business as usual, powering the HEAT in all three categories this postseason. When James is playing at his peak, there's no beating the HEAT.
Andre Miller, Denver Nuggets
2013 Playoff Stats: 23 PPG, 68 percent shooting, 5 APG, 4 RPG
The wily veteran has come out with a vengeance to start the 2013 postseason, leading the Nuggets to victory in Game 1 against the Golden State Warriors. Miller's creaky knees blew by the Nuggets' defense in the waning seconds of the first game of the series as the 37-year-old's layup clinched a victory as time expired. It's unlikely that Miller will continue to nail nearly 70 percent of his shots and average 20+ points per game, but right now he has to be considered among the league's best this postseason.
Honorable Mention:
Kevin Durant, Oklahoma City Thunder
2013 Playoff Stats: 26.5 PPG, 42.5 percent shooting, 6.5 APG, 5 RPG
There's been no stopping Durant early on in these playoffs as OKC's MVP continues to give opposing defenses headaches on a nightly basis. The NBA's third-leading postseason scorer has propelled the Thunder to a 2-0 series lead over the upstart Houston Rockets.
Chris Paul, Los Angeles Clippers
2013 Playoff Stats: 23.5 PPG, 57.1 percent shooting, 8 APG, 1.5 SPG
The best player on arguably the most impressive playoff team right now continues to prove why his name should be on the short list of elite NBA point guards. Paul has led the Clippers to two convincing victories over the Memphis Grizzlies, another sleeper team that some picked to make it out of the crowded West.
Top 5 Duds:
Tyson Chandler, New York Knicks
2013 Playoff Stats: 1.5 PPG, 25 percent shooting, 5 RPG
Clearly playing hurt after limping into the postseason with a neck injury, the former Defensive Player of the Year has played dismal basketball for New York. Chandler has played limited minutes over the first two games and it's clear that his body isn't keeping up with what he wants to do on the court. The Knicks center missed 16 of the team's final 20 games to close out the season and NY needs Chandler closer to 100 percent in order to compete in the East.
Luol Deng, Chicago Bulls
2013 Playoff Stats: 10.5 PPG, 35.7 percent shooting, 6 RPG
The Bulls' leading scoring over the course of the regular season has failed to provide consistency through the first two games of the first round of the playoffs. Game 1 saw Deng struggle to just six points on 3-11 shooting in 38 minutes of the Bulls' 106-89 defeat to the Nets. Deng showed signs of life with a team-high 15 points and 10 rebounds in Game 2 and the Bulls are hoping that propels the former All-Star in Game 3.
Kevin Garnett, Boston Celtics
2013 Playoff Stats: 10 PPG, 38.1 percent shooting, 10 RPG, 5 fouls per, 3 turnovers per
Despite the Celtics' efforts to lean on the 17-year NBA vet, Garnett hasn't been able to put Boston on his back as in playoffs past. Garnett has struggled to gain any traction against the Knicks, shooting just over 38 percent from the field while averaging almost five points fewer than his season average (14.8). Boston's big man has failed to put up enough points for a Celtics team in desperate need of some scoring punch.
Jeremy Lin, Houston Rockets
2013 Playoff Stats: 5.5 PPG, 28.6 percent shooting, 3.5 APG, 3 turnovers per
Even before leaving Game 2 with a chest injury, Lin's play hasn't been up to snub through the first two playoff games for the Rockets. Adding insult to injury, Patrick Beverly showcased his game and outplayed Lin thoroughly – finishing Game 2 with 16 points, six assists and 12 rebounds. The start to Linsanity's postseason career has been dismal, with Lin's numbers falling drastically across the board from the regular season to the playoffs.
Jason Terry, Boston Celtics
2013 Playoff Stats: 4.5 PPG, 23.1 percent shooting, 1.5 APG
One of the biggest factors in the 2011 Dallas Mavericks' championship run has come up small this postseason for the Celtics. The former Sixth Man of the Year has put up the worst postseason numbers of his career through two games and he's been Boston's most ineffective player on offense.
Dishonorable Mention:
Zach Randolph, Memphis Grizzlies
2013 Playoff Stats: 13 PPG, 55 percent shooting, 6 RPB, 5 fouls per , 3 turnovers per
While Randolph hasn't played horrible basketball this postseason, his play has left much to be desired for the 0-2 Grizzlies. Randolph's numbers are down across the board in the first round and Memphis will need it's team leader to turn things around in order to get out of their 0-2 hole.
Deron Williams, Brooklyn Nets
2013 Playoff Stats: 15 PPG, 41.7 percent shooting, 8.5 APG, 2.5 turnovers per
A rocky 2012-13 NBA season has carried on into the postseason for one of the league's best point guards. Williams' points, field goal percentage and three-point percentage are all down from his regular season numbers and the Nets have played uneven basketball over the first two games as a result.