5 Standouts from adidas Nations: Part 1
The adidas Nations tournament is an annual portion of a self-described year-round "grassroots basketball program designed to emphasize adidas' core belief that real success in the game of basketball comes from playing as a team," according to their main website.
Since 2007, adidas has been welcoming the world's top basketball players, 18 and under, to form eight regional teams from Africa, Asia Pacific, Canada, China, Europe, Latin America and the United States.
The 2013 NBA Draft, alone, had 13 draftees with prior adidas Nations experience including the likes of Nerlens Noel, Cody Zeller, Steven Adams and Shabazz Muhammad. To put it simply, this tournament is without a doubt one of the preeminent cultivators of NBA talent. The 2013 tournament certainly did not disappoint, as there were not only a plethora of big names with major game, but the actual play featured some of the best high school-aged competition you'll ever find.
This will be the first installment of a two-part adidas Nations series highlighting five standout players from the 2013 tournament. You'll undoubtedly be hearing about some of these players over the next few years among college and NBA Draft discussions.
5 Players To Watch For:
Mehdy-Sofian Ngouama – 6'2 Point Guard, Africa
Mehdy-Sofian Ngouama is a player that can't help but catch your eye if you are watching his team play. Possessing a presence and quiet confidence that denotes natural leadership qualities, Ngouama is in full control of the action when in possession of the ball. Upon first sight, one might question whether he can shoot from the outside, as his natural instinct is to probe the perimeter and attack the paint if available, but Ngouama displayed plenty of range as the tournament wore on. Ngouama's weekend was actually highlighted by his play in the third-place consolation game, as he led his team to victory over a very talented Team USA 2015 RED team with 18 points, seven rebounds and four assists on 8-12 shooting from the floor.
When asked how the level of competition at adidas Nations compares to some of the European tournaments he's participated in, (via translator) Ngouama described the competition as, "more intense, more athletic and definitely more physical." Ngouama continued, "In Europe, you may find some athletes, but not like here. Everyone can run, everyone can jump, everyone is very good."
The young man certainly has his eyes on the prize, as he attempts to incorporate aspects from Derrick Rose and Kyrie Irving's arsenals into his game. While Ngouama has not narrowed down his choices as of yet, the 18-year-old does intend to play in college basketball, and hopes to even play beyond that level some day.
Romelo Trimble – 6'3 Point Guard, Team USA 2014 Blue (Bishop O'Connell HS – Arlington, Virginia)
Romelo Trimble was another guard that grabbed my attention throughout the tournament. Not due to mind-blowing statistics or signature plays, but because Trimble seems to make the right play in all the key situations. Poise under pressure is something that you can't really teach, and Trimble had plenty of it. He was the guy that seemed to make the proper pass or wise decision when several options were available, and he possessed the ability to shoot from mid-range as well as from beyond the arc.
Having played in the tournament in years past, Trimble definitely seemed to be at an advantage in terms of being able to pace the action, pick his spots to assert himself and incorporate teammates. As a perimeter defender, Trimble pestered opposing ballhandlers, and had a keen sense of how to navigate around the pick-and-roll. Voluntarily comparing his experiences playing in AAU to that of adidas Nations, Trimble described the differences.
"Unlike in AAU, all the players here at adidas Nations are good, athletic and challenging," Trimble said. "You don't feel like you have to take over the game and make every play like in AAU, because the talent level is pretty much the same across the board."
Trimble is hungry to continue developing as a point guard, and looks to improve his ballhandling and playmaking. He will undoubtedly continue his development as a future member of the Terrapins, as Trimble has committed to the University of Maryland.
Daniel Hamilton – 6'7 Shooting Guard/Small Forward, Team USA 2014 Blue (St. John Bosco HS – Los Angeles, California)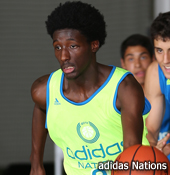 Daniel Hamilton continues to improve his game, as another repeat adidas Nations competitor. The very long and lanky swingman possesses a bit of an unorthodox, somewhat herky-jerky, but highly effective style when on the court.
Hamilton, the younger brother of Denver Nuggets small forward Jordan Hamilton, is a high-energy/effort player that is constantly looking to make a positive impact upon the game. Impressive in both the half-court offense and in transition, Hamilton fuses a well-rounded skill set with sheer athleticism while on the court.
"I like playing against the best, and playing with the best, because I learn a lot of new stuff when I come out here," said Hamilton of the tournament.
Hamilton wants to continue challenging himself, and named "strength and conditioning" as something he must improve upon in order to continue progressing. He envisions himself in an eventual 'point-forward' at the college level, and has verbally committed to the University of Connecticut. Hamilton says his brother Jordan encourages him to continue to improve, and challenges him in games of one-on-one during the offseason.
Myles Turner – 7'0 Center, Team USA 2014 Blue (Trinity HS – Euless, Texas)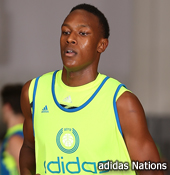 Having grown two inches in each of the past three years, Myles Turner has developed into an imposing presence in the middle. Still very thin, by his own admission, what Turner lacks in girth, he more than makes up for in terms of effort and energy when on the court. Turner is a rim-protecting, shot-blocking rebounder who isn't afraid to throw his weight around among the bigger bodies beneath the basket.
With a reported 7'3 wingspan, Turner has the ability to disrupt ballhandlers in his vicinity, and at least alter the shots he isn't able to get to. When asked about the development of his offensive game and the three-pointer he took during the tournament's Championship Game, Turner said, "The face-up game is something I already have. Most people don't I can shoot that, so I'll go out there and shoot it, but I like to function inside-out."
"I want to improve upon my back-to-the-basket game," Turner added. "Being a little bit thin right now, going up against people like Jahlil (Okafor) it was a little bit tougher. So, I definitely want to work on my strength, and back-to-the-basket game."
While his statistics won't necessarily wow you, Turner is a player that more than passes the eye-ball test, and is someone you definitely want to keep an eye on over the next couple years. Currently undeclared, Turner says that he and his father will sit down and narrow down his collegiate options over the next few days.
D'Angelo Russell – 6'4 Shooting Guard, Team USA 2014 Blue (Montverde Academy – Montverde, Florida)
D'Angelo Russell was was of the tournament's best shooters from beyond the arc. A bit of a volume scorer, D'Angelo impressed the crowd with his smooth, lefty stroke from the perimeter. Russell has a smoothness and fluidity to his game that isn't as common amongst high school players. When matched up against two of the more athletic and physically challenging teams of the tournament in Africa and Team USA 2015 Red, Russell garnered 17 and 13 points, respectively.
Having received offers from the likes of Memphis, Arizona, Louisville and North Carolina, Russell has narrowed down his college of choice. Although unavailable for comment, Russell has reportedly already committed to Ohio State University as he heads into his senior year with Montverde.
Honorable Mention:

Michael Nzei – 6'8 Power Forward, Africa (Our Savior New American High School – Centerreach, New York)
Michael Nzei had an up-and-down tournament in terms of productivity, generally based upon playing time, but made the most of his opportunities when afforded them. Highlighted by a 16-point, 14-rebound effort against Team USA 2014 Red, Nzei captured the attention of many in attendance throughout the tournament with his athleticism, agility and versatility when on the court. Whether through a few thunderous dunks in traffic as well as transition, or his propensity to clean up the offensive glass, Nzei was the beneficiary of several audible "oohs" and "aahs" from the crowd throughout the weekend.
Although unavailable for comment, Nzei has reportedly drawn interest from the likes of Hofstra, Iona, Iowa, Old Dominion and St. Joseph's.