Which NBA Teams Have Trade Exceptions?
Trades in the NBA can be complicated ventures.  Under certain circumstances, a team might receive a Traded Player Exception (TPE).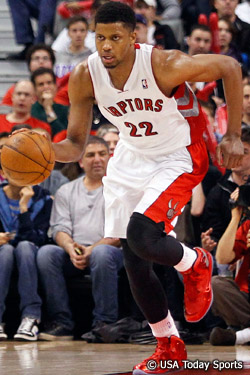 Currently, 14 teams have a combined 25 available TPEs.
A franchise can use a TPE to acquire a player without sending out matching salary, with an additional $100k of wiggle room.  For example, the Miami HEAT's $854k TPE for Dexter Pittman can be used to acquire a player making up to $954k.
A TPE can also be used to claim a player off waivers.
A TPE cannot be combined with other exceptions.  The Memphis Grizzlies, who have collected a league-high six TPEs, cannot combine the Rudy Gay TPE of $7.5 million and the Hamed Haddadi TPE of $1.3 million together to bring in a player making up to $8.8 million.
The Golden State Warriors have the largest TPE in the league at $11 million from the Richard Jefferson deal with the Utah Jazz.
A TPE expires a year after it is created.  Teams below the cap lose/renounce their Mid-Level (MLE), Bi-Annual (BAE) and Traded Player Exceptions.
The Philadelphia 76ers are an odd case.  While they have just $40 million in contracts on their books, they are still technically over the $58.7 million salary cap.
The combination of unsigned first-round draft picks Nerlens Noel and Michael Carter-Williams, the $5.1 million TPE for Jrue Holiday, the cap holds for free agents Royal Ivey, Damien Wilkins and Charles Jenkins, and the Sixers' MLE and BAE all total to $19.4 million — putting the Sixers' cap number at $59.4 million.
It is inevitable that Philadelphia will end up under the cap, assuming Ivey, Wilkins or Jenkins signs with another NBA team.  In the meantime, the Sixers recently used part of the Holiday TPE to acquire Tony Wroten Jr. from the Memphis Grizzlies — not cap room.
Before the deal, the Sixers had a TPE of $6.3 million for Holiday (with $5.1 million left).  Teams are permitted to use slices of TPEs to pick up lower salaried players.
Once the Sixers go under the cap, the remaining TPE disappears for good.
The following is a list of the 25 available TPEs around the NBA:
| Team | Player | Amount | Expiring |
| --- | --- | --- | --- |
| Boston Celtics | Paul Pierce | $10,275,136 | 7/12/14 |
| Boston Celtics | Fab Melo | $283,816 | 8/15/14 |
| Denver Nuggets | Andre Iguodala | $9,868,632 | 7/10/14 |
| Golden State Warriors | Jeremy Tyler | $762,195 | 2/21/14 |
| Golden State Warriors | Malcolm Lee | $762,195 | 6/27/14 |
| Golden State Warriors | Richard Jefferson | $11,046,000 | 7/10/14 |
| Golden State Warriors | Brandon Rush | $4,000,000 | 7/10/14 |
| Indiana Pacers | Miles Plumlee | $1,121,520 | 7/27/14 |
| Los Angeles Clippers | Eric Bledsoe | $2,626,474 | 7/10/14 |
| Memphis Grizzlies | Wayne Ellington | $2,083,042 | 1/22/14 |
| Memphis Grizzlies | Josh Selby | $762,195 | 1/22/14 |
| Memphis Grizzlies | Rudy Gay | $7,489,453 | 1/30/14 |
| Memphis Grizzlies | Hamed Haddadi | $1,300,000 | 1/30/14 |
| Memphis Grizzlies | Donte Greene | $1,027,424 | 8/15/14 |
| Memphis Grizzlies | Tony Wroten Jr. | $1,160,040 | 8/22/14 |
| Miami HEAT | Dexter Pittman | $854,389 | 2/21/14 |
| Minnesota Timberwolves | Malcolm Lee | $762,195 | 6/27/14 |
| New York Knicks | Ronnie Brewer | $854,389 | 2/21/14 |
| Oklahoma City Thunder | Cole Aldrich | $425,280 | 10/28/13 |
| Oklahoma City Thunder | Eric Maynor | $2,338,721 | 2/21/14 |
| Oklahoma City Thunder | Kevin Martin | $6,500,000 | 7/11/14 |
| Orlando Magic | Gustavo Ayon | $1,500,000 | 2/11/14 |
| Philadelphia 76ers | Jrue Holiday | $5,128,993 | 7/10/14 |
| Toronto Raptors | Andrea Bargnani | $1,216,720 | 7/10/14 |
| Washington Wizards | Jordan Crawford | $1,198,680 | 2/21/14 |