(8) Colorado State vs. (9) Missouri
(8) Colorado State Rams
During the first three years of Colton Iverson's career, he was a role player at Minnesota, stuck playing behind future pros on the frontline. He decided to transfer to Colorado State for his final year of eligibility and he has led the Rams (25-8, 11-5) back to the tournament. Iverson is good for 14 points and nine rebounds a night, but he's just the centerpiece to what is a very potent Rams offense overall. Dorian Green (13.1), Wes Eikmeier (12.7) and Greg Smith (11.3) are all serious offensive threats in their own right. The Rams led the nation in rebounding margin, grabbing 12 more on average than their opponents. They score 73 a night, and give up 62 with a defense that does not block a lot of shots or force many turnovers. They do take good care of the ball themselves, though. The Rams were just 3-6 against the RPI top 50, but teams in that range are the only ones who were able to beat them in 2013. They boast notable wins against UNLV and San Diego State. The Rams should be able to overwhelm a lot of teams with their size, but their defense is somewhat suspect.
[poll id="66"]
(9) Missouri Tigers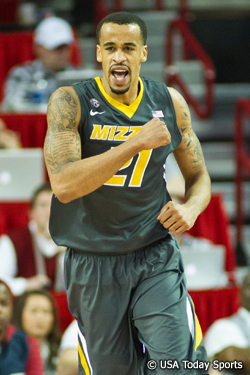 For the fifth consecutive season the Tigers (23-10, 11-7) are back in the tournament. They've battled with inconsistency at times this season, but they're a talented team that is really difficult to match up with, especially on the frontline. Laurence Bowers and Alex Oriakhi are stout in the interior, combining to average 25 points and 14 rebounds a game. As a team the Tigers were one of the best rebounding teams in the country, grabbing 9.5 more than their opponents on average. They scored 76 points a game, with six double digit scorers, regularly against the 44th toughest schedule in the country. Junior point guard Phil Pressey runs the show for them on that end of the floor, dishing out 7.1 assists a game while playing right around 34 minutes a game. The Tigers were 10-10 against the RPI top 100 with their best wins coming against Florida and VCU. Defense is key for the Tigers. Against elite competition they really struggled to get stops at the rate they needed to in order to be successful. Improved play on that end of the floor is going to be vital for the Tigers if they are going to survive past the opening weekend for the first time since 2009, when they made it to Elite Eight.
HOOPSWORLD's Pick: Missouri. Colorado State is a talented ball club, but Missouri matches up very well with them.
br> br>