HOOPSWORLD TV
HOOPSWORLD caught up with former Louisville guard Peyton Siva at the 2013 NBA Draft Combine to discuss his game...
read more
More HOOPSWORLD TV
chats
Susan Bible's weekly NBA Chat will kick off this Saturday, 5/25/13, at 11:00 am EST. Get your questions in now...
nba twitter
nba news
The prospects in the class of 2013 respond to the "weak draft" criticism ... Indiana Pacers won't back down...
read more
More NBA News
nba draft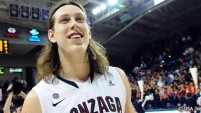 No one had Gonzaga's Kelly Olynyk becoming an All-American last season. Now, he's set to be a first-round draft...
read more
More NBA DRAFT
College Basketball
A deeper look into how Andrew Wiggins fits in at Kansas... Josh Oppenheimer is one of the best basketball...
read more
More College Basketball