Biggest NBA Preseason Surprises – East
Earlier this week, we broke down the biggest surprises of the preseason in the Western Conference. With the war of words being flung back and forth between the two New York teams, and even most recently between Brooklyn and Miami, things are already beginning to heat up in the Eastern Conference, and we haven't even played a moment of meaningful basketball. We continue examining preseason surprises with a look at a few of the more compelling storylines from the East:
Are the Cavaliers Playoff Contenders?
It is entirely fair to say the Eastern Conference has been a bit top-heavy for more than a few years. In fact, the Toronto Raptors, Cleveland Cavaliers and Washington Wizards are each at least in some part responsible for that recent trend. While teams like the Miami HEAT, Indiana Pacers and perhaps even the new-look Brooklyn Nets (if healthy) still hold a significant advantage over the bottom half of the conference, these three teams have made significant strides toward shortening that gap.
Cleveland, to its credit, swung for the fences over the offseason. Time will tell if all of the moves pan out, but no one can question whether they are trying to surround Kyrie Irving with the pieces to make a winner. The return of Mike Brown as the head coach, following the termination of Byron Scott (who was 64-166 following LeBron James' exit), wasn't much of a surprise.
The former Coach of the Year's reunion with center Andrew Bynum, on the other hand, was a bit of a surprise. Granted, Bynum experienced by far the best year of his career in the one season (2011-12) he played for Brown while still a member of the Los Angeles Lakers. There were also fair share of fireworks between the two, as Brown struggled to reel the emerging big man in on several occasions.
Clearly, the two of them have let bygones be bygones, as Bynum will join a talented, young roster in the unfamiliar position of the elder statesman. After a year away from the court, Bynum, a two-time champion, is being asked to provide veteran leadership. The Cavs are wisely taking every precaution in working the (still just) 25-year-old back onto the court. At last report, Bynum is now working out three-on-three, and is near returning to full-contact practice. While Irving is still the future of the franchise, for these Cavs to truly leap into the playoff conversation, they'll need a healthy and fully engaged Bynum.
Is Ujiri Building Another Playoff Team in Toronto?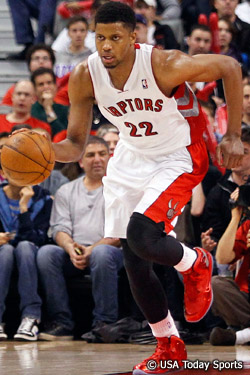 Admittedly, it was a bit of a surprise when Masai Ujiri accepted the general manager position for the Toronto Raptors back in May. No, not because the opportunity was there, but because the 43-year-old native of Nigeria was fresh off being named the 2012-13 NBA Executive of the Year for the work he did with the Denver Nuggets' roster just three weeks earlier.
Ujiri wasted no time getting to business, as he traded one-time "franchise" center Andrea Bargnani to the New York Knicks for Steve Novak, Marcus Camby (contract bought out), Quentin Richardson (waived), a 2016 first-round pick and two second-round picks (2014, 2017).
Ujiri wasn't done, as he also decided to utilize the franchise's amnesty provision on Linas Kleiza, and signed free agent guard D.J. Augustin to a one-year deal.
While Rudy Gay is arguably the best player on the roster, center Jonas Valanciunas is expected to also be a focal point of the team's offensive approach in 2013-14. The second-year big man and Gay are joined by Amir Johnson, DeMar DeRozan and Kyle Lowry in what has the potential to develop into a versatile, young core.
If players like Terrence Ross and the aforementioned Novak and Augustin can find a way to provide consistent productivity in reserve roles, these Raptors could very well find themselves competing for an eighth seed in the East. Don't put it past Ujiri to find a way to continue improving upon the roster along the way as well.
Could Derrick Rose Actually Be More Explosive Post-Surgery?
If you take his word for it, he sure is. The 25-year-old former MVP continues to reiterate just how explosive he is following a season-long layoff. In fact, Rose has been saying an awful lot in recent weeks, as he also has gone as far as to claim the Chicago Bulls vs. Indiana Pacers rivalry being a thing of the past. Rose only seems to have one team, a singular goal, in his mind and that's dethroning the Miami HEAT on their way to bringing another long-awaited title to the city of Chicago.
Whether the time off and procedure/rehab that coincided turned Rose into a bionic man is yet to be determined. What is clear, is that Rose is finally confident in his body again, which was obviously a tough hurdle to scale for the electrifying point guard. That, in itself, is enough to cause concern for opposing teams.
The continued emergence of Jimmy Butler and health of Luol Deng will be of extreme importance for this squad, especially with the news of Joakim Noah's lingering groin strain that will have the former All-Star sidelined for a week, according to reports.
Should An 0-5 Start to the Preseason Cause Concern in Indy?
The easy answer? While it is only the preseason of what Indiana hopes to be a marathon season, maybe, just a little. We all know the outcome of these games are meaningless in the grand scheme of things. That said, the thought of a potential "hangover" following a somewhat unexpectedly positive season must have crossed your mind.
After watching several of their games, it's still difficult to point the finger at what looks different about them. Even, if ever so slight. A transition period was certainly to be expected, as a returning Danny Granger must find a way to not only fit in with Paul George, but the duo must also continue to maintain a balanced offense by remembering to feed their 7'2 big man Roy Hibbert from time to time.
Coach Frank Vogel has the enviable 'burden' of perhaps having too many weapons on some nights. The key, for Indiana returning to the Eastern Conference Finals, will be in Vogel finding a way to establish a rotation that will not only get the best of each player, but also satiate their desire to play and contribute.
Something tells me Vogel will find a way, as I fully expect the Pacers to be in the mix to compete for the East's crown.