Breaking Down The NBA's Pacific Division
We continue the week-long series that started with our breakdown of the NBA's Central and Atlantic divisions, with today's feature on the Pacific Division. While the preseason action is far from an exact indication of what will actually take place in the regular season, the games do provide a bit of insight into how teams may develop from a chemistry perspective.
With so many new coaches and players having changed locations, lingering and new injuries as well as pending returns of key players, the balance of power within divisions and conferences could have shifted drastically within a single offseason.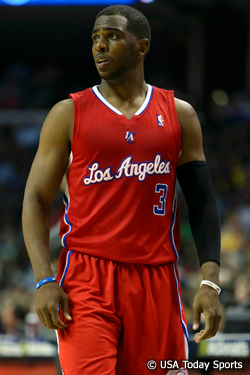 Los Angeles Clippers
2012-13 Record: 56-26
2013-14 Projected Win Range: 55+
Projected Starting Lineup:
PG – Chris Paul
SG – J.J. Redick
SF – Jared Dudley
PF – Blake Griffin
C – DeAndre Jordan
Not only have the Clippers completely reversed a longtime history of struggling to remain competitive over the past few seasons, they've actually placed themselves in the discussion as one of the West's top teams in 2013-14. Much of the focus will justifiably be on the addition of Doc Rivers at head coach, the main stars or even whether DeAndre Jordan can take the next step as many analysts believe will be vital for the Clippers. Perhaps one of the quieter, but potentially more significant, moves of their offseason, the addition of Darren Collison to fill the void left by Eric Bledsoe's exodus (traded to Phoenix) could prove to be pivotal.
Make no mistake about it; the Clippers will likely need another MVP-type season from Chris Paul, continued improvement from Blake Griffin, as well as a sizable emergence from Jordan to truly contend in the West, let alone for a title. That said, Collison's addition not only gives the team a bit of insurance in case Paul were to get banged up or need to play limited minutes in the fourth game in five nights, but it also gives them the advantage of having two competent playmakers that also possess the ability to score when necessary.
Of course, as has been the case with this team for the past several years, interior toughness and an ability to maintain post productivity on both sides of the court will also play a large role in determining their ultimate success. Can Rivers and Paul instill and cultivate the type of gritty mindset needed to succeed in the postseason into his athletic big men?
Unless the Clippers can also find a way to answer that very question, it could once again be a "laugh now, cry later" situation where things roller coaster from an undefeated December to a 4-2 first-round loss in a series where they held home court and managed to win the first two games. However, this could be the year the Clippers finally find a way to push through and advance beyond the first round. Where that run ultimately ends? We've got six months of what are certain to be 82 action-packed games to find out. Should be fun.
Golden State Warriors
2012-13 Record: 47-35
2013-14 Projected Win Range: 50+
Projected Starting Lineup:
PG – Stephen Curry
SG – Klay Thompson
SF – Andre Iguodala
PF – David Lee
C – Andrew Bogut
As is the case with just about every team in the league, health is certain to play a huge role in the Warriors' quest to represent the West in this year's Finals. It almost feels as crazy to type that sentence as it would have 'sounded' just a few seasons ago, but Golden State simply is not that team anymore. They've gone about building one of the league's most exciting and compelling rosters, and have been able to do so while cleverly navigating through the murky waters known as today's CBA.
Even still, the health of Stephen Curry, David Lee and Andrew Bogut will be every bit as important as how coach Mark Jackson deals with a very strong rotation of interchangeable players. The addition of Andre Iguodala gave Jackson a player that is the equivalent of a coach's dream – a team-oriented, premier perimeter defender who can fill the lane with the best of them and isn't worried about shot totals.
The trio of Klay Thompson, Harrison Barnes and Draymond Green round out what has to be considered one of the league's strongest groups of swingmen.
The 2013-14 Warriors could very well go on to lead the league in scoring per game and are likely to challenge for most team three's. But without a healthy Curry and Bogut come playoff time, it could very well all be for naught.
Los Angeles Lakers
2012-13 Record: 45-37
2013-14 Projected Win Range: 40+
Projected Starting Lineup:
PG – Steve Nash
SG – Kobe Bryant
SF – Nick Young
PF – Jordan Hill
C – Pau Gasol
Much like their building-mates, the Lakers have seen their fair share of change over the past few seasons as well. In fact, in a trend that even other teams and players are noticing, the level of uncertainty regarding both the near and distant future of the franchise is at its highest of recent memory.
Longtime rival of Kobe Bryant, Tracy McGrady, has even gone from tweeting a seemingly hopeful picture of himself just back in 2011, to the following 140-character gem he sent out a couple nights ago:
Sitting here watching the Lakers, and I feel sorry for my boy Jellybean when he comes back!

— Tracy McGrady (@Real_T_Mac) October 23, 2013
Well, while others may be predicting absolute doom-and-gloom, I stand by my prediction of the 2013-14 Lakers actually looking better than they did throughout a majority of last year's highly anticipated, injury-marred season. Granted, that would also likely require both Kobe Bryant and Pau Gasol to play at least 70+ games apiece; a task, admittedly, far from a guarantee.
Even though the front office did an admirable job shopping on an extreme budget, and still finding a way to bring in some much-needed youth and agility in Nick Young, Wesley Johnson and Jordan Farmar, it would be tough to compare that to what was lost with Dwight Howard's exit to Houston. That said, while the addition of Chris Kaman doesn't offset the loss, it does provide a skilled player that is not only able to play alongside Gasol and the other Lakers big men, but a player that is also both willing and eager to do so. Chemistry and overall dedication to team-oriented basketball can go an awfully long way toward success in the NBA.
With such lowered expectations, particularly for those with purple-and-gold colored glasses, this could be a year where people can simply fall back in love with their team and the sport of basketball in general, regardless of how many wins  they end with.
Sacramento Kings
2012-13 Record: 28-54
2013-14 Projected Win Range: 30+

Projected Starting Lineup:
PG – Greivis Vasquez
SG – Ben McLemore
SF – Luc Richard Mbah a Moute
PF – Jason Thompson
C – DeMarcus Cousins
In a move that surprised some, but made a lot of sense to me, the Kings extended DeMarcus Cousins just before training camp to the tune of another four years and $62 million. Under a completely new regime, led in the front office by former Warriors and Nuggets executive Pete D'Alessandro, and first-year head coach Mike Malone, these Kings find themselves looking to completely revamp the perception of the organization.
Shaquille O'Neal was added as a minority owner and reported mentor of the highly talented, but sometimes emotional, Cousins. With one of the league's more well-rounded skill sets for a big men, Cousins has the potential to dominate his center match-up on most nights. If Malone can partner a focused Cousins alongside recently acquired playmaker Greivis Vasquez, an emerging Isaiah Thomas, not to mention a blend of promising rookies and proven veterans like Carl Landry and John Salmons, it's no wonder fans around the Sleep Train Arena are feeling more confident in their team's chances these days.
The development of Ben McLemore could be key, but the Kings will also depend upon consistent bench production from Marcus Thornton and Patrick Patterson. The Kings are still likely a couple seasons away from being in any serious playoff discussions, but they are already a team that is definitely trending in the right direction.
Phoenix Suns
2012-13 Record: 25-57
2013-14 Projected Win Range: 25+
Projected Starting Lineup:
PG – Goran Dragic
SG – Eric Bledsoe
SF – P.J. Tucker
PF – Markieff Morris
C – Marcin Gortat
Regardless of how many wins it ultimately leads to, placing recently-added Eric Bledsoe alongside one of the league's shiftier guards no one talks about in Goran Dragic was a positive step for the Suns. For a fanbase once accustomed to nightly 100+ point performances chock-full of dunks, lobs and three-pointers, often in seven seconds or less, these last few seasons must have been pretty brutal.
Not only was the team not successful, but the team was only able to reach triple-digits 24 times along the way to averaging just 95.2 points per night during the 2012-13 campaign. With newly-hired head coach Jeff Hornacek at the helm, there will at least be an emphasis on pushing the tempo in an attempt to increase scoring. Bledsoe's presence should certainly help with that, as the 6'1 guard is not only lightning fast, but is certain to have Suns fans off their seats at least once per game.
They'll need plenty of steady contributions from each of the Morris twins, and guys like P.J. Tucker, Gerald Green or even Shannon Brown along the way as well. The battle for minutes at the center position could prove to be one to keep an eye on. While the organization used the fifth pick in the 2013 draft on 7'1 rim-protecting big man Alex Len, current starting center Marcin Gortat has already been on record stating he has no intention of simply relinquishing the position to a rookie.
Battles for positions can actually lead to a heightened overall team chemistry if professionalism is maintained, which could be key for such a young roster. Suns fans should take no offense to the notion of being in the eventual race for a top pick in what promises to be a talented-filled 2014 draft. For a team looking to turn things around on the fly, additions like Bledsoe are nice, but hitting both the literal and figurative lottery during the draft could be the quickest way to land a transcendent talent.
More HOOPSWORLD Articles:

Gordon Hayward hopes to remain with the Utah Jazz for the rest of his career

Tracy McGrady opens up about his retirement, legacy, next step and more


Mike Miller is ready to step up and be a leader for the Memphis Grizzlies

John Hammond is optimistic about the Milwaukee Bucks' young core