Breaking Down the NBA's Southwest Division
VIDEO OF THE DAY
Houston Rockets forward/center Greg Smith gives an update on the team's progress through the preseason and gives his unique perspective on just how much Dwight Howard is changing things in Houston.
Watch More Video Here
In this, the latest installment of our tour around the NBA's divisions, we take a look at the Southwest Division and determine what conclusions we might draw based on preseason play to date.
Dallas Mavericks
2012-13 Record: 41-41
2013-14 Projected Record: 40+ wins
Projected Starting Lineup:
PG – Jose Calderon
SG – Monta Ellis
SF – Shawn Marion
PF – Dirk Nowitzki
C – Samuel Dalembert
The key to Dallas being over .500 this season really boils down to two words: Dirk Nowitzki. If Nowitzki is able to stay healthy and average somewhere in the 22-25 points per game range the Mavs will be competitive. If, on the other hand, Nowitzki suffers any kind of injury, the Mavs don't have the depth or the talent to compete in the Western Conference without him. He is traditionally a slow starter, so reading too much into his preseason stats serves little point. If he's healthy, Dirk will be a tough customer.
The biggest addition to the Mavs this summer was, without question, Monta Ellis. Ellis was something of a consolation prize in free agency after the Mavs missed out on all of their primary targets for a second straight offseason and wound up taking the best name left. Ellis has been around long enough for everyone to understand his game, and in seven preseason games he has held true to prior form. He's an inefficient scorer who turns the ball over frequently and is a liability on the defensive end when it doesn't involve patrolling the passing lanes for steals. If the Mavs only go where Ellis takes them, they're in for another long year.
The most interesting addition to the team this season is point guard Jose Calderon, but because of injuries we haven't seem him take the court with the team yet. Calderon is an underrated point guard who makes his teammates better and runs the floor in a way that will help him fit right in with Rick Carlisle's system.
The other big addition, in terms of significance, for the Mavs this season is Samuel Dalembert. Dalembert's off-the-court issues have hurt him in recent years, and there are still plenty of questions about how reliable he will be for Dallas. At worst, he's a pretty good back-up center. At best, he's a solid low post defender who is capable of putting up some nice numbers. So far he has displayed that same inconsistency in preseason.
Rick Carlisle is one heck of a basketball coach, so there is a very real chance that Dallas could surprise some people and make the playoffs. That said, if he does, he should get strong consideration for Coach of the Year, as this rag-tag roster promises to challenge him even more than last year's patchwork squad.
The Washington Wizards and Phoenix Suns completed a five player trade featuring Marcin Gortat. USA TODAY Sports' Sam Amick has the latest on the implications for both sides.
Houston Rockets
2012-13 Record: 45-37
2013-14 Projected Record: 50+ wins
Projected Starting Lineup:
PG – Jeremy Lin
SG – James Harden
SF – Chandler Parsons
PF – Omer Asik
C – Dwight Howard
Unless you've been hiding under a rock somewhere, you know that one of summer's big free agency winners was the Houston Rockets. Dwight Howard was the biggest fish in free agency and he will be a Rocket for the foreseeable future. Expectations in Houston are sky-high as Clutch City fans hope the arrival of Howard will spell an era of contention that the Rockets haven't enjoyed since Hakeem Olajuwon was in uniform.
Howard has played sparingly in preseason, but he has demonstrated that his back appears to be completely healed and he looks ready to resume his role as one of the NBA's most dominant big men. His offseason free throw improvement fairy tale was nothing more than that, as he has been as inconsistent as ever, but Howard is moving well and saying all the right things, so it's likely he will wreck havoc on the West this season.
Expectations were sky-high when Jeremy Lin arrived in Houston last season, as he was still riding the wave of Linsanity that gripped the basketball world the season before. He had a hard time living up to his own reputation, partly because of nagging injuries, but also because the scouting reports caught up with him. In preseason, play, however, Lin has been very good. The arrival of Howard and the passing of Harden have taken a great deal of pressure off of Lin and he looks set to flourish in his new environment.
The big question for Houston is the power forward position, with a number of possible candidates vying for minutes but no clear winner with preseason nearly in the books. Omer Asik missed much of training camp and most of preseason with a calf strain, and there is a very real possibility that he will start at the four for Houston. Equally likely, however, is the chance that someone else will step forward and earn that spot early in the season. If no one does, expect the Rockets to be active in trade talks to shore up their one weak spot.
Memphis Grizzlies
2012-13 Record: 56-26
2013-14 Projected Record: 52+ wins
Projected Starting Lineup:
PG – Mike Conley
SG – Tony Allen
SF – Tayshaun Prince
PF – Zach Randolph
C – Marc Gasol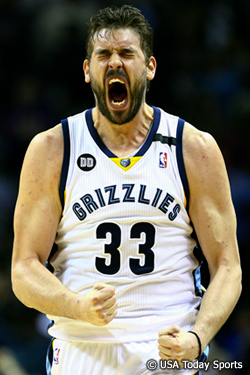 The Memphis Grizzlies were one of the NBA's best teams last season, advancing all the way to the Western Conference Finals before losing to the Finals-bound San Antonio Spurs. They return the bulk of the team, including the best frontline in the NBA, and hope to that next big step as a franchise.
With the primary rotation set and made up of veterans who deliver consistently, the questions around the Grizzlies preseason revolve primarily around the supporting cast. Jerryd Bayless seems to have finally found a home after a solid season in Memphis last season, but Ed Davis, Quincy Pondexter, Jon Leuer and Kosta Koufas would all love to have similar success this season. Meanwhile, Tony Gaffney and Nick Calathes are hoping to prove they can compete in the NBA after playing overseas.
The Grizzlies are hoping to groom Davis as Randolph's eventual replacement, and if preseason is any indication that might be a real possibility. Davis has been good throughout, rebounding well, scoring efficiently, and basically looking like a young player with tremendous upside. Pondexter has been starting while Prince recovers from an illness, but has not made the most of his opportunity. He had one outstanding game against Milwaukee, but has not stood out otherwise.
Ultimately, once the games start to count, we know who and what the Grizzlies are. They are a brutal frontcourt team that gives opponents fits in the paint, and even with a new head coach they expect to be very much the same this season. If a couple of their new bench players step up they should be able to keep up with their ever-tougher Western opponents.
New Orleans Pelicans

2012-13 Record: 27-55

2013-14 Projected Record: 40 wins
Projected Starting Lineup:
PG – Jrue Holiday
SG – Eric Gordon
SF – Al-Farouq Aminu
PF – Anthony Davis
C – Greg Stiemsma
Easily the most impressive team in preseason play has been the New Orleans Pelicans, who were very aggressive in the offseason and have seen remarkable improvement from their young core. The acquisition of Jrue Holiday was the highlight of the summer for the Pelicans, but opening training camp with Anthony Davis and Austin Rivers clearly better and with Eric Gordon nearly ready to return launched them into an impressive preseason run.
After Davis averaged just 13.5 points per game as a rookie many pundits began to wonder if he was actually going to be a franchise player. Davis has taken huge strides towards silencing those critics with dominant preseason play on both ends of the floor. It's only preseason, of course, but Davis is someone to keep an eye on as games begin to count next week.
Gordon wasn't ready to play when preseason started, but once he took the court showed much of the same explosiveness that defined his game before nagging injuries derailed him. Still playing fewer than 20 minutes per game, he's averaged nearly 20 points per game. If he can do that consistently the Pelicans might just have the best, deepest backcourt in the NBA.
The Pelicans still have plenty of work to do, and it remains to be seen how effective Steisma will be as the starting center, but the Pelicans have looked very good in preseason play. They are not a team to be underestimated.
Former multi-time All-Star Tracy McGrady has officially retired from playing in the NBA. What is next for the potential Hall of Famer? He breaks it down in an exclusive interview with HOOPSWORLD's Alex Kennedy!
San Antonio Spurs

2012-13 Record: 58-24

2013-14 Projected Record: 55+ wins
Projected Starting Lineup:
PG – Tony Parker
SG –  Danny Green
SF – Kawhi Leonard
PF – Tim Duncan
C – Tiago Splitter
It's always dangerous to read too much into preseason play as far as the San Antonio Spurs are concerned. Head coach Gregg Popovich treats these games with almost as much importance as a back-to-back in December in the middle of a long road trip. He simply doesn't care. That said, there are some new arrivals in San Antonio who will need to play if the Spurs are going to get back to the Finals, and we can take a look at how they have played.
The departure of Gary Neal, who was a hero in last season's postseason run, caused some concern for Spurs fans, but that concern was short-lived. Marco Belinelli is a much more consistent scorer than Neal, and he has proven it by averaging double-digit scoring in preseason play. He's a lights-out three-point shooter, but scores in a variety of ways and can also create for others, which makes him a more valuable commodity than Neal would have been.
The Spurs are hoping, even expecting, that this will be the year that Kawhi Leonard takes his place as the second-best player on the team behind Tony Parker. He hasn't logged starter's minutes by any means, but he has played significant minutes in three games, looking good in two of them. It will be interesting to see if he can really push his scoring average close to 20 points per game this season. If he can't, the Spurs are going to continue to lean heavily on the aging legs of Duncan and Ginobili.
The other player who needs to take a significant step forward is Tiago Splitter, who improved markedly last season. He has only broken 20 minutes once, so it's hard to gauge how much he might have improved over the summer. Like Leonard, it's very important for Splitter to prove he can should more of the burden for the Spurs this season. They made a big investment in him, giving him $36 million over the next four seasons.
Every year we expect age to catch up with the Spurs, yet every year they manage to be right back in contention at the end of the season. They may not reach 58 wins again with the West getting even tougher, but don't be surprised if they're still standing long after their detractors have written them off.