Cavaliers Nearing Deal for Paul Pierce?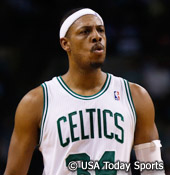 The Cleveland Cavaliers are expected to reach some decisions today. Not only will they decide what to do with the top overall pick, but with the 19th pick as well.
The Cavs have been aggressive in shopping out their options and may be nearing a deal with the Boston Celtics to acquire Paul Pierce. The Cavs will need to wait until July when the new salary cap kicks in before that can officially acquire Pierce, but the word is the Celtics have scheduled some last-minute workouts for second-round players, leading many to believe the rumored deal that would send the Cavaliers' second-round picks to the Celtics as part of a Pierce package seems to have legs.
The Cavs have been aggressive in trying to obtain a serious veteran player and may have a deal. If the Celtics pull the trigger, the Cavaliers will draft players on Boston's behalf and then consummate the trade in July when the new NBA salary year begins.