Clippers Are Deep But it's About Chris Paul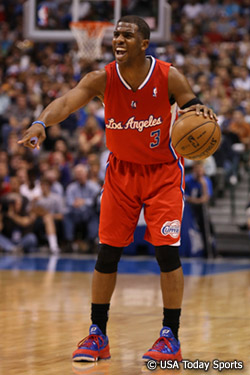 The Los Angeles Clippers are team built around their tremendous depth, but with the game on the line, it's Chris Paul that makes them a contender.
Last year, it took seven games for the Clippers to defeat the Memphis Grizzlies on the road in the first round of playoffs.  On Monday night, Los Angeles took a 2-0 series lead on a last-second lay up from Chris Paul.
"He has a knack and a will and a desire to step up in those moments," said Coach Vinny Del Negro.  "That's what star players do.  That's the best part of the game."
The Grizzlies rallied late, overcoming a 12-point deficit – culminating in a Marc Gasol dunk with 13.9 seconds left to tie the score at 91.
With a chance for the win, the Clippers wanted to get noted defender Tony Allen switched onto another player, but Paul couldn't shake him.  Instead, the All-Star guard went right at Allen, hitting a running bank shot for the victory.
"We put our best defender on him and in big-game moments, that's what we want," said Memphis guard Mike Conley.  "Chris was able to get around him and go right.  We tried to get a little bit of help from our bigs coming over and he just hit a tough shot.  That's what great players do and we did the best we could to defend him."
After the loss, Allen took responsibility for Paul's difficult shot.
"I was supposed to send him back to the left and he got right," said Allen.  "That's what he does.  He closes games.  I definitely let my team down."
The Clippers may have one of the top benches in the NBA but with the game on the line, Paul is among the best when it matters most.
"It takes everyone to even put him in the position to make shots like that," said Lamar Odom.  "Tonight Chris hit some big shots in the fourth.  He's the guy.  He's tough, stubborn, [and] strong-willed.  There's not too many players that have the "it."  He showed it tonight but he's been doing it all season."
Veteran guard Chauncey Billups, who missed last year's playoffs with an Achilles' tear, stressed how important it was the Clippers took care of their games at STAPLES Center.
"A great player made a great shot.  We took care of home court," said Billups.  "We worked all season to get it.  And we didn't give it away."
Paul led the Clippers with 24 points.  Blake Griffin had 21.  Mike Conley had a game-high 28 in defeat.
"I said to some guys in the locker room, 'That was a great win and that was an unbelievable performance by CP down the stretch – really the whole game – but we can't put him in that kind of situation,'" said Griffin.
The Clippers got 15 points from Jamal Crawford off the bench.  Gasol had 17 for Memphis and Allen notched a double-double with 16 points and 10 rebounds.
"Tony's a great defender, unbelievable defender but what you see out there is you can't guard everybody," said Paul.  "He can't guard Jamal, me and [Chauncey].  What he does out there is a game changer."
The Grizzlies will have the opportunity to win at home on Thursday and Saturday.
"There's two more games left.  It's still a long series," said Allen, having a little trouble with the math
"It's not doom and gloom," said Grizzlies Coach Lionel Hollins.  "It was just a tough, hard-fought battle.  We've got to go home and there's going to be two hard-fought battles there and we've got to come away with two of them."
Naturally the Clippers hope to make it a short series.
"We just held serve.  Now we gotta go down to Memphis and try to steal a game," said Paul.  "We've got to be greedy."
Jamal Crawford is the second-place sixth-man
New York Knicks guard J.R. Smith was named Sixth Man of the Year on Monday, beating out Crawford by 132 points.
Smith earned 72 first-place votes and a total of 484 points to win the award for the first time in his career.  Crawford, who received the honor in 2010, received 31 first-place votes and more than twice as many points (352) as Golden State Warriors guard Jarrett Jack (170).
"There are definitely guys who are deserving," said Crawford.  "Jarrett Jack had a great season. Kevin Martin had a great season – J.R. and myself as well. So a salute to all those guys."
Crawford was clearly disappointed, just as he was months earlier when he wasn't named an All-Star reserve.
"I learned at the All-Star Game, you can only control what you can control.  Whether it's the coaches or the media, or whatever, you can expect the unexpected," said Crawford.
Despite his emotion on missing out, Crawford understood why Smith was a viable candidate.
"I see us in different roles.  He's the second guy over there.  After Carmelo [Anthony] he's taking 19-20 shots … they need that from him," said Crawford.  "For us, I feel like we have the best bench [in the league] and I'm just a piece of that.
"We all have to share, so it's a different situation. I actually texted J.R. to tell him congratulations, because he did have a great season."
While he thought he was deserving of the personal accolades, Crawford's main goal this season was to reestablish his reputation after a difficult year with the Trail Blazers.
"To be perfectly, perfectly honest, coming into the season – winning the sixth man or All-Star wasn't really on my radar," said Crawford.  "It was more kind of getting my respect back because people I had thought lost a step, going to Portland.  That was a heck of a year and it motivated me to be ready to come in this year."
All-Star forward Griffin wasn't surprised that Crawford hit his first-six shots against the Grizzlies on Monday.
"Grant [Hill] and I were talking at the shoot-around today, and we were talking about the sixth-man thing," said Blake Griffin.  "Grant turned to me and said, 'You watch, Jamal is going to have a big night tonight.  He's going to out hot.'"
Coach Del Negro naturally supported his player.
"The other guys obviously are very deserving, but I think you'd be hard pressed to find somebody more deserving than Jamal," said Del Negro.  "He's what, second in the league in fourth-quarter scoring?
"He's been a huge catalyst for us all season, from day one – the whole season."
The Grizzlies will be a more-formidable opponent in Memphis.  The Clippers hope to return to Los Angeles with at least another win over the next two games.