Coaching Seat Check: Eastern Conference
Since the beginning of the 2012-13 NBA season, Mike Brown, Avery Johnson, Lionel Hollins and even reigning NBA Coach of the Year George Karl found out the hard way that success in the NBA as a head coach is fleeting.
Inexplicable losses, superstars losing faith and high expectations not being met are the most common reasons why NBA head coaches are sent packing. This past summer, for whatever reasons, there were 13 head coaching changes across the league.
Yes, the coaching carousel spins, and the immediate past head coach of the Charlotte Bobcats learned that quite well. After inheriting a roster featuring the young Kemba Walker as its best piece, former Bobcats head coach Mike Dunlap was fired this past April after coaching the Bobcats for all of one season. The team finished the 2012-13 season with a 21-61 record.
Ironically, Dunlap's Bobcats were the opponent of the Brooklyn Nets in the Nets' very first game following the surprising firing of Avery Johnson. Dunlap, surprisingly, spoke candidly about what he felt was the unfair and expendable manner in which NBA head coaches are treated. He expressed sympathy and support for Johnson and said that coaches always get the short end of the stick.
Just four months later, Dunlap met the same fate as Johnson, ultimately getting fired.
And by July 1, 2013, it was known that 13 NBA coaches—including eight in the Eastern Conference—would change jobs.
So this season, as more than half of the conference's teams begin their campaign with a new head coach, some coaches—such as Brad Stevens of the Boston Celtics—are as secure as can be. But others, for any number of reasons, may be sitting on some warm seats that may begin to swelter as the NBA's 2013-14 season comes and goes.
Brad Stevens, Boston Celtics – After leading the Butler Bulldogs to two consecutive appearances in the NCAA Championship game in 2010 and 2011, Brad Stevens was tapped by Danny Ainge to serve as the captain of the post-Big Three era Celtics. Presumably being led by Rajon Rondo and Jeff Green, the Celtics are in the first phase of a massive rebuilding project and the six-year, $22 million contract the Celtics signed Stevens to indicates that he will be there for a large portion of it.
In the NBA, low expectations and long contracts usually means a secure job for a head coach. Of course, just because Stevens signed for six years does not mean he will last all six. Doc Rivers—Steven's predecessor—had three years and $21 million remaining on his contract, but that did not stop Doc from ending up with the Los Angeles Clippers. Still, Stevens will likely be the lead man in Boston for at least the next few years.
SEAT CHECK: COLD
Jason Kidd, Brooklyn Nets – Jason Kidd is one of the more popular players in Nets franchise history. Aside from Julius Erving, it is difficult to name another player who has brought as much positive press to the former New Jersey club. For that reason alone, it is difficult to imagine the Nets not being somewhat patient with Kidd as he learns about the day-to-day grind of being an NBA head coach. With Joe Johnson, Paul Pierce and Kevin Garnett already on the downside of their careers, this team has three years to accomplish something special, and since Kidd got a guaranteed deal of three years and $7.5 million, it stands to reason that he will be around for the long haul.
That said, his lead assistant, Lawrence Frank, has spent the past two seasons coaching the Detroit Pistons and was Byron Scott's successor as head coach of the New Jersey Nets back in 2004. As was the case when Mike D'Antoni—then coaching the New York Knicks—was forced to bring Mike Woodson on as his defensive assistant coach, Kidd has a capable replacement sitting next to him on his bench.
Still, he can find solace in the fact that the public relations conscious Nets would not give him an unfairly quick axe, which is another reason why hiring him, with this roster and immense expectations, was such a huge risk to begin with.
SEAT CHECK: COLD
Erik Spoelstra, Miami HEAT – If Pat Riley had any interest in pushing Erik Spoelstra out as head coach of the Miami HEAT, he would have done it back in 2010 when the team began the season sputtering off to a 10-8 start, or at the conclusion of that season, after the HEAT had squandered a 2-1 series lead over the Dallas Mavericks in the 2011 NBA Finals and lost the championship.
Certainly, after helping lead Miami to three consecutive Eastern Conference titles and back-to-back NBA championships, it would likely take at least a few years of suffering disappointing playoff losses for Spoelstra's job to be in jeopardy. Not even in the NBA are you likely to see a coach get anything less after winning two consecutive championships.
SEAT CHECK: COLD
Jacque Vaughn, Orlando Magic – The post-Dwight Howard era enters its second season in 2013-14, and astute management by stalwart Rob Hennigan—a disciple of Sam Presti—has the team in a good place.
With Nikola Vucevic, Moe Harkless, Tobias Harris and rookie Victor Oladipo, the Magic have a few quality pieces upon which they can build a future. With another likely lottery pick coming up in the 2014 NBA Draft, coach Jacque Vaughn is in a good place and should not have to worry about any unrealistic expectations. At least not yet.
SEAT CHECK: COLD
Mike Brown, Cleveland Cavaliers – On a February afternoon in 1997, Anfernee "Penny" Hardaway, the star player of the Orlando Magic, put in a phone call to the team's general manager, John Gabriel. Hardaway told Gabriel that the team needed a coaching change, and as a result, the popular Brian Hill—the coach who led the Magic to their first NBA Finals berth—was promptly fired. Shortly thereafter, Hardaway bolted Orlando and took his talents to Phoenix, and eight years later, the organization made nice with Hill by re-hiring him. It was no secret that Hill was fired as a result of Hardaway's appeal to Gabriel.
In his second stint, Hill lasted only two seasons, but the re-hiring was an olive branch and the righting of a wrong.
After watching LeBron James win two NBA titles, Dan Gilbert is probably trying to earn some good karma, so Brown's rehiring and attempt to harness the basketball talents of Kyrie Irving, Dion Waiters, Anthony Bennett and Andrew Bynum will probably be met with as much patience as possible. The five-year, $20 million deal Brown got from the Cavs is consistent with this.
Yes, Brown was rehired by the franchise that fired him previously. Shockingly, this is not the first time that this has happened in the NBA.
SEAT CHECK: COLD
Mike Budenholzer, Atlanta Hawks – After serving as an assistant coach under Gregg Popovich for a whopping 16 years, Mike Budenholzer was finally tapped by an NBA team to serve as its head coach. The Atlanta Hawks hired him to succeed Larry Drew.
Having been beside Popovich for his entire tenure as head coach in San Antonio, Budenholzer has four championship rings and the incomparable luster of being a member of the NBA's model franchises.
The credibility he brings to Atlanta is much needed, especially after a summer that saw the team lose the likes of Josh Smith, Zaza Pachulia and Devin Harris. In the immediate future, the 44 wins that the Hawks managed last season is probably out of reach.
Still, the best thing that Budenholzer has going for him, aside from his hardware, of course, is his relationship with Danny Ferry. Ferry played for the Spurs for three seasons before beginning his management career with San Antonio in 2003. Now, 13 years after the men began working for the same team, Ferry—who took over in Atlanta last summer—has made Budenholzer his first head coach hire for the Hawks.
SEAT CHECK: COLD
Brett Brown, Philadelphia 76ers – After seeing Doug Collins depart the Sixers after just three years as head coach, Brett Brown demanded a four-year contract from the Sixers, and he got it. That, as well as the fact that he is the hire of newly installed general manager Sam Hinke, bodes positively for his security in the immediate future.
After amnestying Elton Brand, trading Andre Iguodala for Andrew Bynum and letting Lou Williams walk away, Hinkie pressed the reset button this summer by allowing Bynum to leave as a free agent, trading Jrue Holiday to the New Orleans Pelicans for Nerlens Noel and drafting Michael Carter-Williams. This begins the Sixers' long-term rebuilding project.
This team now belongs to Evan Turner, Carter-Williams and Noel. Winning games may be a consistent problem for the Sixers, but Brown will not have to worry about coaching his young guns up to a third playoff appearance in four years. It is 2014 lottery or bust for this team.
SEAT CHECK: COLD
Larry Drew, Milwaukee Bucks – Talk about being a hot commodity. News broke on May 31 that Larry Drew had accepted the Milwaukee Bucks' offer to become their head coach despite the fact that he would not officially become a free agent until July 1. Drew and his staff were told that the Atlanta Hawks would be searching for another coach, so Drew searched for another team and this happened. Quickly.
After a summer headlined by the departures of Monta Ellis and Brandon Jennings, the Bucks have quietly assembled a team full of lesser heralded players, but one that is reminiscent, at least on paper, of one of Daryl Morey's Houston Rockets teams. That is, a team that is devoid of superstars, but one that manages to win games.
Whether or not Drew can guide these Bucks to one of the East's top seeds remains to be seen.
Aside from that, as one of the few teams with cap space and a few underrated players in O.J. Mayo, Larry Sanders and Ersan Ilyasova, things will get better in Milwaukee before they get worse and Drew is the coach chosen to succeed the departed Scott Skiles. Skiles, by the way, lasted four full seasons in Milwaukee and resigned 32 games into his fifth season. He brought the Bucks to the playoffs just once while, compiling a 146-166 record.
That illustrates a rare and rather patient approach to head coaches by owner Herb Kohl and his general manager, John Hammond. Drew may overachieve with the Bucks this season, but even if he does not, patience is a virtue and it happens to exist in abundance in Milwaukee.
SEAT CHECK: COLD
Tom Thibodeau, Chicago Bulls – Quite simply, there is no other coach in the NBA who has both defied expectations and gotten more from less than Tom Thibodeau. After winning 45 games last season and advancing out of the first round of the playoffs without Derrick Rose, Thibodeau is one of the more secure head coaches in the entire league.
No coach except perhaps Erik Spoelstra is as safe, and that is true despite some apparent friction between Bulls general manager Gar Forman and Thibodeau.
The main thing he has going for himself, though, is his tough-nosed team. Very rarely in today's NBA do you find a team that takes on the personality of its head coach and runs through walls for him, but the Bulls have and they do.
When asked why the Bulls were able to overachieve the way they had without Rose, last season, Jimmy Butler said that it was all Coach Thibodeau. The confidence he exudes, the work he puts in and the belief he has in his players is infectious. On the February day when Butler shared his feelings of his coach at Brooklyn's Barclays Center before the Bulls took on the Nets, he spoke about how Thibodeau believes in his players, refuses to accept excuses from them and treats them all the same. According to Butler, that is why he gets the most out of everyone that puts on a Bulls uniform.
You simply do not fire that guy.
SEAT CHECK: COLD
Maurice Cheeks, Detroit Pistons – Back in June of 2000, Joe Dumars took over the helm of the Detroit Pistons and has been in control since. In the 13 years that Dumars has been running the show at the Palace at Auburn Hills, he has gone through quite a few head coaches—seven, to be exact.
Almost 13 years to the day Dumars was named president of basketball operations, he hired Maurice Cheeks, the eighth head coach of his tenure.
The Pistons, a very proud franchise, have missed the playoffs in four straight years and have managed to win an average of just 28 games per year since then. But now, after signing Josh Smith to a four-year deal worth more than $50 million and executing a sign-and-trade deal with the Milwaukee Bucks for Brandon Jennings, the Pistons should rightfully expect to make a serious run at the playoffs this coming season.
Hello, expectations. Of the seven preceding coaches hired by Dumars in Detroit, only one—Flip Saunders—lasted as many as three seasons. The likes of Larry Brown and Rick Carlisle were shown the door after just two seasons, while Dumars' former teammate, Michael Curry, only got one season to show his chops as the head man.
Ousting Cheeks during his first season as head coach in Detroit? It may be far-fetched, but it would not be unprecedented. During the 2008-09 season, the Phoenix Suns fired Terry Porter after just 51 games.
With somewhat volatile personalities in the locker room, Cheeks has his work cut out for him, and in Motown, patience is not abundant.
SEAT CHECK: WARM
Steve Clifford, Charlotte Bobcats – It is somewhat difficult to understand where a coach stands without fully knowing what kind of expectations ownership has for the team. But even without Al Jefferson, whom the Bobcats signed this past offseason, former head coach Mike Dunlap was fired after just one season.
At the very least, that says that the Bobcats are not afraid to fire a head coach, and quickly. Obviously, meeting ownership's expectations is imperative to a long tenure and though it is not exactly clear what those expectations are, it is safe to assume that with Jefferson and the continued growth of Kemba Walker and Michael Kidd-Gilchrist, they are higher this year than they were last year.
Now, with Jefferson in the middle, the Bobcats should expect to improve on last year's 21-win season. It is up to Clifford to deliver, but that will not be an easy task.
SEAT CHECK: WARM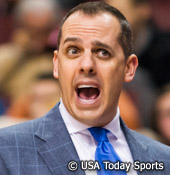 Frank Vogel, Indiana Pacers – The idea of "the coach to get this team to the next level," is one that runs rampant in NBA front offices, and it is often the downfall of a young coach such as Frank Vogel. On the positive side for him, Vogel's players love him unconditionally. But if that undying love was enough to save a head coach's job, Jermaine O'Neal, Al Harrington and Jamaal Tinsley would have been able to save Isiah Thomas' job with the Pacers back in 2003.
Phil Jackson was tapped to replace Del Harris in Los Angeles back in 1999, Larry Brown took over for Rick Carlisle in Detroit in 2003 and Pat Riley himself pushed Stan Van Gundy out of the door in Miami back in 2005.
Though becoming a bit more commonplace in today's NBA, the young coach who grows with his team and eventually leads them to the highest of heights does not happen all too regularly. If Vogel's team shows any signs of regression, the question as to whether or not the Pacers need a new coach to get them to the next level will be asked.
To whom much is given, much is required, so although Vogel has the unequivocal support of the front office in Indy and is considered a "homegrown" talent, this will be an interesting situation to watch.
SEAT CHECK: WARM
Randy Wittman, Washington Wizards – This past summer, the Washington Wizards were fairly quiet on the free agency front. The biggest moves the franchise made were re-signing Martell Webster to a four-year deal worth $22 million and signing John Wall to a five-year maximum extension worth about $80 million, so it is obvious that general manager Ernie Grunfeld believes in his team's core. This season, with good health and an intimidating front line, the Wizards should be competing with the Cleveland Cavaliers for one of the East's final playoff spots.
And if that's not the case, whether fair or not, Wittman will be painted as the scapegoat who was simply unable to harness the talents of his team. Wittman took over the team during the 2011-12 season after Flip Saunders was fired. After leading the team on an interim basis, he was awarded with a two-year contract in July 2012. That means he is entering the final year of his contract. If the Wizards are not successful this season, the stage has been set for his ouster.
SEAT CHECK: HOT
Mike Woodson, New York Knicks – James Dolan values loyalty more than almost everything else, evidenced by his sticking with the likes of Scott Layden and Isiah Thomas for way too long and his dismissal of Donnie Walsh—the man who was responsible for the Knicks' revival.
Thus far, Woodson has done all he can to ingratiate himself to Dolan, including firing his longtime agent, Keith Glass. Having led the Knicks to 54 wins last season was a major accomplishment for Woodson, but he was undressed when matched up against the Indiana Pacers' younger and less experienced Frank Vogel.
This season, although the Knicks have an improved roster over last year's team, a repeat of last season's success is not guaranteed with the rest of the conference's contenders getting stronger.
Coach Woodson is general manager Glen Grunwald's "guy," but if the Knicks sputter out of the gate and end up struggling early, there will be questions about the coach's acumen. That will certainly be the case if the Knicks' predictable offensive sets are thwarted by others in the conference with the same success the Pacers had. If the Knicks fail to start the season strong and assert themselves as defending Atlantic Division champions, Woodson may quickly become one of the head coaches whom people doubt is good enough of a tactician to have major success in the playoffs.
SEAT CHECK: WARM
Dwane Casey, Toronto Raptors – Newly installed general manager Masai Ujiri has been charged with the task of turning the Toronto Raptors around and his first order of business was to deal Andrea Bargnani to the New York Knicks in a move that the club hopes amounts to addition by subtraction.
As in the case with most incoming general managers, Ujiri is likely to want to choose his own coach. Like Danny Ferry did with Larry Drew in Atlanta, though, Ujiri wants to give Dwane Casey the opportunity to retain his job, of course.
There was speculation earlier this summer that Casey was on his way out of Toronto since Ujiri took over and purged a lot of his predecessor Bryan Colangelo's basketball operations staff, but Casey remains. Entering the final year of his contract and with a team that should have enough talented pieces to make a run at one of the East's final playoff spots, Casey enters the 2013-14 season with a lot of weight on his shoulders.
Rudy Gay, DeMar DeRozen, Jonas Valanciunas and youngster Terrence Ross will have their work cut out for them if Casey is to remain in Toronto past this season.
SEAT CHECK: HOT
Check back on Friday for seat checks on the NBA's Western Conference coaches.