Grading the NBA Coaches: The East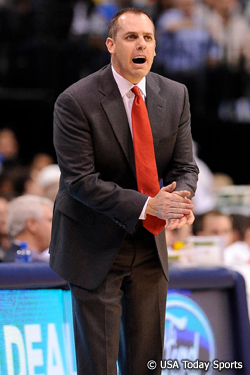 The conventional wisdom is that coaches are only as good as their players, but anyone who has seen a team overachieve or underachieve knows where the praise or blame ultimately falls.
Coaches—at least the good ones—find ways to overcome obstacles and give their players a chance to succeed. There are some positions where success is out of the question (Detroit and Charlotte were two good examples this season), but some coaches have the ability to surprise us.
Washington's Randy Wittman, Indiana's Frank Vogel and Chicago's Tom Thibodeau all overcame significant obstacles this season while New York's Mike Woodson and Miami's Erik Spoelstra helped good teams get even better.
Naturally, those are the men who fared the best as HOOPSWORLD handed out the Eastern Conference coaches' report cards:
Team: Indiana Pacers
Coach: Frank Vogel
Record: 49-30
Grade: A
Summary: If someone told you that the Indiana Pacers would be without Danny Granger and would subsequently fail to reach .500 until Dec. 12, you'd probably assume Vogel's job would be in jeopardy.
Instead, Vogel entrenched himself as the Pacers head coach by coaching them to a 38-19 record since Dec. 12.
The Pacers haven't been great offensively. Roy Hibbert has struggled to score at times, but Paul George, George Hill and Lance Stephenson helped to fill the void.
And since the Pacers have been the league's best defensive team—thanks largely to Hibbert's presence in the middle—Vogel's guys haven't needed to score many points. The Pacers rank in the bottom half of the league in offensive efficiency, but are first defensively, having held opponents to just 96.1 points per 100 possessions. They also lead the NBA in rebounding rate.
Simply put, Vogel is a "Coach of the Year" candidate.
Team: Chicago Bulls
Coach: Tom Thibodeau
Record: 43-36
Grade: A
Summary: Even without his MVP, Derrick Rose, Thibodeau can win basketball games.
The Bulls, who beat the Knicks four times this season, have gotten production from nearly everyone, including stars like Luol Deng and Carlos Boozer as well forgotten players such as Nate Robinson, Marco Belinelli and Kirk Hinrich.
Seriously, who could have envisioned Richard Hamilton averaging 10.2 points per game this season?
Thibodeau had been an NBA assistant coach since 1989. Think how many teams regret passing him over.
Team: Miami Heat
Coach: Erik Spoelstra
Record: 63-16
Grade: A-
Summary: The only real criticism one can place on Spoelstra is that the Heat didn't always look motivated or interested at the beginning of the season. Sure, they were in first place in the East for most of the season, but there were still times—like their loss to the Washington Wizards—when they seemed unfocused.
That obviously changed during the team's 27-game winning streak.
The Heat are first in offensive efficiency, seventh in defensive efficiency and first in true shooting percentage.
Perhaps the most impressive aspect of Spoelstra's season is the way he's allowed the Heat to play small. By packing the paint defensively, Miami has survived with Chris Bosh at center and LeBron James at power forward.
Spoelstra has also done a good job with Norris Cole, and while that doesn't seem like a major accomplishment right now, it could give the Heat freedom to trade Mario Chalmers at some point. In other words, Spoelstra has shown an ability to help players improve, and that will give Pat Riley the opportunity to eventually make some moves.
Team: New York Knicks
Coach: Mike Woodson
Record: 52-27
Grade: B+
Summary: The Knicks set an NBA record for three-pointers in a season on Tuesday night, which was really inevitable when you think of how much they've shot from behind the arc this year (the Houston Rockets were close, but the Los Angeles Lakers ranked third in that category and still have over 300 fewer attempts than the Knicks).
The significance of that is that Woodson hasn't always relied on three-point shooting. In fact, he was a very different coach for the Atlanta Hawks, but as the talents of his team have changed, so has Woodson.
Woodson has also had a revolving door of players throughout the season. Kenyon Martin went from the couch into the starting lineup, Amar'e Stoudemire has been in and out of the lineup through surgeries on each of his knees and even Carmelo Anthony has been out of the lineup from time to time.
Despite it all, the Knicks are third in offensive efficiency rating. However, their defensive rating is up to 103.5 from 98.4 a season ago, which is why Woodson only gets a B+.
Team: Washington Wizards
Coach: Randy Wittman
Record: 29-51
Grade: B
Summary: John Wall didn't get healthy until the middle of January and Bradley Beal ended the season on the shelf, but in between those two injuries were some impressive wins for the Wizards.
Since Wall's return from injury, the Wizards have beaten the Thunder, Hawks, Nuggets (twice), Clippers, Knicks, Nets, Bucks (twice), Rockets, Lakers, Grizzlies, Bulls and Pacers. In fact, after starting 4-28, the Wizards have gone 25-23.
Wittman hasn't been a miracle worker. Jan Vesely continues to struggle, for instance.
However, he has helped guys like Kevin Seraphin (9.0 points, 4.3 rebounds per game) and that's enough of a reason to let Wittman continue in this position. Wittman may turn out to be one of the better coaching hires in recent memory. 
Team: Boston Celtics
Coach: Doc Rivers
Record: 40-39
Grade: B-
Summary: It was a typical season for Doc Rivers. He was handed a few injuries that seemed destined to end the team's playoff hopes, and then somehow they pull it together right before the playoffs.
Rajon Rondo was the team's only point guard, so when he tore his ACL, the season should have been lost. Instead, Paul Pierce, Jeff Green, Jordan Crawford, Avery Bradley and Courtney Lee have shared the playmaking duties.
It hasn't always been pretty (the Celtics rank 22nd in offensive efficiency rating), but they'll be a very dangerous seventh seed when the playoffs begin. And even though they're playing without a true center, the Celtics will likely finish the season ranking among the top five teams in defensive efficiency rating.
Team: Brooklyn Nets
Interim Coach: P.J. Carlesimo
Record: 33-18
Grade: B-
Summary: Nets fans might complain about the team's rotations or the lack of playing time for scorers such as Mirza Teletovic or MarShon Brooks, but the fact is the season turned around when Carlesimo was promoted. The Nets were a .500 team when Avery Johnson was fired, and regardless of whether you feel the players quit or not, they've worked hard under Carlesimo since his promotion.
Since Dec. 28, when Carlesimo took over as interim coach, the Nets have ranked eighth in the NBA in offensive efficiency rating, having averaged 106 points per 100 possessions, and second overall in rebounding rate.
Team: Orlando Magic
Coach: Jacque Vaughn
Record: 20-59
Grade: C+
Summary: There is a future in Orlando, and that's the biggest compliment one can give to Vaughn.
The first-year coach oversaw the development of young contributors such as Nikola Vucevic (11.9 rebounds per game), Tobias Harris (16.9 points per game since being acquired by Orlando) and Maurice Harkless, who promises to be a solid defender in the future.
When you consider the complete disarray the Magic were in back in the fall, the fact that they have a structure in place is a minor miracle and Vaughn deserves some credit.
Team: Atlanta Hawks
Coach: Larry Drew
Record: 44-36
Grade: C+
Summary: The Hawks never seem to get any worse, but they never get any better, either. After improving each season under Mike Woodson, they've simply held firm under Larry Drew.
There has been some adversity, particularly Lou Williams' season-ending injury.
But everyone has speed bumps. The Hawks just haven't done anything overwhelming to clear those hurdles. They rank 15th in offensive efficiency and 10th in defensive efficiency.
Drew has the team back in the playoffs, but with only a handful of players under contract for next season (namely Jeff Teague and Al Horford) there could be a major shakeup in Atlanta.
Team: Cleveland Cavaliers
Coach: Byron Scott
Record: 24-55
Grade: C
Summary: It's not that expectations were particularly high for the Cavaliers, but the team that flirted with the playoffs a season ago stopped flirting in 2012-13.
Kyrie Irving was still impressive, Tristan Thompson improved and even the rookies, Dion Waiters and Tyler Zeller, had their moments.
The issue was that the Cavaliers regressed defensively and only three teams allowed more points per possession.
Scott needs to find ways to improve the defense, without sacrificing the team's budding offensive stars. In other words, guys like Irving and Waiters need to become better defenders.
Team: Philadelphia 76ers
Coach: Doug Collins
Record: 32-47
Grade: C-
Summary: Yes, the 76ers got some bad luck when Andrew Bynum missed the entire season because of his bad knees, but the cupboard wasn't bare in Philadelphia. The team still had Spencer Hawes and Lavoy Allen down low, as well as Jrue Holiday, Thaddeus Young and Evan Turner on the perimeter.
However, injuries to Jason Richardson once again left the 76ers without many perimeter shooters and defenses were able to pack the paint.
To his detriment, Collins failed to adjust. This wasn't the most talented team he's coached in Philadelphia, but it wasn't his best coaching performance either.
Team: Milwaukee Bucks
Interim Coach: Jim Boylan
Record: 21-26
Grade: C-
Summary: The Bucks were at .500 when they fired Scott Skiles, so even though they're going to the playoffs, it's not as though they turned a corner under Boylan.
Boylan has been a better fit than Skiles, philosophically. Since the Bucks made the switch in early January, they've ranked third in the NBA in possessions per game. Clearly, Boylan has wanted to take advantage of his backcourt speed (Brandon Jennings, Monta Ellis) in a way that Skiles never really did.
The problem is, picking up the pace hasn't made the Bucks any better. In fact, per 100 possessions this season, they've been outscored by a point.
To Boylan's credit, Larry Sanders has become a defensive force this season.
Team: Detroit Pistons
Coach: Lawrence Frank
Record: 28-52
Grade: C-
Summary: Expectations were not high in Detroit, which has gone from one of the NBA's most basketball-crazed cities to the type of place where one can hear the conversations of others from across the arena.
There has been a lot to overcome. Not only are the Pistons very young, but they also have several guards (Rodney Stuckey, Brandon Knight, Jose Calderon) competing for the ball, which has hurt big men like Greg Monroe and Andre Drummond.
It also hasn't helped that Charlie Villanueva shot the ball seven times per game (37.5 percent accuracy from the field this year).
Of course, Frank has had some health issues with his family, which is an obstacle that simply takes precedent over any issues the team may have.
Nobody doubts Frank's ability to coach. This may not have been the right time or opportunity for him to return to the bench, though.
Team: Charlotte Bobcats
Coach: Mike Dunlap
Record: 18-61
Grade: D+
Summary: The expectations were low and the Bobcats showed why in 2012-13.
There were a few bright spots. Rookie Michael Kidd-Gilchrist wasn't consistent, but did show off his immense talent on occasion. Kemba Walker, Gerald Henderson and Bismack Biyombo were productive, but players such as Byron Mullens failed to take the next step offensively.
Dunlap obviously had a difficult job this season and deserves another chance next year, but a repeat of the team's 2012-13 performance would be cause for dismissal.
Team: Toronto Raptors
Coach: Dwane Casey
Record: 31-48
Grade: D
Summary: Forgiving the roster upheaval, injuries to Andrea Bargnani and the youth of center Jonas Valanciunas, Casey still had a bad season.
The team had a chance to compete for the final spot in the East when they acquired Rudy Gay, but they only seemed to get worse following the deadline, after which they scored only 100.2 points per 100 possessions.
There is still talent on the team, and they could be significantly better next season, but Casey might not be around to see the finished product. The Raptors finished the season among the bottom 10 teams in defensive efficiency and rebounding rate.
(Note: All statistics provided by NBA.com's new stats tool)