Home Court Advantage No Guarantee for Clippers
In the midst of easily the most decorated season in franchise history, the Los Angeles Clippers have stumbled so far in the month of March.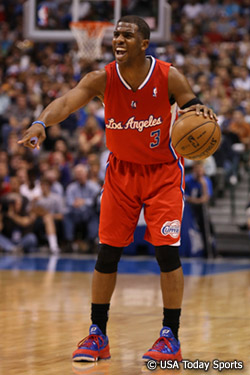 There's little doubt that closing out the first 50-win season and winning the first division title in franchise history have been important to the resurgence and indicative of the turnaround of the Clippers. Now, needing just two wins to get to 50 on the season and having already ran away with the Pacific Division, playing the right way come playoff time trumps either of those goals.
"Even more than seeding for us, it's about playing great at the right time," Sixth man Jamal Crawford told HOOPSWORLD. "Gaining momentum going into the playoffs and feeling good about what you're doing. We feel like if we're playing good, playing the right way and feeling good about what we're doing, we like our chances against anybody."
Despite featuring the sixth-best home record in the NBA this season at 28-8, the Clippers believe peaking down the stretch will propel them no matter what arena they're playing in come playoff time.
"I want the highest seed possible but I've always been in a situation where we just want to be playing the right way in the playoffs," All-Star point guard Chris Paul said. "I think we have the capability that, regardless of if we're home or not, you've got to be able to win on the road so either way it doesn't matter.
"We've just got to be more effective. Fortunately we know we have a playoff spot but that does no good if you're not playing the right way. We've played hard and we're going to keep working because we still have time."
The Clippers have mounted a pedestrian 5-5 record over their last 10 contests and now are in a dead heat with both the Denver Nuggets and Memphis Grizzlies in the running for spots 3-5 in the West. Just one game separates those three teams in the Western Conference standings and most likely two of the three will go head-to-head in a first round postseason matchup.
Even for a franchise that has made the playoffs a total of three times over its nearly 20 years in Los Angeles, just being in a solid position heading into the playoffs seemingly isn't good enough anymore.
"I couldn't care less about the expectations or how happy people are that we're winning or stuff like that," Paul said. "At the end of the day, we're playing for one reason and that's to try to win a championship."
After accumulating the highest winning percentage for a season in franchise history (60.6) this past year, there's little doubt that the Clippers face much higher expectations heading towards April in 2013. The feel-good, excitement-driven Lob City squad from last season has quickly become more serious after garnering the expectations that come with being a legitimate championship contender.
"The expectations, sometimes people get a little delusional in terms of how you're going to get there and what you're going to do," head coach Vinny Del Negro said. "But people get sick of the word 'process' probably and things like that, but that's what it is. It's a long NBA season. You have to handle the injuries. You have to handle a lot of things but I feel like we're in a pretty good position right now and we have to finish the season off strong, and then it'll come down to our health going into the playoffs. There's no easy games in the West. I don't care where you finish; every round is going to be difficult. Whoever is playing the best basketball and executing the best, especially down the stretch, will win."
For a team that has struggled as of late, and that features both its head coach and franchise point guard in the midst of the final year of their deals, the weight of the season is mounting. Del Negro insists that embracing that pressure is something his players should be happy to deal with considering the potential stake and consequences of this season.
"I enjoy the pressure, that's what it's about," Del Negro said. "I love the competition. Could things be a little better in certain areas? Of course, but all those things get answered at the end of the year. Like I tell the guys, we should thrive on the pressure because you're in a situation where the games matter, where we're in a playoff run – instead of being out of the playoffs. So take advantage of the situation and handle the pressure in terms of being excited about it. Everyone's  vying for certain things but we can only control what we can and that's our preparation and the intensity that we play with."
As to be expected from a competitor of his nature, Paul's frustration in particular was clear as he slammed his hand against the wall heading into the showers after Tuesday's 109-102 overtime loss in Dallas.
"I don't think there's any pressure," Paul said. "I think for us it's just will. You've got to have that will to just fight to the end and we're going to do that, we're going to continue to compete. We have the opportunity to do something that's never been done [as a franchise], win 50 games and win the division but not be satisfied with that."
Despite nearing the end of the 2012-13 NBA season, this team still feels it can continue to get better and will be playing its best basketball to start the postseason.
"I think it's a combination of everything," Crawford told HOOPSWORLD. "It shows we have room for growth. Here we are, almost at 50 wins with [11] games to go, and we're still like, 'Hey, we can do this better, we can do this better.' Because we understand the ultimate goal: it's not just to make the Playoffs or go to the second round, or whatever. We feel like we're one of the better teams in the NBA, and with that comes responsibility, you know, and pressure. We embrace both of them."
Key players shuffling in and out of the lineup certainly hasn't helped steady the ship and both players and coaches are eager to see how this team responds with a full deck.
"Getting healthy is our biggest key," Paul said. "As long as we're healthy, we've got a shot."
Featuring arguably the most talented team from top to bottom in the NBA, it wouldn't be wise to count this Clippers team out in pursuit of the number three seed out West. While there will be no easy matchups in the first round of the brutal Western Conference playoffs, avoiding the likes of Memphis or Denver in a first round series should on the Clippers' agenda.
Chauncey Billups returning to action and getting the swelling down in Paul's ailing left knee will be crucial but, heading into April, this is a team that no one will be eager to face off against come playoff time.