Houston's Pursuit Of Josh Smith Over?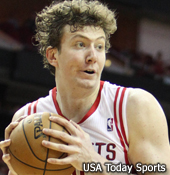 The Houston Rockets would like nothing better than to land Josh Smith before today's trade deadline. Not only would he be a dynamic addition to their current core, he would also potentially help in luring Dwight Howard to Houston as a free agent this summer.
The reality, however, is that Atlanta's asking price will likely mean Smith will not be wearing Rockets red any time soon. The Hawks were willing to have the conversation with Houston, but their asking price of Omer Asik and Chandler Parsons was simply too steep a price for the Rockets to pay. Giving up Asik would leave Houston without a starting center, and Asik's Most Improve Player type play is a huge part of why the Rockets are in the playoff chase. Without Asik the Rockets would likely lose Smith at season's end and with him would go even the small chance Houston might have of luring Howard.
— Bill Ingram