Iman Shumpert May Not Get Traded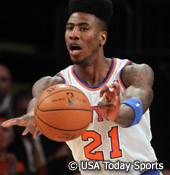 Don't be surprised if the trade deadline passes today and Iman Shumpert is still a member of the New York Knicks.
The Knicks have been listening to offers for Shumpert and have been linked to veterans such as J.J. Redick of the Orlando Magic and Jared Dudley of the Phoenix Suns, but there's no guarantee that they're going to trade the second-year guard.
Sources close to the situation say that talks with the Magic regarding a Redick for Shumpert deal have all but died. In addition, several sources from teams pursuing Shumpert have said that they believe New York will hold onto him for now.
As we've said all along, the Knicks viewed Shumpert as a way to potentially upgrade the talent on their team, but by no means do they want to trade him just to trade him. If there isn't a deal out there that allows them to significantly improve, Shumpert isn't going anywhere.
— Alex Kennedy