Is Maxing Out Carmelo Anthony a Mistake?
The New York Knicks franchise has finally sniffed success after a decade spent decaying in the doldrums.
Last season, the Knicks captured the Atlantic Division crown for the first time since 1994; they notched over 50 wins for the first time since 1997. Prior to last April, the Knicks hadn't won a playoff series since Bill Clinton was in office.
The primary driving force behind the Knicks' desperately-desired recent prosperity has been Carmelo Anthony.
Anthony, the league's reigning scoring champion, is the only player in franchise history to average at least 26 points, six rebounds and three assists per game in a season. Last year, Anthony became the first player in a decade – and just the eighth player in NBA history – to average at least 28.5 points per game, yet fewer than 2.7 turnovers in the same season.
A native New Yorker, Anthony forced his way to NYC via a mid-season trade in February of 2011. Once the trade was consummated, Anthony immediately inked a three-year extension for an estimated $67. 2 million.
The Knicks are no longer a laughingstock, and are once again relevant. Anthony's name is bandied about in MVP conversations. He energized an entire basketball-loving city. On the surface, the situation seems idyllic.
However, next July, Anthony will have a decision to make. He is scheduled to earn$23.3 million during the 2014-15 season. Yet, he has an early termination option in his contract, which means he can choose to squash the final year of that deal, and become a free agent in the summer of 2014.
It is certainly safe to assume that Anthony will be advised by his agents to make the fiscally prudent decision to opt out and become a free agent, which would allow him to sign a new long-term contract with far more guaranteed money.
Most pundits have also assumed Anthony, considering his skill set and star power in the Big Apple, will seek a max contract from the Knicks.
In New York, it seems most of the debate has centered around whether the Knicks will be lucky enough to have the opportunity to pay Anthony max-money or whether he might choose to relocate to another high-profile city, such as Los Angeles, to ply his trade.
Earlier this month, when asked about his future, Anthony made news by proclaiming, "I'm not going anywhere." The headlines in New York tabloids over the next few days intimated that 'Knick fans could now breathe a sigh of relief.'
In actuality, if/when Anthony opts out next summer, it seems far-fetched he would seriously consider leaving New York. First and foremost, he can make far more money in New York than he could elsewhere. If he signed with any other team, he could receive a maximum of four years on his new deal. If he re-signed with the Knicks, they would be able to offer a fully guaranteed fifth season.
Furthermore, Anthony forced a trade to the Knicks two years ago for a reason. He's never tried to hide the fact that he loves living in New York. Both he and his wife have millions of reasons to stay where they are.
So, that settles it, right? Anthony will opt out next summer, the Knicks will immediately offer a max contract to retain the face of their franchise and everybody will live happily ever after.
Well, not necessarily.
There is another option. The Knicks could (*gasp*) consider paying Anthony less than max money, and, ultimately, let him skip town if he finds that unacceptable.
Here are the particulars of what a maximum contract for Anthony would look like:
In year one of his new deal, Anthony can earn 105 percent of his 2013-14 salary. So, the first year (2014-15) of his new contract would pay $22.457 million (105 percent of $21.39 million).
Because the Knicks own Anthony's Bird rights, they can increase his salary by 7.5 percent of his first year's salary, and 7.5 percent of $22.457 million is $1.684 million. If they give him the maximum raise, his yearly salaries would be as follows:
2015-16: $24.141 million
2016-17: $25.825 million
2017-18: $27.509 million
2018-19: $29.193 million
Yes, you read that correctly. During the fifth and final season of a potential new max contract, Anthony would make over $29 million. He would celebrate his 34th birthday on May 29th, 2018, a few months prior to the start of that final season.
How effective and efficient will a 34-year-old Anthony be? Well, he better be incredible, considering he could be taking up nearly 50 percent of the Knicks' salary cap that season.
Let's take a step back for second. Last season, the third-highest paid player in NBA was the amnestied Gilbert Arenas. Yes, Arenas, in the final year of a $111 million contract he signed back in the summer of 2008, earned (or, should I say, was paid) $20,807,922.
The year before, during the 2011-12 campaign, the third-richest salary in the sport belonged to Rashard Lewis, who pocketed $21.1 million.
In the upcoming 2013-14 season, the third-highest paid player in the NBA will be none other than the Knicks' own Amar'e Stoudemire ($23.4 million)
In 2015-16, Joe Johnson will inherit the title of "NBA's highest paid player" as he is set to pull down $24.9 million in salary.
In each of these instances, the vast majority of fans in Washington, Orlando, New York and Atlanta, respectively, were excited the day their favorite franchise signed a star player to a long-term contract. In the cases of Johnson and Arenas, in particular, the alternative of losing the face of your franchise via free agency and having nothing to show for it certainly seemed far worse.
In retrospect, these contracts seem relatively ridiculous. The Wizards are still trying to climb out of the rubble of the Arenas disaster. The Magic were actually desperate enough to rid themselves of Lewis' deal, that they willingly took back Arenas in a swap of two outrageous contracts. One year after the Hawks signed Johnson to a $124 million pact, they traded him to the Nets for spare parts and salary cap filler, content to simply rid Johnson from their payroll.
Granted, these particular contractual situations are extreme, as there are many max contracts that end up greatly benefiting both the player and the organization. Furthermore, the aforementioned players don't have the talent or resume comparable with Anthony. However, the above examples illustrate an important point – In a sport with a restrictive salary cap, sometimes doing whatever it takes to retain your best player is not always the best course of action. Furthermore, giving a max contract to a player after he has turned 30 is by no means a no-brainer.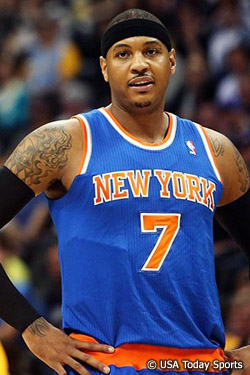 Another question that needs to be asked: Will Anthony remain healthy during the duration of his next deal? He missed 15 games last season due to an assortment of ailments, including a serious shoulder injury. In fact, he's missed an average of 12 games per season dating back to 2006. Durability has never been a great strength of his, and it's difficult to imagine marked improvement in that area as he heads into his 30s.
And before we get to the back end of that deal, his cap hit for the 2015-16 season would be prohibitive to the Knicks making major improvements during the all-important summer of 2015. Knicks management has had July, 2015 circled on their calendars for a long time now. New York will shed major salary from their books at that time. The 2014-15 season is the final year on the contracts of Stoudemire, Tyson Chandler and Andrea Bargnani. New York will dump a whopping $49.6 million in salary once those three contracts are cleared from the books. As a result, the Knicks could potentially be a major player in the free-agent market that summer. The size and scale of Anthony's contract will obviously impact just how aggressive and creative they can be at that time.
So, all that said, where does this leave the Knicks? Obviously, they would prefer to keep their best player and one of the league's premier scorers in the league. Without Anthony, they would immediately take a huge step backwards and could likely no longer be considered a legit contender (until, that is, they would be able to use that cap savings to pursue another superstar – but it's important to note that wouldn't be until 2015).
On the flip side, if they commit max money to Anthony, and don't win a title (or at least advance to the NBA Finals) over the next couple of seasons, would the gamble be worth it? Ultimately, they may find themselves trapped in salary cap purgatory, with an unbalanced and uncompetitive roster a few years from now.
The ideal solution may be for the Knicks and Anthony to find a compromised middle ground that both sides can be happy with.
In the past, it's been rumored that Anthony has expressed concern over the future of the franchise as it relates to the ability of Knicks management to surround him with top-tier talent. Well, he has to understand that some of that responsibility falls on his shoulders.
If he truly wants to maximize the Knicks' ability to compete at a championship level, he will likely have to sacrifice a bit financially.
While this altruistic sensibility is understandably uncommon among professional athletes, it is not unheard off.
Back in the summer of 2010, when LeBron James signed with the Miami HEAT, he could have agreed to a contract starting at $16.6 million. Instead, he opted to sign a deal starting at just $14.5 million for the 2010-11 season. All told, when factored out over the life of the six-year contract he signed, James left roughly $15 million in guaranteed money on the table (as did Chris Bosh and Dwyane Wade).
A 26-year-old James felt comfortable "settling" for $14.5 million in that first, base year of his contract.
How much would a 30-year-old Anthony be willing to sign for? Will he accept anything less than the $22.4 million he'd be entitled to? (Keep in mind, by July of 2014, Anthony will have already cashed more than $130 million in NBA checks.)
If Anthony does demand max money, he essentially forfeits the right to complain about the composition of the  roster surrounding him for the next five seasons. In order to increase the likelihood of the Knicks adding satisfactory complimentary pieces alongside him, he'll have to forgo some funds, just as LeBron and company did down in South Beach.
And as if the situation was tricky enough, yesterday the Knicks announced that Steve Mills would replace Glen Grunwald as the team's general manager. Some pundits have already speculated that owner James Dolan brought in Mills because he felt Mills gave New York its best chance to keep Anthony.
Whoever is in charge and making a final determination next July, it is certainly a much more difficult decision when looked at in the proper context.
Can the Knicks afford to play hardball with Anthony?
Ironically, the better question may be: Can the Knicks afford to offer Anthony a max contract?