March Madness Day Four: Studs and Duds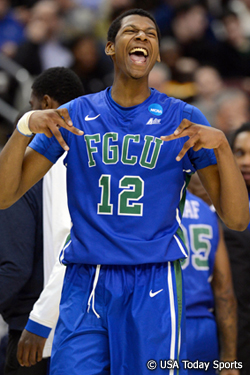 On Sunday, history was made. For the first time ever, a 15-seed advanced to the Sweet 16. By now, just about every bracket in the country has been busted, but this year's tournament has been extremely entertaining. Sunday's eight-game slate was no exception.
If you missed some of today's action and want to see which teams advanced to the Sweet 16, check out our 2013 NCAA Tournament Headquarters for all of the box scores and game recaps.
Here were Sunday's studs and duds.
STUDS
Florida Gulf Coast – The Eagles made history, which is why the entire team earns a spot on the studs list. Florida Gulf Coast became the first No. 15 seed to advance to the Sweet 16 after defeating San Diego State, 81-71. The Eagles are the best story of the tournament and they've become a fan favorite despite ruining every bracket in the nation. Florida Gulf Coast's balanced attack was too much for San Diego State, just as it was too much for Georgetown in the opening round. Bernard Thompson, Sherwood Brown, Chase Fieler, Brett Comer, Christophe Varidel and Eric McKnight all chipped in against the Aztecs. Next up for the Eagles is the Florida Gators.
Jeff Withey, Kansas – Withey was listed as a stud in the opening round and he followed up that impressive 17-point, seven-block performance with a huge game against the North Carolina Tar Heels. The senior center had 16 points, 16 rebounds and five blocks in the win over UNC. Travis Releford was very productive as well, chipping in 22 points, but there's no question Withey led the way for the Jayhawks.
Aaron Craft, Ohio State – The Buckeyes advanced to the Sweet 16 and Craft deserves much of the credit. Sure, Deshaun Thomas had 22 points in Ohio State's win over Iowa State, but Craft had the most important points of the game. With 29.9 seconds remaining, Craft took over. He dribbled out the clock, faked a drive and then drilled the game-winning three with a hand in his face. The junior guard was calm, cool and collected in crunch time, which earns him a spot on the studs list. He finished the game with 18 points, six assists, two steals and arguably the best shot of the tournament thus far.
Mike Rosario, Florida – Kenny Boynton and Patric Young combined for just 12 points on 2-10 shooting from the field on Sunday, but the Gators were able to beat the Minnesota Golden Gophers because Rosario had his best game of the season. The senior guard had a season-high 25 points on 8-12 shooting from the field and he knocked down six of nine attempts from long range. Rosario stepped up for the Gators and helped keep their season alive.
Rion Brown, Miami – Brown led the way against Illinois and helped Miami advance to the Sweet 16. The junior guard averaged just six points per game during the regular season and had scored in double-figures just six times all year. However, he erupted for 21 points, five rebounds and two assists for the Hurricanes on Sunday. Making Brown's performance even more impressive was the fact that he came off of Miami's bench and played just 29 minutes. If Brown can continue to play at or close to this high level, he gives the Hurricanes another weapon, making them an even scarier team going forward.
Victor Oladipo, Indiana – Oladipo's stats (16 points and eight rebounds) don't jump off the page like some of his peers' on this list, but he came up big in Indiana's win over Temple. In the final minutes, he made things difficult for Temple star Khalif Wyatt, who had been hot all afternoon on the way to 31 points. Oladipo then sealed the win for the Hoosiers when he hit a clutch three-pointer with 14 seconds left in the game.
Khalif Wyatt, Temple – Wyatt singlehandedly kept Temple in the game against Indiana, finishing with 31 points as previously mentioned. However, he couldn't take down the top-seeded Hoosiers alone. The senior guard shouldn't be blamed for the loss; it was his supporting cast that didn't deliver. This was the second consecutive game in which Wyatt scored 31 points. He was one of the most impressive players in the tournament and it's a shame that he didn't get much help from his Temple teammates.
DUDS
Ben McLemore, Kansas – Entering the tournament, McLemore was considered one of the top players in the nation and projected as a top pick in the 2013 NBA Draft. However, through two games, he has been very average. After contributing just 11 points in Kansas' opening win over Western Kentucky, McLemore was awful against North Carolina. The freshman guard had just two points on 0-9 shooting from the field including six missed three-pointers. Kansas advanced to the Sweet 16, but only because McLemore was bailed out by Jeff Withey (16 points, 16 rebounds and 5 blocks), Travis Releford (22 points, 8 rebounds and 3 steals) and Kevin Young (10 points and 9 rebounds).
Reggie Bullock, North Carolina – Bullock has developed a reputation as one of the best shooters in the country, which is why it was so surprising to see him go cold in Sunday's loss to Kansas. Bullock finished with just five points on 1-7 shooting and he missed three of his four attempts from long range. He also had three turnovers and four fouls in the losing effort.
Scootie Randall, Temple – Khalif Wyatt can't do it all. The senior guard put Temple on his back and scored 31 points against Indiana, but his supporting cast didn't contribute much at all. Randall, who was Temple's second-leading scorer during the regular season, finished with just three points on 0-12 shooting and four turnovers. Jake O'Brien (0-4 from the field) and Will Cummings (0-5) struggled as well.
Marshall Henderson, Ole Miss – Yes, Henderson had 21 points against La Salle. However, the loud-mouthed guard was incredibly inefficient and shot the Rebels out of the game. He was 8-21 from the field and a dreadful 4-15 from three-point range. He also had a team-high four turnovers in the loss. Henderson was ice cold in the first half of Ole Miss' opening round game against Wisconsin, but it didn't cost the Rebels the win. On Sunday, his poor shooting resulted in Ole Miss being eliminated.
Durand Scott, Miami – Scott was outstanding in the Hurricanes' opening round win over Pacific, but he disappeared during Sunday's game against Illinois. He had just six points on 2-8 shooting from the field. Fortunately for Scott, his poor performance didn't cost Miami the game. Rion Brown and Shane Larkin stepped up in Scott's absence and propelled the Hurricanes into the Sweet 16. However, Miami will need more from their senior guard going forward.
Kenny Boynton, Florida – Boynton struggled in the Gators' win over the Minnesota Golden Gophers. He had just seven points on 2-8 shooting, including 1-6 shooting from long range. He also had three turnovers to just one assist. Florida advanced to the Sweet 16 behind a strong performance from Mike Rosario, but they'll need Boynton to play better than he did on Sunday to contend for the national title.