March Madness Sweet 16: Studs and Duds (2)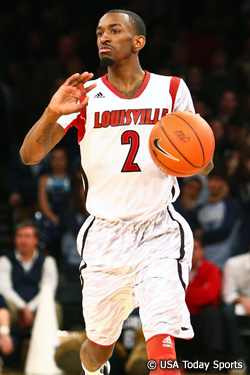 On Friday night the Sweet 16 came to an end, with Louisville, Duke, Florida and Michigan punching their tickets to the Elite Eight, which will be played on Saturday and Sunday. Here's a look at the studs and duds from Friday's action:
STUDS
Russ Smith, Louisville - The Cardinals' defense wasn't as stout as it was in the first two rounds, but Smith did not relent and as a result they were able to cruise to the Elite Eight with a 77-69 victory over the Oregon Ducks. Smith had his way with the Ducks' freshmen backcourt, going off for 31 points on 9-16 shooting from the field and 12-14 from the free throw line. He's arguably been the best player in the tournament so far and he is doing his NBA stock a lot of good. He is rapidly working his way up the second round.
Arsalan Kazemi, Oregon - In his final game as a collegian, Kazemi put up an impressive double-double of 11 points and 12 rebounds against a very formidable Louisville frontline. Kazemi grabbed 45 rebounds total in his three tournament games, proving himself at the games' biggest stage after going overlooked the last three years at Rice. Rebounding is looked at as one of the skills that translates the most, so Kazemi has helped his stock over the last two weeks. He may not be in the NBA next season, but Kazemi will definitely be playing professionally somewhere.
Mitch McGary, Michigan - McGary had his hands full on Friday night against Kansas center Jeff Withey. Withey has been one of the best centers in the country all season long and is a projected first-round pick, but McGary thoroughly outplayed him, going for 25 points and 14 rebounds along with three steals. McGary was really active and did a great job of finishing around the rim. This is a statement performance for him as a prospect because most of his body of work has been against smaller, younger players. Withey is neither, and McGary dominated.
Trey Burke, Michigan - Early on, it seemed like Burke would land on the duds list. He did not get off to a great start, but he ended up being the hero in the end. Burke scored eight points in the final 1:16 and hit a three from Ann Arbor, Michigan with five seconds remaining to take Kansas to overtime, where the Wolverines would eventually come out on top 87-57. Burke finished with 23 points and 10 assists and showcased an ability to come up big in the clutch that will help set him apart from other prospects in the minds of NBA talent evaluators.
Ben McLemore, Kansas - All tournament long, we've been waiting for McLemore to play like a star and on Saturday he finally did. He got off to a slow start, but eventually caught fire and finished with 20 points, including four makes from beyond the arc. Overall, McLemore did not have the kind of showing that he needed to in order to solidify himself as the top prospect in the 2013 NBA Draft. But, Friday night was one of those flashes of brilliance that makes him so intriguing.
DUDS
Damyean Dotson, Oregon - One of the best players in the tournament during the first two rounds, Dotson fell victim to the Cardinals' defense on Friday night. They made life extremely difficult for him, limiting him to just 12 points on 5-14 shooting from the field. This was a learning experience for Dotson, a freshman, and he should come back much better because of it next year.
Michigan State's Frontline - Going into their Sweet 16 match-up against the Duke Blue Devils, the Spartans appeared to have an advantage on the frontline in terms of size and athleticism. However, they failed to really impact the game at the level they needed to in order to survive and advance. Derrick Nix and Adreian Payne were a combined 6-20 from the field, while Branden Dawson only contributed four points, two rebounds and two assists. As they think back to this loss throughout the summer, they'll really wish they would have taken advantage of their opportunities better.
Brett Comer, Florida Gulf Coast - Although the 2013 NCAA Tournament will always be remembered as Comer's coming out party, he did not end on the note that he would have liked. The Florida Gators' defense proved to be too tough, limiting him to just one make from the field and more turnovers (9) than assists (7). They're one of the best defensive teams in the country, though, so there shouldn't be too much made of Comer's struggles.