NBA AM: 2013 Draft Night Full Of Surprises
The 2013 NBA Draft was full of surprises, which included nearly 20 trades and quite a few out of the blue selections in the lottery.
The night properly set the stage for free agency, which begins July 1.
Here are some of the biggest surprises and first impressions of what went down on draft night 2013:
Cavaliers Select Anthony Bennett No. 1
After reportedly shopping the top pick for weeks leading up to the draft, the Cleveland Cavaliers managed to keep their selection plans secret and then stunned most by selecting former UNLV standout Anthony Bennett first overall. The move even caught Bennett by surprise.
"I'm just as surprised as everybody else," Bennett said. "I didn't really have any idea who's going No. 1 or who was going No. 2.  I heard everything was up for grabs.  But I'm just real happy, glad that I have this opportunity, and I just got to thank God for everything."
Bennett, a Canadian forward, joins countryman Tristan Thompson who was selected fourth overall by the Cavaliers back in 2011.
Nerlens Noel Slips Out Of Top Five, Then Gets Traded
Leading up to the draft, former University of Kentucky center Nerlens Noel was projected to be the top pick and hardly anyone had the big man sliding outside of the top three.
However, on draft night Noel witnessed Anthony Bennett, Victor Oladipo, Otto Porter Jr., Cody Zeller and Alex Len selected ahead of him before New Orleans invested in him at No. 6.
The Pelicans are sending Noel to Philadelphia in a deal that netted the team All-Star point guard Jrue Holiday. Noel, who is recovering from a torn ACL, likely won't be available to play until December.
Philadelphia Starts Rebuild, Trades Jrue Holiday
In 2012, the Philadelphia 76ers were just one win away from earning a trip to the Eastern Conference Finals, losing to the Boston Celtics in the second round in a hard fought series. Not wanting to rest on their laurels and momentum, the club swung for the fences last summer by acquiring former All-Star center Andrew Bynum from Los Angeles in a summer blockbuster.
As part of the deal, the Sixers parted ways with former All-Star forward Andre Iguodala, Maurice Harkless, Nikola Vucevic and a future first round pick. The Sixers would ultimately win just 34 games this past season, missing the playoffs and head coach Doug Collins resigned taking a front office consulting role with the team.
On draft night, the team stunned many by trading point guard Jrue Holiday, a first time All-Star last season, to the New Orleans Pelicans in exchange for the rights to sixth overall pick Nerlens Noel and a top three protected first round pick in 2014.
Newly hired general manager Sam Hinkle quickly put his stamp on the franchise by arguably bringing in a guy who could pan out to be one of the better players in the draft while also securing two 2014 picks in what could be a loaded draft class next year.
The New Orleans Pelicans May Flirt With The Playoffs In 2014
The Pelicans won only 27 games this past season but the arrival of Jrue Holiday from the 76ers may keep the team in the playoff hunt for the majority of next season.
Holiday will join a solid nucleus which includes last year's top overall pick Anthony Davis, high scoring guard Eric Gordon and sharpshooting forward Ryan Anderson.
Of course the Pelicans are taking a bit of a risk by shipping Noel and a potential 2014 lottery pick in the process, but ownership is taking a chance on a proven commodity in Holiday. Even with the addition of Holiday, the Pelicans will have cap room this summer to potentially add a veteran free agent to the mix.
Brooklyn Invests Big, Loads Up For Title Push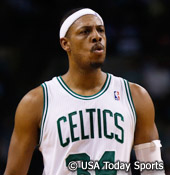 The Brooklyn Nets and Boston Celtics agreed in principle to a blockbuster deal on draft day.
The Celtics received Gerald Wallace, Reggie Evans, Kris Humphries, Keith Bogans and three future first-round picks while the Nets received Kevin Garnett, Paul Pierce and Jason Terry.
The Nets will now literally feature a starting five of All-Stars, both past and present, with Deron Williams, Joe Johnson, Paul Pierce, Kevin Garnett and Brook Lopez. The team will now also feature the highest starting lineup payroll in the league as the five players will combine to make over $80 million next season, which will dwarf some franchise's total spending in 2014.
But the message from ownership is clear in Brooklyn – win a title.  The team has surrounded newly hired head coach Jason Kidd with a solid cast of talent and veteran leadership but have also exponentially raised the level of expectations in the process.
Draft Night Stock Freefall
Numerous players saw their stock fall on draft night. On a smaller scale, guys such as Ben McLemore and Shabazz Muhammad went much lower than projected at the start of the process. McLemore was selected by the Sacramento Kings at No. 7 overall, while Muhammad nearly slid out of the lottery going to Utah at No. 14 (later dealt to Minnesota).
But there were also a few guys who plummeted further. Louisville's Gorgui Dieng tumbled to No. 21 after spending weeks flirting with the lottery in the majority of mock drafts, while Rudy Gobert was projected as a mid-first round but was selected at No. 27.
Other guys who were projected to hear their respective names called in the first round but slid into round two were Allen Crabbe (31), Glen Rice Jr. (35) Jeff Withey (39) and Jamaal Franklin(41).
 Notable Undrafted Prospects
Every year, there are a few notables who don't hear their name called in the draft.
The 2013 draft was no different with C.J. Leslie, Myck Kabongo, Seth Curry, Kenny Kadji, Elijah Johnson, Adonis Thomas, Vander Blue, Michael Snaer, Phil Pressey, Khalif Wyatt and Matthew Delladova.
The journey isn't over for these guys and you will see a couple of them in the league, but the journey for them may now include some foreign stops, D-League assignments and plenty of summer league work.
In speaking with agents, sometimes its best for guys to go undrafted all together as opposed to going extremely late in the second round. The reason is the ability for the player to carefully pick the situation that best suits them and provides the strongest opportunity to carve out a career.
Blazers Won't Offer Eric Maynor Qualifying Offer
The Portland Trail Blazers selected combo guard C.J. McCollum with the tenth overall pick in the 2013 NBA Draft and the move will likely impact the future of reserve guard Eric Maynor in the process.
The Blazers selected the former Patriot League standout to help alleviate some of the pressure on reigning Rookie of the Year Damian Lillard.
With the arrival of Maynor, in a midseason trade, Lillard's efficiency increased playing off the ball. The Blazers are hoping McCollum, a more explosive player, can provide the same type of impact in the lineup.
Maynor is set to hit free agency this summer. The Blazers could offer the guard a $3.4 million qualifying offer, which would make him a restricted free agent and give the team the option to match any offer he receives this summer.
But issuing a qualifying offer to Maynor would create a $5.9 million cap hold and potentially limit some of Portland's flexibility in free agency. As a result Blazers general manager Neil Olshey has confirmed the team will not issue a qualifying offer to Maynor and the guard will enter the summer as an unrestricted free agent.
"We won't be extending Eric Maynor a qualifying offer but that [decision] had been made before the draft," Olshey said according to Ben Golliver of Blazers Edge. "There's a lot of money out there. There's a lot of teams under the cap. I don't know how much depth there is in free agency but clearly any time you have that many teams with $10 million or more of room, you're going to have a highly competitive marketplace. We're going to have to be aggressive, very strategic in terms of who we approach first. Prioritizing guys who can really help us next year, we don't want to be left out in the cold."
Maynor averaged 6.9 points and 4 assists in 27 games with the Blazers last season.
Prior to the start of the 2012 campaign, as a member of the Oklahoma City Thunder, Maynor was quickly becoming recognized as one of the best backup point guards in the league before suffering a serious knee injury which ended his season after just nine games.
In 2013, Maynor started slowly for the Thunder and eventually lost minutes to Reggie Jackson before being shipped to Portland for Georgios Printezis and a trade exception.
NBA Chats
If you are looking for upcoming NBA chats, click here. If you are looking for previous NBA chats, click here.