NBA AM: A Bigger Carmelo Problem In New York?
A Bigger Problem With Melo? :  Carmelo Anthony opted to have fluid drained from his troubled right knee. The procedure is somewhat routine, however the timing was questionable as HOOPSWORLD's Tommy Beer covered last week and even more troubling was the terminology used to describe the procedure: "a soft tissue fluid collection of his posterior right knee aspirated"
Frank Isola of the New York Daily News spoke with an unnamed orthopedic surgeon who speculated that Anthony's treatment points to a more ominous and serious injury.
"A leading orthopedic surgeon who did not want to be identified says that fluid in the back of the knee is commonly referred to as a baker's cyst, and that it is rarely a condition you find in a patient "with a 100% normal knee.

"It means there is something going on with the knee. The question is, where did the fluid come from? What is the source of the fluid? Something inside the knee produces that fluid, so what is going to stop the fluid from coming back."

The orthopedic surgeon, who has not examined Anthony, speculated that the Knicks' All-Star forward either has a partially torn meniscus or an arthritic knee. Anthony said last week that he does not have a meniscus injury, an injury that ended Lin's season in late March." — New York Daily News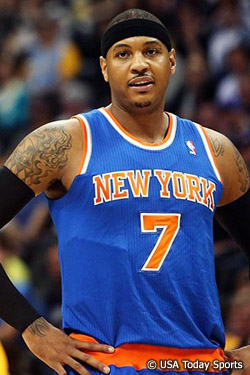 Anthony has been asked about the status of his ligaments and had repeatedly said that he does not have a tear. If the condition is an arthritic knee it's possible Anthony can play with it. Lakers forward Antawn Jamison has long played with a cystic growth in his knee, and players such as Shaun Livingston and even teammate Amar'e Stoudemire have played effectively with worse.
The problem for the Knicks is if fluid is randomly building up, there is no way of knowing what Anthony's status would be from day-to-day and that has to be cause for concern especially with the postseason roughly a month away.
The long-term implications are equally as scary, especially with Stoudemire undergoing a second clean out of his knee.
The Knicks have Anthony  under contract for two more seasons and owe him roughly $46.75 million. Stoudemire is also owed two more years and some $45.08 million.
Is it possible that the Knicks owe $91.8 million to two players with serious knee conditions? The expression now or never may not be any truer than it is for the Knicks.
Need help with your March Madness Bracket? HOOPSWORLD has you covered with detailed game by game previews with predictions for every game, updated throughout the tournament. You can see the previews in bracket form or in just a straight directory style list. Stay on top of the tournament as the chase for a National Championship begins.
A Glimpse Of The Future:  It was the Sacramento Kings, however the LA Lakers needed a win last night to keep things pointed in the right direction and for the first time in his career as a Laker, Dwight Howard had to anchor his team without Kobe Bryant, who was out with an ankle injury.
"I know that position," Howard said to Dave McMenamin of ESPNLosAngeles.com. "That's always been my goal, and I love having that on my back. Being able to just lead these guys — that's what I want to accomplish, and I just want these guys to have total trust in me. The franchise has trust in me, and it's the same thing with the coaches and the players. When I show those guys I can go down there and score, make the right play, then they're going to trust me. So, that's how I see it, and it's going to happen. We just got to be patient."
Howard admitted that he's tried to fit in more than take over and that he has respect for what's already in place in LA.
"I didn't come here and say, 'This is my team,' and all of that stuff," Howard said. "That wasn't anything that was on my mind. Like I told you guys in the beginning, this is a great time for me to learn from a guy like Kobe, a guy like Steve Nash and Pau Gasol, and that's what I intended on doing. I've learned so much from the beginning of the season until now that it's going to help me moving forward in my career. So, this has been great. Everything that Kobe is doing, everything that Pau and Steve and those guys are doing will help me in the long run as far as taking a team over the hump."
Howard admitted that the transition has not been easy, but that he feels like what he's learned has made him a better player.
"For years in Orlando, my job was to do that, and there was a couple areas that I needed to work on," Howard said. "By being here, you just really see how to do it. It's how you approach games. About how you approach practice. The time after practice, the work that you put in on the days off, that's what the guys on the team see, and they feed off that. That's the biggest thing that I've learned, just coming in and getting my work done so everybody else can see, 'This is how you work and he's working, so you set the bar high, and we just follow that bar.' It's good for me."
Last night's 113-102 win over Sacramento puts the Lakers at 36-32 on the season and a half a game behind seventh place Houston. Ninth place Utah is now a full game behind the Lakers with LA having 14 games left to play on the season, including seven home and seven away games.
The weekly HOOPSWORLD Pick'em game is still wide open. There is currently just two players in line for the grand prize of an iPad or Apple Store Gift card with just three weekly wins. Three strong weeks and you could be in the running. The game is completely free to play and takes a couple of seconds to sign up for. We give you roughly 12 weekend NBA games, and you simply pick who you think will win. Get the most correct games and you'll win an adidas HOOPSWORLD T-Shirt. Win the most weeks and you could win an iPad or Apple Store gift card. Week 21 is ready for your picks. Log in and play here.
Cuban Not Happy With Fisher:  The way Mavericks owner Mark Cuban retells it, Derek Fisher called him to ask for advice and a possible job. Cuban in return offered a roster spot. Fisher was with the Mavericks for roughly 23 days before asking for his release to spend more time with his family. So when he signed a free agent deal in March with the Oklahoma City Thunder, that didn't sit well with Cuban.
"I wouldn't be disappointed if he didn't contribute," Cuban said to the Associated Press. "But that doesn't change what he did and how he did it. It's not so much what he did, but how he did it.
"My personality is to try to help somebody. Particularly somebody I thought one way about, even though it didn't turn out to be that way. I was just trying to be nice and help. Usually when you help somebody, you expect some semblance of loyalty back. So when you don't get it, it's more disappointing."
The Mavericks lost to Fisher and the Thunder 107-101 last night and are now five games out of the eighth seed in the West with just 16 games remaining on their regular season schedule. Based on the current standings 46 wins would be needed to push LA out of the eighth seed, meaning Dallas would need to go 15-1 the rest of the way to reach 46 wins and the eighth seed.
More Twitter:  Make sure you are following all of our guys on Twitter to insure you are getting the very latest from our team: @stevekylerNBA, @AlexKennedyNBA, @TheRocketGuy, @EricPincus, @joelbrigham, @alexraskinNYC, @SusanBible, @DPageNBA , @stevesraptors, @TommyBeer and @YannisHW.
NBA Chats: There are two NBA Chats scheduled for today starting with HOOPSWORLD's Bill Ingram at 11am. Bill's chats do fill up fast so getting in early is always wise. HOOPSWORLD's Stephen Brotherston will hold down his weekly NBA chat at 3pm EST. You can always find the next NBA Chat here: http://www.hoopsworld.com/upcoming-chats and if you are looking for Previous Chats try here: http://www.hoopsworld.com/previous-chats