NBA AM: Clearing The Air With Nerlens Noel
VIDEO OF THE DAY – Lamont "Momo" Jones
HOOPSWORLD talks to Lamont "MoMo" Jones, who's training for the 2013 NBA Draft.
Watch More Video Here
Clearing The Air With Nerlens Noel:
The 2013 NBA Draft will take place in seven days, and while the direction the Cleveland Cavaliers will go with the top overall pick is still very much up in the air, Nerlens Noel will be in town today to make his case for the top spot.
Noel has been under fire lately or a myriad of things, including his circle of friends, his weight and his prospect as a NBA player. HOOPSWORLD caught up with Nerlens in between two-a-day rehab sessions in Birmingham, Alabama to clear up some of the misconceptions about his status as the possible top pick.
"I'm just taking it day-by-day," Noel said. "This only comes around once in a lifetime, so it's a dream come true for me to be in this position so I'm doing my best with it."
Noel recently moved to Birmingham to be near Dr. Kevin Wilk, one of the foremost sports rehabilitation specialists. Wilk has been working with Noel two times a day, six days a week to help him return from a March ACL surgery.
"It's real calm and relaxed, so no distractions," Noel said. "It's definitely all business down there and I'm getting back working on my knee.
"I'm doing a lot of advanced stuff now, but for being at the three month period, it is feeling great. I'm running, I'm doing some different activities, doing defensive sliding, but it feels great so far."
Noel says his sole focus over the last few months has been his rehab and he's kept his circle of people very small as a result.
Noel has taken some criticism over how long it took him to select an agent and whether the people in his life were hurting his draft stock.
"That's just what they're saying," said Noel. "This has been the most focused I have been in my life. I've had so many things going on in the last few months from having meetings, to meeting with teams and interviews. Everything has just been so organized for me. They've done a great job by helping me, organizing everything. I've been very fortunate to have them."
Noel has also taken some heat for his NBA Draft Combine weight, a shocking 206 pounds.
"Right now I'm at 218 pounds," Noel said. "[People] act like I'm a grown man already; I know I'm still nineteen, and I still got some work to do with my body and everything basketball related. I feel all that's going to come in time. You look at a lot of people that came into the league, Shaq, Dwight Howard, they grew into their man bodies like a lot of players in the NBA. I feel like that will come with time."
Another thing Noel feels will come in time is the offensive part of his game.
"I think I can be really good on that side," Noel said. "There are a lot of things I don't showcase.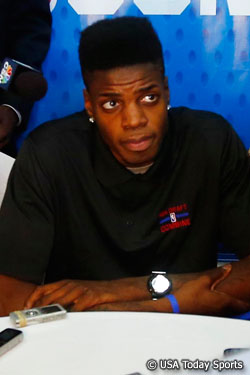 "I have never really wanted to affect my team by missing shots. That was something I was really big on. I just really wanted to help my team in whatever way possible. I've come a long way with my confidence. Just knowing what I have to do to be a great player and help my team win; that is contribute on the offensive end. And I think I can really be a key player in that part."
One of the things Noel is looking forward to is full-time coaching, something he just got a taste of at the University of Kentucky.
"I definitely feel that was one of the biggest things for me," Noel said. "Just having that coaching staff. Pushing me every day in practice, and not letting me settle for anything less than my best. That definitely helped me and brought me a long way. You could definitely see right before I got injured I really thought I was coming along as I played throughout the year and I would definitely credit that to how hard the coaching staff pushed me and how hard I pushed myself, showing dedication.
"It's definitely going to do a lot for me as far as not going to class, just working on everything I need to learn. It will go a long way. Where I'm getting a lot of free time to work on my game to be the best player I can."
Noel has had to slow down a lot since his injury and it's forced him to look at the game more and to learn to be patient.
"Going through this injury has helped me out with a lot of my weaknesses that I wasn't so good at this season," Noel said. "I definitely feel like I've come along in many different parts of my game, especially defensively. I think I'll be able to contribute to a team from day one with my shot blocking, just my energy on the defensive side, so I know that'll be a big part and that would definitely help for a playoff run. Down the road, just really become that much of a better player to be a franchise player, and hopefully turn it into a championship team with the help of others."
Noel's visit with the Cavaliers will likely be his last draft visit before the draft. Noel has already met with the Wizards who draft at #3 and the Magic that draft at #2, so all that's left is his meeting with the Cavs, and maybe secure the top overall selection.
We Want To Know:  With Game 7 of the NBA Finals on tap tonight, we want to know:

Loading ...
Alex Len #1 Is Possible:  More than a few teams are changing their tune on the possibility of Maryland big man Alex Len going number one overall. The story goes that Len and new Cavs' player-development coach Vitaly Potapenko have a little history and that both Potapenko and Cavs assistant general manager Zydrunas Ilgauskas have been pushing for Len over several others in the field.
The Cavs will meet with Nerlens Noel today, but the chatter of Alex Len going #1 overall seems to be gaining real momentum. As the general belief is Len who is recovering from an ankle surgery in May, is more developed offensively and that he may be able contribute sooner than say Noel who is out until at least December.
There is a lot of time between now and the actual selection at #1, but the chatter of Len going one overall seems to be real.
The Jazz Going Guard Or Big?:  The Utah Jazz are sitting on the 14th and the 21st picks in the 2013 NBA Draft. Sources close to the Jazz thinking peg point guard as their top priority and label international guard Dennis Schroeder and Miami guard Shane Larkin as the top two candidates assuming Michael Carter-Williams from Syracuse is off the board.
There has been some talk that Utah could try and trade up a few spot to nab Williams or that they could opt to draft one of several big men expected to be on the board at #14 and go after guard with their 21st pick.
The Jazz seem open to moving around to get the players they want, but it is clear that Utah is coming out of the 2013 NBA Draft with a point guard, which one will be about who's one the board when they pick.
Draft And Stash:  There are a few "draft and stash" candidates on the radar especially late in the first round. The Oklahoma City Thunder tried get Mouhammadou Jaiteh to agree to play in the D-League next season, where the Spurs may have an agreement in place to draft Livio Jean-Charles and leave him in the international game for a year or two.
With 10 teams currently holding 36 of the 60 picks in the draft, more and more teams are talking about stashable players, especially players who have friendly NBA exit language in their deals, or players that have limited contract obligations now and could take part in summer league before returning to the international game.
Some teams like the non-guaranteed contracts of second round picks, but it is starting to look like a large number of those picks could go to players who will remain in Europe.
One team that currently holds three or more picks in this draft was clear, they won't be bringing more than two rookies to camp this year meaning we should see a lot of 'draft and stash' picks next week.
The NBA Draft is just around the corner, so HOOPSWORLD has everything you need to get ready. Want the Top 100 Players? They are right here. How about detailed Draft Prospect profiles? Got those rights here too. Need some NBA Mock Drafts? Bookmark the NBA Draft page. Who is going to have Salary cap space? Checkout the most detailed and hyper accurate NBA salary data anywhere. The offseason is right around the corner and HOOPSWORLD has you covered.
More Twitter:  Make sure you are following all of our guys on Twitter to insure you are getting the very latest from our team: @stevekylerNBA, @AlexKennedyNBA, @TheRocketGuy, @LangGreene, @EricPincus, @joelbrigham, @SusanBible, @DPageNBA , @TommyBeer and @YannisHW.