NBA AM: League Takes More Uniform Risks
John Wall - VIDEO OF THE DAY
Wizards' guard John Wall talks being a leader, building chemistry and helping his teammates get better.
Watch More Video Here
The NBA Takes Some Visual Risks This Year
Earlier this week, news leaked out that the Miami HEAT and Brooklyn Nets were considering uniforms in which the backs of jerseys featured players' nicknames rather than their legal surnames. LeBron James' Miami jersey, for example, would have "King James" on his back rather than just "James," and Chris Andersen would undeniably wear a jersey that featured the name "Birdman" on the back.
It's a fun idea (even though it's not a new idea), but it's not the only change in NBA uniforms we'll see this year. Here's a quick roundup of some of the major uniform updates fans can expect for the 2013-14 season, which finally gets underway this Friday when some teams start training camp:
More short sleeve jerseys – Last year, the Golden State Warriors were the first NBA team to wear a short-sleeved jersey, and they were so successful with players and fans that the NBA decided to give five more teams short-sleeved alternates for this upcoming season. Okay, so calling Golden State's monstrosities "successful" would be misleading if not all-out false, but it doesn't matter how we all feel about them because they're here anyway, and apparently here to stay.
The L.A. Lakers are confirmed to be among the teams who will add them to their arsenal, and the Phoenix Suns (who we'll get to in a minute) also now have them as a season-long alternate. A dozen teams wore some sort of short-sleeved jersey at the Las Vegas Summer League, and according to HOOPSWORLD's Steve Kyler, as many as 20 teams could wear a sleeved uniform at least once over the course of the season, most likely on either Christmas or St. Patrick's Day.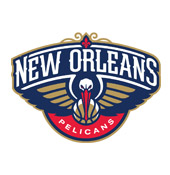 New Orleans rebrands to "Pelicans" – With a rebranding obviously comes a new uniform set, and the newly-christened New Orleans Pelicans have a pretty sharp new look. The new color scheme is navy, gold and red, and the jerseys themselves are pretty conservative and traditional. The only knock on the new look is that the team name font is tiny (and "New Orleans" is the text on both the home and road jerseys), while the number font is gigantic. While the font sizes are unbalanced, the rest of the set looks pretty sharp. A year from now, the Charlotte Bobcats will take back the "Hornets" nickname, so we'll only be without the buzz for a single season.
Phoenix gets a new uniform set – It was absolutely time for Phoenix to update their uniforms, something that hadn't been done since Jason Kidd and Penny Hardaway were with the team. Outside of the aforementioned short-sleeved orange alternates, the standard set looks really nice, especially the home whites. All of the new uniforms feature nine "speed rays," which spill into the number and are meant to represent the nine players in the Suns' Ring of Honor, and those prominent lines are the dominant feature in the sets. They're relatively minimalistic, but there are enough unique details to be very attractive and interesting. We'll have to see them in action, but it's already easy to see that they're a huge upgrade over the uniforms they're leaving behind.
Lakers to don "Hollywood Nights" black alternates – Teams have been doing black alternates for years, so it's not all that surprising that L.A. will wear special "Hollywood Nights" alternates a few times over the course of this season. The uniforms are black with purple numbers and letters outlined in gold. The piping on these is unique to this particular set, and while the overall look is handsome, it's weird seeing pictures of Kobe Bryant wearing black. Even if they were hideous, though, Lakers fans would buy a ton of these. They'll probably be the best-selling new alternates of the year.
Detroit to rock "Motor City" alternates – If you're not looking closely, it can be hard to even tell that these are, in fact, alternate uniforms, but the most obvious difference between them and the standard uniforms is the use of "Motor City" across the chest rather than "Detroit" or "Pistons." The alternate is also a deeper shade of blue bordering on navy, with different piping than the other two sets. They're sort of reminiscent of the Team USA uniforms with a hint of Atlanta Hawks to them, but even if they aren't earth-shattering, the "Motor City" thing is admittedly pretty cool.
Philly's feeling blue – Over the last few years, Philadelphia has worn some very nice royal blue alternates, but starting in 2013-14 those will become the official road jerseys rather than the red ones they've used since switching to their whitebread throwback look back in 2009. No word yet on if the red ones will be relegated to alternate status, or if they've just been scrapped completely.
Obviously, teams change uniforms and experiment with alternates every year, but with short sleeves growing increasingly ubiquitous and the nickname jerseys breaking another pretty traditional uniform convention, we're in for some different looks this season, but we'll have to see everything on the court before we decide which of these are good ideas and which just stink.
Good or bad, though, no one can accuse the NBA of looking boring.
How Al Jefferson Ended Up in Charlotte
The Charlotte Bobcats have gotten a lot of flak this offseason for signing Al Jefferson to a three-year, $41 million for a number of reasons, many of them justified. For starters, that's a lot of money for Jefferson, but more importantly if there was ever a year for the Bobcats to tank it and nab as high a draft pick as possible, it would be for 2014.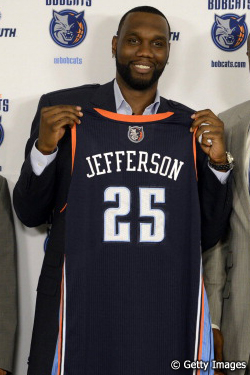 What Bobcats president of basketball operations Rod Higgins told Rick Bonnell of the Charlotte Observer this week, however, was that getting a player like Jefferson was important for the morale of the team's younger players, most notably rising star point guard Kemba Walker.
Walker, who was consulted at the end of last season as to which free agent he'd like to have join the team, was ecstatic when he heard that Higgins had procured Jefferson.
"I almost shed a tear when I saw this," Walker said about his response to the news of the signing. It would've been a tear of glee.
Actually, Walker put in quite a bit of work in recruiting Jefferson. The two share an agent, Jeff Schwartz, so long before Higgins and the Bobcats organization could reach out to the free agent center, Walker was all over it. Now, the entire organization is enthralled to have an inside presence so that Charlotte's strong guard rotation can enjoy an offense with better spacing.
"Al addresses so many needs for us,'' Higgins said. "Once we decided to amnesty Tyrus Thomas, ownership gave us the green light to find a difference-maker. He is a difference-maker."
Beyond his ability to contribute to a team that has only made the playoffs once in their entire existence, Higgins believes Jefferson will have a good influence on the Bobcats' younger players, like Bismack Biyombo and rookie Cody Zeller.
"Al is also a mentor. He said he loved working with Enes Kantor and Derrick Favors [on the Utah Jazz]," Higgins said. "He can be a big plus for Cody and Biz."
So however the rest of the world feels about the Al Jefferson signing, the Bobcats themselves are elated about the opportunity to bring in a player that good. He may hurt their chances at grabbing a high draft pick in June, but he'll help their chances at competing on a nightly basis. That's why Higgins, Walker and the rest of the team are so excited to have Jefferson in town.