NBA AM: Magic Let $17 Million Exception Expire
Russ Smith - VIDEO OF THE DAY
br> br>
Louisville's Russ Smith was the darling of the 2013 NCAA National Championship game, and while he could have entered the draft this year. Russ is locked into the 2014 NBA draft class and is looking for another big year as a Cardinal.
Watch More Video Here
Nothing Worth Doing:  When the Orlando Magic decided to trade center Dwight Howard to the LA Lakers roughly a year ago they had a few goals they wanted in the transaction.
The Magic wanted to get younger; they wanted to radically reduce their payroll and they wanted to get rid of some players that no longer fit. By and large the four-team, 11 player deal accomplished that for Orlando. It also left the Magic with one of the largest Traded Player Exceptions in the NBA, an exception that on Saturday expired without being used.
The Magic's $17.816 million TPE was dangled around this summer, mainly as a means to extract young players or draft assets in exchange for playing middle man in some of the deals that got done in July.
The problem with the Magic doing anything meaningful with the TPE is Orlando is still on the hook for the final $22.346 million year of Gilbert Arena's contract, a contract that was waived using the amnesty provision in the Collective Bargaining Agreement. It removed that figure from the Magic's salary cap, but still remains a bill the Magic have to pay.
The Magic also cut Quentin Richardson last year ($2.808 million this year) and Al Harrington this summer ($3.574 million this year and $3.804 million next year), leaving the Magic with more than $28.72 million payable to players no longer on the roster in addition to the $52.122 million owed to guys that will play this year.
Using the $17.816 million TPE would have only added to those numbers and there simply wasn't anything worth doing that could justify spending more than the already committed $80.84 million.
The Magic currently have 14 players on the roster and are still exploring and talking with forward Hedo Turkoglu about a contract buyout. There is a belief that Turkoglu and his ending $12 million deal could have trade value around the February trade deadline, so unless Turkoglu is willing to offer a discount he may remain on the roster.
The Magic still have not reached a decision on second-round draft pick Romero Osby, who is still unsigned. The Magic have said Osby will have a chance to make the team, however if he is invited to training camp the Magic would either have to sign him or risk cutting him and losing his draft rights.
There has been talk that Osby could spend next season overseas, as a means for Orlando to retain his rights while the Magic clear out their log jam of forwards.
IN RELATED:  As ESPN's Marc Stein and HOOPSWORLD's Alex Kennedy reported last night, Al Harrington worked out for the Washington Wizards on Saturday and it seems both sides are closing in on a potential deal.
The Orlando Magic waived Harrington and are on the hook for the guaranteed portions of his deal this year ($3.574 million) and next year ($3.804 million). Because Harrington cleared the waiver process his money and cap hit will not be effected by a deal with the Wizards in essence allowing him to double-dip at the Magic's expense.
Harrington has been training in Las Vegas at Impact Basketball since the regular season ended and has dropped about 20 pounds and is playing without a knee brace.
Harrington recently told USATODAY's Sam Amick that he feels like he can still contribute both on the floor and in the locker room.
We Want To Know: 
Loading ...
Didn't Plan For It:  When the Milwaukee Bucks entered free agency their goal was to re-sign Monta Ellis. They offered a four-year, $46 million deal, and hoped to either get a reasonable deal done with Brandon Jennings or find his replacement in free agency or via trade.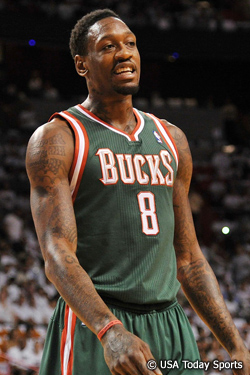 Getting $7 million under the salary cap was never part of thinking according to Bucks GM John Hammond.
"It wasn't a goal," Hammond said to Charles F. Gardner of the Journal Sentinel. "The process just kind of evolved. It wasn't a goal to be sitting here at this date and be having this kind of (salary) room."
When things in free agency didn't turn Milwaukee's way, they made a commitment to getting younger and more flexible.
"We do like the young pieces on our roster," Hammond said. "The three main points for us that we've talked about are No. 1, our financial flexibility. No. 2, the youth of this team. Can the youth develop the way we think they can? I think it's realistic to say yes. And No. 3 is the veteran players we brought in, those guys providing mentorship and helping us on the floor, helping us win games."
The Bucks have watched as their conference and their division have gotten noticeably better, but as Hammond explains that's not guiding the Bucks' process.
"All we can do is worry about ourselves and try to be the best we can become," Hammond said. "What's right for us is to try to remain competitive, to put a quality product on the floor but also have an eye on the future at the same time."
The Bucks have a roster with eight players on rookie scale contracts, giving them one of the younger cores in the East.
"We really want to start focusing on the youth of this team and start talking about things like a championship-caliber team," Hammond said.
"Can they develop into a core like that? I think they can. We're going to have to have the right kind of people.
"I know (Brandon Knight) wants to be an All-Star. I know Larry Sanders wants to be an All-Star. I know Ersan [Ilyasova] would love to be an All-Star. We're hoping a young piece like Giannis Antetokounmpo will someday be an All-Star.
"We need players to develop and say, 'I want to become that.'"
In the off-season the Bucks hired Josh Oppenheimer, once of the top player development coaches in the business. Oppenheimer will be a full-time member of new head coach Larry Drew's staff and will be working with the Bucks' younger core on a daily basis, including first-round draft pick Giannis Antetokounmpo.
The Bucks have also started contract extension talks with Larry Sanders. Word is both sides are eager to reach a new deal for Sanders before the October 31 deadline for rookie scale extensions.
The Bucks are said to be talking about a new four-year deal that could be worth as much as $46 to $50 million depending on incentives.
The Milwaukee Bucks won 38 games last season which was good enough for the eighth seed in the East.
In Case You Missed It:
Orlando Magic forward Romero Osby talks about Summer League, fitting in with the Magic and what he expects this summer.
Justise Winslow is one of the prized High School players in the 2014 graduating class. Winslow is an electric small forward with tremendous explosion. He talked with HOOPSWORLD about his summer and what next for him as a top high school recruit.
More Twitter:  Make sure you are following all of our guys on Twitter to insure you are getting the very latest from our team: @stevekylerNBA, @AlexKennedyNBA, @TheRocketGuy, @LangGreene, @EricPincus, @joelbrigham, @SusanBible @TommyBeer, @JabariDavisNBA , @NateDuncanNBA , @MokeHamilton and @YannisHW.
NBA Chats: Don't miss the NBA Chats scheduled for today starting with HOOPSWORLD's Bill Ingram at 11am. Bill's chats do fill up fast so getting in early is always wise. You can always find the next NBA Chat here: http://www.hoopsworld.com/upcoming-chats and if you are looking for Previous Chats try here: http://www.hoopsworld.com/previous-chats