NBA AM: More NBA Trade Situations To Watch
Kenneth Faried - VIDEO OF THE DAY
Denver big man Kenneth Faried talks with HOOPSWORLD about the changes in Denver, his focus this summer and what he expects next season.
Watch More Video Here
A Few More Situations:  Yesterday in this space we took a look at a few situation to watch as the NBA season gets ever so closer. Today we'll look at a few more.
The Sixers In Flux:  When you look in from the outside at the Philadelphia 76ers, it's easy to say they are tanking the season.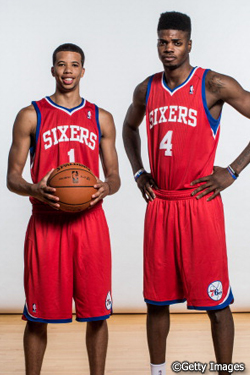 They drafted a new point guard who clearly needs some time in Michael Carter-Williams, they traded an All-Star point in Jrue Holiday for a big man in Nerlens Noel who's coming off a major ACL surgery and may not play in 2013 and they haven't spent much of their $14 million in cap space except to absorb contracts like the move they did yesterday to take Tony Wroten off of Memphis' hands. Not exactly the kinds of moves you are making to make the postseason.
But if you ask yourself what the real goal is, it's to compete for a championship and there were no combination of moves that Philadelphia could have made this year that would get them in the top four of the East, let alone the top of the NBA.
Sixers owner Josh Harris joked during summer league with another NBA executive that building a winning organization in the NBA was a lot harder than he thought. Like most new owners, the belief is if you throw a little money into the team and hire a few guys you've heard of you can get into the postseason and make some noise.
The problem is, it is a lot harder than that, because there are 29 other guys doing the same thing and some of them are smarter and more experienced and some simply have deeper pockets and better players.
So rather than spend millions of dollars to be average, Harris has quickly understood that building a winner, especially one that can really contend, takes more than just a single star-level player, hence the massive break up of talent that is staring Philadelphia in the eyes.
The Sixers are not purposefully losing games this season, as strange as that sounds.
They are restructuring and rebuilding.
Are they looking at the 2014 NBA Draft for a talent infusion? Absolutely. Are they looking to move off players and contracts that no longer make sense for their future? Absolutely. Will they lose a ton of games this year? Absolutely.
But much like Orlando, who we talked about in this space yesterday, the Sixers are trying to develop the next generation of players for Philadelphia, because the name of the game is to seriously compete and that wasn't going to happen with what they had on the roster in June.
You can say the Sixers are tanking and that there is a fire sale going down in Philly, and it is sure going to look like that from afar, but internally, it's far more tactical than that and the goal isn't to be the eight seed every year; the goal is to host playoff games and contend and that means what's in town now has to go at some point.
What's Memphis Up To?:  It is hard to find anyone who liked the Memphis Grizzlies' decision not to bring back head coach Lionel Hollins. It is a head scratcher for sure.
Some say it was new Memphis ownership being cheap. Some say it's because Lionel was too tough to work with. Some say it simply was a bad fit philosophically.
The truth of the matter is yes. It's all true.
The Grizzlies couldn't rationalize paying Hollins star-level coach money, despite the team's success with him calling the shots. There was more belief in the players and the construct of the roster than there was in what Hollins was or was not doing from the bench.
That's a gamble the Grizzlies may regret down the road, but at this point they feel like Dave Joerger, who has been on the staff since 2009, can bring enough continuity that the Grizz can build off of last year and grow into a contender this year.
Over the last month, the Grizzlies have been as active as anyone in the league. They pulled off two trades, and signed three players.
The trades were about creating roster room and shedding guaranteed contract dollars. The signings were about adding players who can contribute today in exchange for guys who might not contribute at all.
As interesting and exciting a player as Tony Wroten was for the Grizzlies, he wasn't going to get the playing time he desperately needs to improve. That's just the harsh reality of being on a team playing for something; there just are not a lot of development minutes and that's exactly what Wroten needed and will likely get in Philadelphia.
M
ike Miller is a bona fide NBA player. He brings a lot to the Grizzlies locker room. Nick Calathes is a proven back-up caliber guard that has played in big games in Europe and Josh Akognon has more upside as the third guard than anyone the Grizz had on the roster and his deal is non-guaranteed.
You can say the Grizz went cheap, but the truth is the Grizzlies are looking at a $70.64 million payroll; hard to call that going cheap.
There have been some rumors about the future of Grizzlies All-Star Zach Randolph in Memphis, but the truth of the matter is Memphis really feels like they have a title contender and that Randolph and Marc Gasol are HUGE parts of that.
You might not agree with the decision not to retain Hollins, but if you look deeper at the roster the Grizzlies are a very deep team and when you consider that they now hold six traded player exceptions, they still have the means to tinker with trades, especially at the trade deadline when they understand what has worked and what hasn't.
What Will Boston Do Next?:  Have you written the Boston Celtics out of the discussion in the East? It's OK if you have, because almost everyone has.
The problem is the Celtics are sitting on a payroll expected to be north of $72.2 million this year and if you look closely at the roster, the C's are not nearly as bad on paper as you might think.
Rajon Rodno, Jeff Green, Kelly Olynyk, Gerald Wallace, Avery Bradley, Jared Sullinger, MarShon Brooks, Courtney Lee and Brandon Bass.
Outside of Rondo there isn't an All-Star there, but there are some solid NBA players.
There has been some speculation that Boston might ultimately trade Rondo and really cash out, but sources close to the C's continue to say that all the calls on Rondo were incoming calls and that Boston is committed to trying to make the next generation of Celtics basketball work around Rondo.
You add in a solid ready-to-play draft addition in Olynyk, a returning and motivated Sullinger and any level of improvement in Green (now that he doesn't have to share the ball with Paul Pierce), and the Celtics could win 40 to 45 games just on that alone.
If rookie head coach Brad Stevens can bring some of his Butler magic to the Celtics they could be a surprise contender for the bottom part of the East. If anyone on the roster really emerges, the Celtics could be substantially better than expected.
It's OK if you are writing the Celtics off, but if you really look at what they have to work with they are a far cry from a lottery team and they might actually have a bright future if the guys they got as value draft selections really blossom this year.
We'll look at a few more situations like these on Monday, so stay tuned.
We Want To Know: 
Loading ...
Tempering Expectations:  The hype surrounding Kansas stud recruit Andrew Wiggins has started to reach levels that are only going to disappoint fans expecting greatness the moment the ball is rolled out.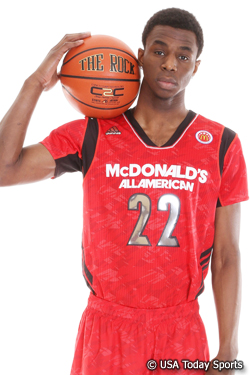 There is no doubting that Wiggins is one of the best NBA prospects to come along in a while, but the belief that the 6'8 Wiggins could be the next transcending player like Miami HEAT mega star LeBron James was in 2003 is a little unfair to Wiggins and maybe a little unrealistic in concept.
Kansas head coach Bill Self has been trying to lower the bar a little and has downplayed some of the Wiggins comparisons.
"He weighs 200 pounds. He's not LeBron," Self said to Sports Illustrated's Seth Davis.
Self has spent a lot of time around Wiggins and knows all too well how special of a talent the young man is, but also understands his limitations as a player too.
"Andrew will be the best athlete I've ever been around," Self said. "He's a 6'8 guard. His stroke has gotten better. The biggest thing with me and him is making sure he's plugged into every possession. When he was in high school, he could really turn it on but he hasn't been able to do it for an entire game. That's what worries me a little bit."
Wiggins looks to headline a 2014 draft class that could feature as many as eight franchise changing players.
The top 10 in 2014 looks something like this:
1. Andrew Wiggins – 6'8 197lb – Small Forward (Kansas)
2. Julius Randle – 6'9 248lb – Power Forward (Kentucky)
3. Dante Exum – 6'6 188lb – Point Guard (Australia)
4. Marcus Smart – 6'4 200lb – Point Guard (Oklahoma State)
5. Jabari Parker – 6'8 241lb – Power Forward (Duke)
6. Aaron Gordon – 6'9 212lb – Power Forward (Arizona)
7. Andrew Harrison – 6'5 207lb – Point Guard (Kentucky)
8. Montrezel Harrell – 6'8 230lb – Power Forward (Louisville)
9. Joel Embiid – 7'0 240lb – Center – (Kansas)
10. Mario Hezonja – 6'6 200lb – Shooting Guard – (Barcelona)
In Case You Missed It:  Every offseason we end up with more video interviews than you can possibly have seen so here are a couple more in case you missed them.
Mavs' owner Mark Cuban talked to HOOPSWORLD during Summer League about his teams' summer moves, what he was looking for in free agency and missing out on Dwight Howard.
After two devastating knee surgeries former 60th pick Dwyane Collins made his return to NBA basketball with Phoenix this summer. He talked about getting back to the NBA and what he went through to get there.
More Twitter:  Make sure you are following all of our guys on Twitter to ensure you are getting the very latest from our team: @stevekylerNBA, @AlexKennedyNBA, @TheRocketGuy, @LangGreene, @EricPincus, @joelbrigham, @SusanBible @TommyBeer, @JabariDavisNBA , @NateDuncanNBA , @MokeHamilton and @YannisHW.
NBA Chats:  There is just one NBA Chat today featuring NBA Salary Cap guru Larry Coon at 3:00pm EST. Larry's chats fill up fast so get your questions in now. You can always find the next NBA Chat here: http://www.hoopsworld.com/upcoming-chats and if you are looking for Previous Chats try here: http://www.hoopsworld.com/previous-chats