NBA AM: More Trade Names To Watch
Jrue Holiday - VIDEO OF THE DAY
Pelicans' guard Jrue Holiday talks about his new team; how its come together and what he expects this season.
Watch More Video Here
More Next To Go?:  In yesterday's NBA AM we touched on a few names to watch as teams open their season and begin to contemplate in-season trades. While most teams are going to give their current rosters a chance pushing possible deals into December and January, there are some more names to watch over the next few months.
Keep in mind that players signed during the offseason become trade eligible on December 15, which is typically when teams ramp up trade talks.
Rajon Rondo, Boston:  One of the names you are going to hear mentioned the most is Boston's Rajon Rondo, mainly because he is arguably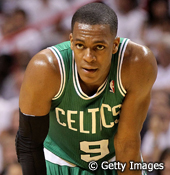 the best trade chip the re-building Celtics have. Rondo is still recovering from an ACL tear and his timetable to return to action is still murky. Add the $24 million he's owed over the next two season and getting true trade value out of Rondo may be difficult until he plays and proves he can still be explosive. Jeff Green is also a name you can expect hear chatter about. Green is owed $8.7 million this season and has two more years after this one worth $18.4 million combined. The Celtics continue to say that Rondo and Green will be big parts of their rebuild, but it just seems inevitable that if the Celtics can get the right kind of offer for either of those contracts that they would have to seriously entertain them, especially if those offers include ending contracts and 2014 draft picks.
Shawn Marion, Dallas:  The likely scenario in Dallas is that the Mavs let their ending contracts play out and hit free agency again this summer.
However, with Shawn Marion's ending $9.31 million deal and Vince Carter's ending $3.18 million deal the Mavs have a couple of attractive trade chips, especially at the trade deadline when the Mavs have paid almost 70 percent of those contracts. The Mavs have swung and missed in free agency the last two offseasons, so trading for that would-be free agent might make more sense for Dallas and they have the kinds of assets to make that sort of move. It's unlikely any team comes calling for Marion or Carter, but a team looking to dump off a big contract or a free agent that may walk away, might look at Marion or Carter, especially if Dallas will toss in one of their young guys or a future draft pick. Marion's name was kicked around a lot this summer; you can expect to hear more of it as the season progresses, especially if Dallas struggles.
Alonzo Gee, Cleveland:  The Cavaliers are not likely to make any splashy moves this season but there is a chip they can and likely will cash either
this year or during the offseason and that's Alonzo Gee. With $3.25 million owed this season and a non-guaranteed $3 million next year the Cavs have set Gee up as trade bait. It's unlikely that he is a highly coveted player, but he is a chip to move as the season progresses. Gee was a favorite under former head coach Byron Scott, but as the Cavs remake themselves as a defense first team, Gee's minutes look to be headed to other guys, putting him on the outside looking in. If his highly flexible contract can fetch an asset he could be on the move either at the deadline or at the draft.
Andre Miller, Denver:  To say that Miller and Denver are headed in different directions is an understatement. The
Nuggets are not actively trying to move Miller, but if a team were willing to offer something, Denver likely moves Miller without a lot of fight. The problem in trading for Miller is the $5 million he is owed this season. He also has a non-guaranteed year worth $4.65 next season. The 37-year old Miller, who is massively durable, is entering his 15th NBA season and still a very serviceable backup guard, so it's more likely than not that Miller is moved at some point, especially if a contender in the East needs a guard and is willing to give Denver something for their troubles.
Rodney Stuckey, Detroit:  The Pistons have some logjams at a lot of positions and they have some ending contracts to dangle as well. It seems likely that Detroit will tinker with their roster, especially as roles and relationships get a little more
defined in the regular season. The name most people talk about is big man Greg Monroe, but the more likely trade chips are the ending contracts of Rodney Stuckey ($8.5 million) and Charlie Villanueva ($8.5 million). Of the two, Stuckey clearly has more trade appeal and at the deadline Detroit will have paid the bulk of Stuckey's deal. Detroit's position so far has been that they are happy to have excess, but as the trade deadline approaches that may change. If Detroit can't find deals they like, keep in mind letting those contracts fall off the books allows Detroit to get back into free agency next year as they only have $33.413 million in hard salary commitments for 2014-15, which may be why they are holding off on an extension for Monroe, which would bite into their possible cap space. The Pistons have moves they can make, but they may opt to let this roster ride out and play in free agency again next summer.
Pau Gasol, LA Lakers:  Let's put this one to rest: Gasol is not getting traded by the Los Angeles Lakers. The only exception to that statement is if the team implodes or Laker guard Kobe Bryant can't return and neither of those seem likely. The Lakers are staring at huge cap space next summer and the chance to
really be aggressive with not only unrestricted free agents, but some of the younger potential restricted free agents. The Lakers potential cap space has been mentioned by virtually every agent talking contract extensions this summer and Gasol's ending $19.285 million contract is a big key to that. Gasol has said repeatedly that he wants to remain in LA and unless that changes, the Lakers are likely holding the line. Now it is possible that someone baits the Lakers into a deal, but Gasol's contract is so massive that few teams could make such a deal without having to send back three or four players to LA and the teams has already taken the no-contract dollars in 2014-15 stance already. You'll hear talk of Gasol, but the truth of the matter is his ending deal is the key to free agency and the Lakers plan to be in the mix this summer.
On Thursday we'll take a look at a few more names that could be "Next To Go…"
Are you pumped for the 2014 NBA Draft Class? HOOPSORLD's Yannis Koutroupis offers up his first NBA Mock Draft of the season. Check it out here!
We Want To Know: 
Loading ...
Loving New Orleans:  To say that the draft day trade that sent All-Star Jrue Holiday to New Orleans in exchange for the draft rights to big man Nerlens Noel and a 2014 first-round pick took Holiday by surprise is a bit of an understatement. Shock is likely a better word. But, after the shock wore off Holiday found himself at the helm of a deep, scrappy team with a coach he could really connect with.
As New Orleans get ready to open their inaugural season as The Pelicans, Holiday takes his team's preseason 7-1 success with a grain of salt, but likes what he's seen from his team.
"We kind of have to take it like it's 0-0," Holiday said to HOOPSWORLD. "Like every team is going to come after us, and we have to try to hit them first."
The Pelicans ended the preseason with one of the best records in the NBA and tops in the Western Conference.
"I think one is just playing hard from practice carrying that over to the game," Holiday said. "Every practice, every game, playing as hard as you can and a lot of concentration. A lot of attention to detail in practice so that when you transfer it over into the game it makes it a little bit easier. I think Coach does a good job of making practice as hard as possible, pushing us to the limit to make us better."
The Pelicans brought in a lot of new faces that seem to have clicked together fairly early in comparison to some teams that make major roster changes.
"I think a lot of it has been transition offense, which starts with defense," Holiday said. "Especially having A.D. [Anthony Davis] down there, some shot blockers who can, I know I get beat, you have so many good guards playing in this league, so having somebody down there to block shots, somebody down there to rebound and push the ball to get easy baskets, I think that's the biggest part."
The Pelicans are loaded at the guard positions, almost to an excess, but Holiday doesn't see that as a problem.
"I guess as a playmaker, that kind of means that I don't always have to make plays," Holiday said with a smile. "Tyreke [Evans] can make a play for himself or others, Eric [Gordon] can make a play for himself or others, B Rob [Brian Roberts], Anthony Davis can, I mean even Austin [Rivers], Austin can make a play for others or himself, so kind of takes me off the ball a little bit, I get to play off the ball, which is cool too."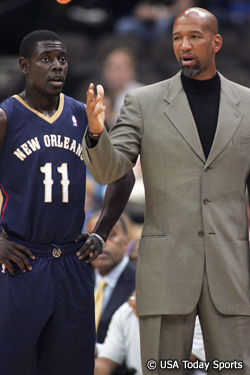 Under the current regime in New Orleans, hard work and teamwork have been foundational pillars for the franchise and Holiday thinks that's helped make it all work, especially coming from a Philadelphia team that somewhat imploded last year.
"It's really positive. Everybody is really excited about this year," Holiday said. "I know they didn't do too well last year, but you could tell how hard they worked, and that's kind of carrying over to this year with the pieces that we added. There are no days off; every day we work as hard as we can to get better, and I think that is the biggest part: us, in practice, pushing each other to become as good as we can be."
For the Pelicans to reach their potential, they will need Davis to take that next step. From Holiday's chair he thinks Davis can be special.
"Killer," Holiday said. "I mean, I don't think people really got to see how athletic he is. How well he can shoot, his skill set, just being able to play this year and even seeing him in the preseason what he's been averaging, and that's been easy. It looks like it's been easy for him."
The Pelicans have really tried to temper the expectations that follow a solid preseason, understanding that they'll get the best shot from teams once games start to really count.
"You just really want to go out there and play as hard as you can," Holiday said. "I guess you don't really want to put like some sort of level or something on it. I guess for us, as a young team, we think that the sky is the limit and we're going to try and test it."
The Pelicans open their regular season tomorrow night in New Orleans versus the Indiana Pacers.
HOOPSWORLD's Tuesday Schedule:
12 pm (est) – Jabari Davis provides his weekly analysis of the 2013-14 Most Valuable Player race
5 pm – Yannis Koutroupis brings you up to speed on the latest in the NBA with the NBA PM, which will feature a David West exclusive.
More Twitter:  Make sure you are following all of our guys on Twitter to insure you are getting the very latest from our team: @stevekylerNBA, @AlexKennedyNBA, @TheRocketGuy, @LangGreene, @EricPincus, @joelbrigham, @SusanBible @TommyBeer, @JabariDavisNBA , @NateDuncanNBA , @MokeHamilton and @YannisHW.
NBA Chats: There are two NBA chats scheduled for today beginning with Nate Duncan's chat at 11:00am EST. Bill Ingram will hold down the evening chat at 8:00pm EST. You can always find the next upcoming chat here: Upcoming NBA Chats. If you are looking for a completed chat, check the Chat Archive.