NBA AM: Poised To Break Out This Season
Lou Williams - VIDEO OF THE DAY
Hawks' guard Lou Williams talks about his knee rehab, what he expects from the team this year and the look of the roster.
Watch More Video Here
Poised To Break Out In 2013-2014:  Last season we saw a few unexpected players emerge as real NBA talent. Orlando found two of them in big man Nikola Vucevic and Tobias Harris, while Houston's Chandler Parson cemented himself not only as a NBA starter, but a bona fide NBA talent. There were a few rookies that erupted, namely Rookie of the Year Damian Lillard in Portland and Brad Beal in Washington.
With NBA preseason underway, here are a couple of guys to watch that could be in the right situation to shine:
Wilson Chandler, Denver Nuggets:  While Chandler did not dress for last night's game versus the Los Angeles Lakers, Nuggets head coach Brian Shaw can't stop raving about Chandler and his size and versatility. Chandler has been somewhat underwhelming as a Nugget, but it seems under Shaw Wilson will get a real chance to play a major role. Chandler has battled a lot of personal distractions including some injuries, but when he has played he has put up decent number. If Shaw's praise is any indication, Chandler should be more than a role player in Denver; big minutes and an opportunity is what it takes to break out in the NBA. Given the new direction the Nuggets are headed in, Chandler could have a bigger role than he's had since arriving in Denver.
Xavier Henry, LA Lakers:  Henry was expected to be a star coming out of Kansas in 2010, but after a bizarre series of events in Memphis, he was ultimately traded to New Orleans where he just never found his groove. This summer Henry found himself out of the NBA and looking at one year minimum offers. He opted to take the Lakers deal, mainly because they offered the best chance to play. Henry put up a monster 29 points in the Lakers' preseason opener going 9-for-15 from the field and 9-of-11 from the foul line in 26 minutes. Last night he chipped in 15 points on 4-for-7 shooting and 7-for-9 shooting from the foul line before taking a seat in the fourth quarter due to a moderately sprained right wrist. With Lakers star Kobe Bryant on the shelf until what is looking like December, there is a real window for Henry to not only prove he belongs in the NBA, if he keeps putting up big numbers he may find himself in the rotation and that really hasn't happened since Kansas.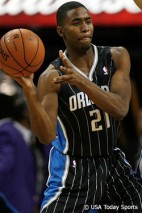 Maurice Harkless, Orlando Magic:  Harkless played in 76 games for the Magic as a rookie and for most of them he looked the part of a 19-year old rookie. As Harkless enters his second season in Orlando, he is often referred to as the most improved player in Magic camp. Harkless spent the entire summer working on his game, not only with the Magic's strength and conditioning coaches, but with NBA trainer Dan Barto and the coaches at IMG Academy. Harkless is clearly shooting the ball better, as HOOPSWORLD spent some time with him this summer. Harkless is expected to see starter's minutes at both the small forward and shooting guard spots this year for Orlando and that could radically improve his 8.2 points and 4.4 rebounds per game average from last season. Harris erupted last season in Orlando, Harkless could be in a position to do the same this season.
Austin Rivers, New Orleans Pelicans:  One game does not a season make, but looking at how Rivers played in his first preseason game this weekend, 21 points on 7-of-18 shooting and 7–of-13 from the foul line, it's hard not to notice how much more confident and aggressive Rivers is when in the game. HOOPSWORLD spent a lot of time around Rivers this summer and the one constant in his conversations is that he is completely healthy for the first time in a while and that he really feels good physically, much more so than he was this time last year. Rivers' rookie season in New Orleans was a disaster of epic proportions, which may have been the best thing for the always cocky Rivers. Enduring some humbling pushed Rivers to work hard this summer and it has been paying off. Rivers unfortunately is stuck in a log jam of guards in New Orleans, but he has pledged that he'll be in the discussion for the NBA's Most Improved award and he expects to be in the discussion for Sixth Man of The Year too. The Pelicans say they are committed to Rivers, if he gets the minutes he could change how people view him, which shouldn't be hard consider the basement he found himself in at seasons end.
Ed Davis, Memphis Grizzlies:  Like Rivers, Davis spent his summer in the gym working with renowned NBA trainer David Thorpe. When the Grizzlies traded Rudy Gay to Toronto, acquiring Davis was considered a key asset. Davis didn't play a huge role for the Grizzlies last year averaging about 15 minutes per game in the regular season and even less in the postseason where he saw just six minutes per game. The Grizzlies are hoping to see big improvements from Davis this year and he'll likely get a bigger opportunity under new Grizzlies head coach Dave Joerger than he got under Lionel Hollins. It will be up to Davis to carve out a role in Memphis, but the team believes in Davis and you can expect he'll get more than enough opportunities in preseason to showcase his new tools. The Grizzlies are a contender in the West, so for Davis to really have a role it means he'll have to show improvement. The Grizz moved off Darrell Arthur in part because of their belief in Davis, so it seems as the season opens Davis will get a real chance to play major minutes in Memphis.
Kelly Olynyk, Boston Celtics:  There are a couple of rookies from the 2013 NBA Draft that could explode this season, but if Summer League is an indication of potential, Olynyk could be one of the best of the bunch. His Boston teammates say he reminds them of Dirk Nowitzki when he came into the NBA and from what Boston said throughout the draft process, Olynyk could be their new gem. Regardless of whether you buy the Olynyk hype, it looks like he'll get a real chance to play in Boston and as others have proven, minutes, shots and big opportunities are typically how players break out. The Celtics will need offense and new Celtics head coach Brad Stevens seems very comfortable with running things through Olynk, so there is a scenario in place where Kelly could be get major minutes and major looks. While others may challenge him for Rookie of The Year, namely top overall pick Anthony Bennett. Olynyk could be on the rise in Boston.
Did you miss a team preview? Every year HOOPSWORLD takes an in-depth look at every team in the NBA and gives projections and predictions. If you missed one you can find them all right here: http://www.hoopsworld.com/2013-2014-nba-team-previews
We Want To Know: 
Loading ...
The Word Game:  In the media world, sometimes reading between the lines is often more fun than what's actually being said.
New York Knicks head coach Mike Woodson was asked about how his lineups were taking shape, specifically with regards to Andrea Bargnani and his answer is amusing to say the least.
""It's looking good," Woodson said to Ian Begley of ESPN.com . "I don't know who's going to start yet. But I like the makeup of Andrea and Melo on the floor at the same time with Tyson [Chandler]. In the scrimmage we worked that combination. It wasn't bad."
Wasn't bad?
Carmelo Anthony threw his weight into the discussion saying he was surprised by Bargnani.
"Me and 'B' had a great week, just playing together, spacing it out on the court, me trying to learn from him, him trying to learn from me, trying to see what spots he likes out there on the basketball court," Anthony said. "For the most part, he's actually a smart player; he can play off people."
For the most part?
Not exactly ringing endorsements from his coach or his teammate, who clearly have a lot more respect for Bargnani than their quotes suggest.
The word from Knicks' camp is that Anthony could see considerable time at the small forward position with Bargnani seeing his minutes at the four spot.
Where Amar'e Stoudemire fits in the equation remains unclear, but there continues to be talk that Stoudemire will come off the bench when and if he is able to play and he'll have a strict minute limitation when he's on the floor.
Stoudemire still has not been cleared for basketball work and has been spending most of his time in camp rehabbing and doing pool work.
The Knicks open their preseason schedule versus the Boston Celtics on Wednesday in Providence Rhode Island.
All but one of the Knicks preseason games are on the road.
More Twitter:  Make sure you are following all of our guys on Twitter to insure you are getting the very latest from our team: @stevekylerNBA, @AlexKennedyNBA, @TheRocketGuy, @LangGreene, @EricPincus, @joelbrigham, @SusanBible @TommyBeer, @JabariDavisNBA , @NateDuncanNBA , @MokeHamilton and @YannisHW.
NBA Chats: There are two NBA Chats scheduled for today starting with my Weekly NBA Chat at 10:30am EST. Yannis Koutroupis will hold down the second chat later today at 3pm EST. Chats do fill up fast so get your questions in now. You can always find the next NBA Chat here: http://www.hoopsworld.com/upcoming-chats and if you are looking for Previous Chats try here: http://www.hoopsworld.com/previous-chats