NBA AM: Several Teams Making Offers
More NBA Free Agency News:  Day one of the 2013 NBA Free Agent period saw some agreements get reached and a few more are expected today. If you missed anything from yesterday you can find all of the news, rumors and deals in the 2013 NBA Free Agency Diary here. Here is whats on tap for today:
Wolves Make Some Offers:  The Minnesota Timberwolves have made a couple of free agent offers, putting out a four-year offer to both free agent guard J.J. Redick and to their own free agent Chase Budinger. Both are said to be exploring options.
The Wolves have also met with free agents guard O.J. Mayo and have lengthy conversations with free agent guard Kevin Martin.
Wolves basketball administration director Rob Babcock made a personal visit to Budinger as soon as free agency opened, although Budinger is getting attention from teams like the Pelicans and Milwaukee Bucks.
Minnesota has also kept the dialogue open with restricted free agent Nikola Pekovic, and has made it clear to his camp that they are prepared to match contract offers to keep him in Minnesota long-term.
The Portland Trail Blazers are expected to tender a massive offer for Pekovic, although they have reached out to the agents for other centers such as Zaza Pachulia and Andrew Bynum – both are deemed as second tier options.
Al Jefferson In Demand:  Jazz free agent Al Jefferson is expected to meet with the Charlotte Bobcats, possibly as soon as tomorrow. Jefferson like many free agent centers is waiting on the Howard decision as that will open up offers and opportunities from those teams that do not land Howard.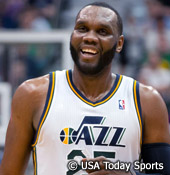 Jefferson has been linked this week not only to the Bobcats, but to the San Antonio Spurs and has been deemed for some time as a primary target for the Spurs.
Yesterday league sources suggested that San Antonio also kicked the tires on a Marcin Gortat trade with the Phoenix Suns, so it's clear they are looking to add another big man.
The 28-year old Jefferson could be a solid fall back option for Houston, Atlanta or Dallas if Howard opts to stay in LA, which is why Jefferson and his camp are taking free agency a little slower, mainly because there will be serious money available in a few days as it is currently tied up in the pursuit of Howard.
Andre Iguodala Taking Meetings:  Nuggets free agent Andre Iguodala got exactly what he expected when he opted to leave some $14 million in guaranteed money on the table in Denver to hit free agency, he has a very full dance card.
Virtually every team with cap space has gotten in front of Iguodala to express their interest and try and swing him their way. The Denver Nuggets are said to be willing to do a new multi-year deal in the $12 to $14 million range which likely makes them the front runners, although its believed that the Dallas Mavericks are prepared to make Iguodala a serious offer if they miss out on Howard.
Like most big dollar free agents, a decision on a new deal likely won't be made until the Howard chip drops, but it is clear that Iguodala made the right decision – he is getting all kinds of love.
Clips Extremely Low On Trading Bledsoe:  Clippers coach and senior vice president Doc Rivers had dinner last night with Redick. Rivers hoped to convince Redick to join the Clips, however, with the money being kicked around with Redick's name on it, it is unlikely that the Clips can sign him without doing a sign-and-trade deal.
The Bucks and Redick are open to doing such a deal with the Bucks having eyes for Clipper back Eric Bledose as a the gem of the deal, however the Clippers seem somewhat adamant that they are not moving Bledsoe even to get a two guard they really like.
It still remains possible that the Bucks reach a deal to get something in return for Redick, but it's clear that the Clippers are not going to give up major assets to make it happen.
The Clippers have also had talks with O.J. Mayo, but much like Redick the market price for his services are a bit more than the Clippers can offer without a sign and trade deal.
Evans Has Positive Meeting With Kings:  Kings restricted free agent Tyreke Evans got what he wanted, the New Orleans Pelicans set his price – 4-years, $44 million according to Sam Amick of USA TODAY Sports.
Evans met with the Detroit Pistons and the Kings yesterday.
The meeting with the Kings was characterized as extremely positive, although the Kings have given no indications if they will match the terms proposed by the Pelicans.
Evans is expected to meet with the Atlanta Hawks today and will continue to see what his options are.
At this point nothing has been agreed to on Evans part and nothing can be signed until July 10.
The Kings and Pelicans could construct a sign-and-trade deal involving Evans if the Kings deem the NOLA offer too rich for their liking, although a deal would still require Evans agreeing to the offer sheet, which he has not done as of yet.
Sources close to the process say that if Evans opts for New Orleans, the Pelicans would be open to trading point guard Grevis Vasquez and possibly second year guard Austin Rivers to open up a major role for Evans.
One player the Pelicans are not expected to move is Eric Gordon. Sources say the Pelicans pledged to him that they would be aggressive in making the Pelicans a competitive team and that they want him to be a part of it.
That could change down the road, but it looks like the plan in NOLA is to upgrade with veterans and give head coach Monty Williams serious talent to work with.
Not Trading Rondo:  The Celtics are on the offensive, down playing rumors that they are blowing up the team and trying to tank for draft picks.
Celtics president Danny Ainge laughed off suggestions that his team is looking to lose next year, and completely denies that players like Rajon Rondo are available in trade.
"Don't believe everything you read, especially on Twitter," Ainge said to Chris Forsberg of ESPN Boston.
"The calls are coming in; the calls have not been going out. I think that the assumption is that, [given] what we are trying to accomplish, the reports are such that maybe the assumption is that we'll give away any of our players. We have had calls. On Jeff [Green], on Courtney [Lee], on Brandon [Bass], on Rondo, on Jared [Sullinger] and our draft pick, Kelly [Olynyk]. There's been calls for all those guys. And maybe the assumption is we are just changing everybody, but we're not. We're starting to get younger."
Ainge admitted that there would need to be some moves made simply because of all the duplication that will exist after they complete their portion of the Brooklyn Nets deal.
"We have too many players," Ainge said. "We have logjams at power forward, and center and shooting guard. We have a lot of guys, potentially, if things continue as they are. I think that our job is to try to clean that up through the summer."
One player Ainge was absolutely clear on keeping is point guard Rajon Rondo. There have been several reports linking Rondo to the Dallas Mavericks, but Ainge said despite incoming interest there were no plans to consider moving Rondo.
"I always listen to calls and listen to what [their] ideas are, but we have no intentions of moving Rajon," Ainge said.
Sources close to Rondo have said the Celtics have pledged to be aggressive in filling out a competitive roster this year built around him as the focal point. It's believed the Celtics would love to do a sign and trade deal for Hawks' free agent Josh Smith and they are expected to get a chance to pitch Smith on the idea.
NBA Teams can continue discussing trades and deals with free agents, however no transactions, contracts or offer sheets involving non-rookie contracts can be signed until the NBA re-opens for business on July 10.
NBA teams are permitted to sign their recently acquired draft picks, as their salaries are basically slotted and many of them are reporting for Summer League mini-camps this week.
We Want To Know:
Loading ...
No Side Deals Allowed:  Yesterday reports surfaced that the LA Lakers television partner Time Warner would be part of the Lakers presentation to Dwight Howard. That immediately started a fire storm of speculation that Time Warner would trump all suitors by offering Howard his own LA based TV show. The problem is such an offer is not allowed under the Collective Bargaining Agreement.
After a lengthy conversation with CBA guru and HOOPSWORLD contributor Larry Coon, the idea of a TV show being offered separate of a pitch from the Lakers could be over looked by the NBA, however any offer or discussion of separate compensation whether paid or unpaid as part of the Lakers pitch team would be a violation and deemed circumvention of the cap.
That's the key point.
Had Time Warner never gotten involved with the Howard pitch, you could reasonably say Time Warner made an independent business decision to sign Howard. The moment Time Warner joins the Lakers presentation they are no longer deemed a third party.
Some have pointed to a report that a fast food chain has offered Howard chicken fingers for life if he signs in Dallas, however that offer was not made via the Mavericks and that company was not present in the room with Howard while talking about his contract.
The Uniform Player Contract that all players sign has very clear language about the contract signed being all the terms discussed and both parties have to have to attest that the only terms agreed to are those outlined in the contract and allowed under the CBA:
"This Contract (including any Exhibits hereto) contains the entire agreement between the parties and, except as provided in the CBA, sets forth all components of the Player's Compensation from the Team or any Team Affiliate, and there are no other agreements or transactions of any kind (whether disclosed or undisclosed to the NBA), express or implied, oral or written, or promises, undertakings, representations, commitments, inducements, assurances of intent, or understandings of any kind (whether disclosed or undisclosed to the NBA) (a) concerning any future Renegotiation, Extension, or other amendment of this Contract or the entry into any new Player Contract, or (b) involving compensation or consideration of any kind (including, without limitation, an investment or business opportunity) to be paid, furnished, or made available to the Player, or any person or entity controlled by, related to, or acting with authority on behalf of the Player, by the Team or any Team Affiliate."
The Minnesota Timberwolves were caught for an under the table deal with Joe Smith in 2000 that resulted in Smith's contract being voided, the Wolves being fined $3.5 million and they lost several years' worth of draft picks.
Sources close to this situation explained yesterday that while the NBA has no issue with the Lakers TV partner being in the room with Howard, what they cannot do is in anyway offer personalized inducement for him to re-sign with the Lakers.
They can, and likely will, explain in great detail their coverage plan for the Lakers, their expansion plans for Laker-related programming and their commitment to maximizing the Lakers going forward.
Any offer of a Howard show at any point going forward would be deemed additional compensation and could result in the Lakers being blocked from a Howard deal.
Like many things involving Howard, this concept took on a life of its own despite not being allowed under the CBA.
Howard met with the Atlanta Hawks and Golden State Warriors yesterday in Los Angeles and is expected to wrap up his team meetings with the Dallas Mavericks and LA Lakers today.
Howard has said that he'd like to make a decision quickly and get free agency behind him, it's expected that Howard could reach and announce a decision as soon as Wednesday.
More Twitter:  Make sure you are following all of our guys on Twitter to insure you are getting the very latest from our team: @stevekylerNBA, @AlexKennedyNBA, @TheRocketGuy, @LangGreene, @EricPincus, @joelbrigham, @SusanBible, @DPageNBA , @TommyBeer>, @JabariDavisNBA , @NateDuncanNBA and @YannisHW.
NBA Chats: There will be one NBA chats scheduled for today featuring my weekly NBA Rumors Chat at 10:30am EST. I will do my best to get to as many of your questions as possible, so get in early as the chats fill up fast. You can always find the next upcoming chat here: Upcoming NBA Chats. If you are looking for a completed chat, check the Chat Archive.