NBA AM: Trade Situations Worth Watching
Tristan Thompson - VIDEO OF THE DAY
Cavs forward Tristan Thompson talks about his young team, the value of Summer League and how he feels about his new coach and his new teammates.
Watch More Video Here
Situations To Watch:  NBA teams start to open training camps in 36 days, and while most teams are fairly content with the construction of their rosters there are some situations to watch heading into camp and the preseason.
Where Do The Cavs Go?  The Cleveland Cavaliers have been amassing some depth at virtually every position on the roster, but there are a couple of signings and situations that beg the question: How will that work out long term?
Incumbent forward Tristan Thompson basically plays the same position at top overall pick Anthony Bennett. It's fair to say that Bennett, who is coming off of shoulder surgery, is going to need a runway to get his body back in playing shape and to acclimate to the NBA style of play, but what happens when he catches up? What does that mean for Thompson, who really showed flashes of brilliance last season? The Cavaliers' stance is depth is good and that when you're a lottery team you want options. It's clear that Mike Brown in his return engagement in Cleveland as head coach will have plenty of options, not just at power forward.
The Cavs also have amassed a glutton of guards. Jarrett Jack was brought in on a four-year deal. Dion Waiters was the fourth pick last year and showed tremendous promise and of course incumbent star Kyrie Irving. It's fair to say that all three could see a lot of time at the off guard spot, but the Cavs might have more guards that need minutes and the ball, than minutes and balls.
The center position is somewhat intriguing in Cleveland, mainly because the Cavs invested a ton of cap space (the money isn't fully guaranteed) in Andrew Bynum. Bynum notoriously missed all of last season to knee issues; the Cavs are not blindly betting on Bynum's knees.
The other component to the equation is Anderson Varejao, who is coming off a season in which he had surgery to repair a split leg muscle, which developed complications including pulmonary embolism which cost him the bulk of the season.
Varejao's status is still very much up in the air, mainly because of how blood clots in the lungs are treated. Given the amount of air travel NBA players have endure betting on Varejao long-term might be as risky as Bynum. The same goes for expectations of there being trade value for Varejao. Pulmonary embolisms are life threatening disorders that make predicting Varejao's status nearly impossible.
The Cavs do have last year's 17th pick Tyler Zeller, who is the only center without looming health questions.
There has been some talk of the Cavs playing small at time using both Tristan Thompson and Anthony Bennett on the floor together, but again the question becomes: How will that work long term?
A lot of this will get worked out when the Cavs open training camp, and there is no doubt that the Cavs will have dozens of lineup configurations before its said and done, but with so many questions surrounding the Cavs, there are absolutely a situation to watch, mainly because they have the talent to be pretty good if it all breaks their way.
Old Versus New In Orlando:  The Orlando Magic have reinvented themselves fairly quickly, going from old and over the luxury tax to young and looking at cap space in a single season.
The challenge in Orlando is they have their future on the roster – Mo Harkless, Tobias Harris, Victor Oladipo, Doron Lamb and Nikola Vucevic – however, they still have huge chunks of their past on the books beyond this season.
The Magic have preached a mantra of getting better every day and have routinely said that having smart, ready-to-win veterans on the team was critical to their development of a winning culture. That might be valid, but it seems like its time to let the young guys play which means Orlando has to start trying to move off some guys.
There is little doubt the Magic would like to move forward Glen Davis. He was a hold over signing from the last regime in Orlando and while Davis put up big numbers in the games he played last year, he is not a part of the long-term puzzle and frankly Davis isn't overly thrilled with being on a team that's not challenging for the playoffs.
Glen is coming off of surgery in July to replace a screw in his left foot and may not see the floor until December, which means moving him before training camp starts is almost impossible. He is one of the players to watch around the NBA trade deadline and if Davis can prove that he can stay healthy and productive there is a chance someone takes his final $6.6 million contract year.
Magic captain Jameer Nelson is another situation to watch mainly because the final year of his deal in 2014 is only partially guaranteed ($4 million). Nelson's situation is a little different than say Davis', mainly because he wanted to stay in Orlando and the team genuinely values him as a veteran leader. Jameer was invaluable last season for rookie head coach Jacque Vaughn and he was instrumental in helping last season's young guys find their way both on and off the court.
The smart money says Nelson finishes the season in Orlando unless he is the key to making other moves.
Magic guard Arron Afflalo heard the trade rumors with his name on them this summer and joked that if Orlando wanted to trade him, he'd have been traded. The Magic spent the second overall pick on Victor Oladipo and while Oladipo did get some run at the point guard position in Summer League and might see some time there in spot duty, his primary spot is going to be at the two spot. The early indications are that very much like Mo Harkless and Andrew Nicholson last year the Magic are going to take it slow with Oladipo which means Afflalo has the starter's job coming into camp.
The Magic have said repeatedly that Afflalo is part of the long-term puzzle, but it's hard to imagine that if Oladipo flourishes that Afflalo isn't one of the guys on the way out, mainly because he has real trade value.
The Magic still have not dealt with forward Hedo Turkoglu, so that situation still remains unresolved. Turkoglu is in the final year of his contract worth $12 million, however only $6 million of it is fully guaranteed. The Magic have had talks with Turkoglu about a buyout and there has been some talk that the Magic may bring Turkoglu to camp and try and trade him as an ending contract closer to the trade deadline.
The smart money says Orlando will waive Turkoglu before training camp and avoid eating an unnecessary $6 million, but until that's done it's not done.
What To Do With Rudy Gay?  There is a ton of optimism coming from Toronto, and most of it is justified. For the first time in a while the Raptors are bringing a squad to camp that could legitimately challenge for a playoff position if they stay healthy.
The problem is that Toronto has a lot of core guys that may have their own agendas this season and that could be a problem.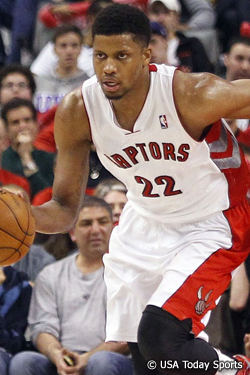 Kyle Lowry, arguably the Raptors' most important cog, is in the final year of his contract and at times has butted headed with head coach Dwane Casey. Lowry has been training relentlessly this summer and has said repeatedly that his squad is in the playoff next year. Fortunately for him, there isn't much on the Raptors roster to challenge his spot at starter. If Lowry and Casey can get on the same page things could go pretty well for both. If both has a contentious season, as they did much of last year, then one or both could be gone by mid-season.
The Raptors traded for Rudy Gay last year and hoped they had landed their superstar player. For several games he looked the part. The problem is that it wasn't sustained. The Raptors find themselves in a tough spot with him. He can and likely will opt out of his final $19.3 million contract year if he stays productive and healthy, mainly because there isn't much out there in the 2014 free agent class that's better than he is meaning he could be one of the top guys next July.
This puts the Raptors in a tough spot. They could let Gay play out the season and see where things go, or they could opt to try and trade him to avoid losing him to free agency for little to nothing in return. New president Masai Ujiri has been down this road before with Carmelo Anthony in Denver and knows full well how distracting it can be to have a guy in Gay's situation and what kind of circus it can create.
The other part of the problem is because Rudy can opt-out next summer he can influence where he lands or more importantly what the Raptors were to get in return for him.
This was one of the core reason the Grizzlies trade Gay when they did.
The Raptors could try and be preemptive with a contract extension, but is giving Gay almost $20 million a year to stay really worth it and would he take less money in an extension to remain where he is?
That's the question that going to dominate the Raptors season and that's unfortunate because with their roster they could have a solid season this year.
Over the coming weeks we'll look at a few more situations like these so stay tuned for more.
We Want To Know: 
Loading ...
A New Direction For The NBPA:  The National Basketball Players' Association held their annual meeting in Las Vegas yesterday and held an election for the post of Association president. In the days leading up to the meeting it seemed like Roger Mason Jr. was the only player publicly campaigning for the job, however Clipper guard Chris Paul came out with the job.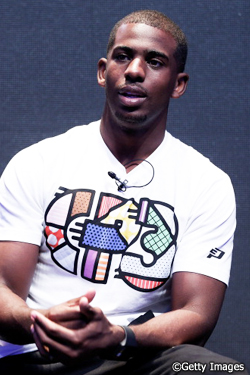 Paul's winning the vote isn't overly surprising. Paul has been involved with the NBPA for several years. He was a key player in the last labor negotiations and he has the name and star power that the players have coveted.
Mason Jr. was elected first vice president, Lakers guard Steve Blake and new Bobcat Anthony Tolliver were also elected as vice presidents.
The current Collective Bargaining Agreement reached after the 2011 lockout has opt-out language after the 2016-17, so it is in effect for basically four more seasons.
During the last labor fight several complex issues were tabled to be resolved at a later date, including changes to the NBA Draft and the handling of performance enhancing drug testing. The NBPA spiraled into chaos immediately following the lifting of the lockout and most of the remaining issues went unaddressed as the they battled things out.
With Paul now running the show are president, his first order of business is finding and hiring a new executive director.
Ron Klempner, who is the NBPA's Deputy General Counsel, has been serving as Interim Director and will likely be replaced in the coming weeks.
Sources close to the process say there will be a very thorough search for the right person to lead the NBPA on a day-to-day basis; however there are dozens of reports suggesting former Madison Square Garden executive Steve Mills could be the front runner.
In talking with agents and players this summer about the state of the Players' Association, there seems to be a common theme – fighting with the NBA isn't gaining anyone ground.
Sources close to the process say that a systemic change in how the Players' Association deals with the NBA is what has to change and that the constant adversarial relationship hasn't yielded benefits for the players and that the new version of the NBPA needs to be focused and equipped to help the NBA grow the game of basketball to create more for its players.
Everyone involved in the process believes there will be another labor fight in July of 2017; the difference next time is that the NBPAmight actually have some goodwill going for it when they enter negotiations. The other part is that the overall pie being divided could be trending upwards due to a new TV deal which could happen this season, a big enough trend to gain some concessions for the players.
In Case You Missed It:  Every off season we end up with more video interviews than you can possibly have seen so here are a couple of more in case you missed one.
Charles Boozer talks about playing Summer League for the Chicago Bulls. What he learned and what he has been working on as he tries to get back into the game.
New Memphis coach Dave Joerger has been with the Grizzlies since 2009. He talks about his new job, his roster and what he expects next season.
More Twitter:  Make sure you are following all of our guys on Twitter to insure you are getting the very latest from our team: @stevekylerNBA, @AlexKennedyNBA, @TheRocketGuy, @LangGreene, @EricPincus, @joelbrigham, @SusanBible @TommyBeer, @JabariDavisNBA , @NateDuncanNBA , @MokeHamilton and @YannisHW.
NBA Chats:  There are three NBA chats today starting with Senior NBA writer Joel Brigham's weekly NBA Chat at 1:00pm EST. Joel covers the Central Division for HOOPSWORLD. HOOPSWORLD's Alex Kennedy will hold down his weekly NBA chat at 3:00pm EST. Moke Hamilton will hold down the evening chat at 8:00pm EST. Chat do fill up fast so get your questions in now. You can always find the next chat here: Upcoming NBA Chats. If you are looking for a completed chat, check the Chat Archive.