NBA AM: Teams Investing In Diminishing Returns
Under the current Collective Bargaining Agreement, NBA salaries for the most part are guaranteed in nature. Due to this there will always be a select few contracts around the league where the paycheck far exceeds the productivity on the court. Most guys were given those deals at the height of their primes but age or injury has started taking its toll and the case of diminishing returns have started to set in.
Let's take a look at some players who have been declining as of late, but still account for a large portion of their respective team's salary cap.
Amar'e Stoudemire, New York Knicks

Amount Owed After This Season: two-years, $46 million
Stoudemire's free agent signing with the New York Knicks back in the summer of 2010 helped pump a new level of enthusiasm into a storied franchise, which had fallen on hard times. The Knicks are headed to their third consecutive trip to the playoffs since Stoudemire's arrival, but the veteran forward's role with the team has diminished this season because of nagging knee injuries.  It is becoming more evident by the day that Stoudemire likely won't regain the All-Star form of his youth.
Joe Johnson, Brooklyn Nets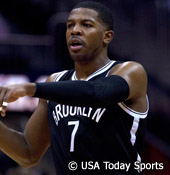 Amount Owed After This Season:  three-years, $69.5 million
Johnson's arrival in Brooklyn helped secure Deron Williams' signature on a long term deal last summer, but the six-time All-Star's play has started to steadily decline over the past few seasons. In fact, you have to go back to the 2003 campaign to find a season where Johnson averaged less than the 16.4 points he gives the Nets per night. Some would argue with Williams' presence in the lineup that Johnson's scoring should naturally dip, but the veteran is also shooting his lowest percentage from the field (.423) since the 2003 campaign as well.
Pau Gasol, Los Angeles Lakers

Amount Owed After This Season: one-year, $19.2 million
The Lakers have been shopping Gasol around the league for the past two seasons but haven't been able to move the former All-Star. Gasol is averaging a career low in points (13.0), rebounds (8.0) and field goal percentage (.455) this season and while some of Gasol's struggles can be attributed to adjusting to head coach Mike D'Antoni's system, it's hard to envision the 32 year old recapturing his dominance of a few years back.
Nene, Washington Wizards

Amount Owed After This Season: three-years, $39 million
As big men go, Nene was a borderline All-Star candidate in the Western Conference at center from 2009-2011. But after signing a lucrative long term deal in the summer of 2011, Nene's production has started to decline. Part of Nene's declines has been a set of nagging injuries which have limited his effectiveness, but the veteran is getting to the age, post prime, when most guys' play on the court tends to start sliding.
Gerald Wallace, Brooklyn Nets

Amount Owed After This Season: three-years, $30.3 million
Since becoming a full-time starter in 2005, Wallace is averaging the lowest points (8.2), rebounds (4.9) and field goal percentage (.400) of his career. And the drop-off in Wallace's game has been dramatic in nature compared to last season when he averaged 13.8 points and 6.7 rebounds on 45 percent shooting. To be fair, Wallace is also playing the lowest minutes of his career since 2005 but on a Per 36 minute basis the story of decline remains at the forefront.
HOOPSWORLD Discusses The Next Step For Eastern Conference's Lottery Teams
In case you missed it, HOOPSWORLD's Stephen Brotherston and Yannis Koutroupis recently discussed the next step for Eastern Conference teams who are headed to the draft lottery. Can teams such as Toronto, Philadelphia, Charlotte, Detroit and Washington improve their fortunes this offseason?
Mavs' Mark Cuban Considering Drafting Baylor's Brittney Griner?
Dallas Mavericks owner Mark Cuban made headlines on Tuesday night when he openly stated he would consider drafting Baylor women's basketball standout Brittney Griner in the second round of this year's NBA Draft.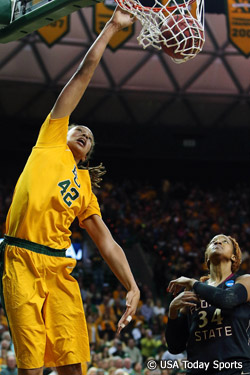 Griner was a three-time All-American at the collegiate level and led Baylor to a national championship in 2012, guiding the Lady Bears  to a perfect 40-0 record.
"If she is the best on the board, I will take her," Cuban said according to Tim MacMahon of ESPN Dallas. "I've thought about it. I've thought about it already. Would I do it? Right now, I'd lean toward yes, just to see if she can do it. You never know unless you give somebody a chance, and it's not like the likelihood of any late-50s draft pick has a good chance of making it.
"She'd still have to make the team.  I'm not going to carry her just to carry her. I don't think, anyways. But I certainly wouldn't be opposed to giving her the opportunity."
Cuban is right in his assessment of draft picks in the 50s being able to successfully carve out a niche in the league over the past four seasons. Out of this group only Lavoy Allen, E'Twaun Moore, Jeremy Evans, A.J. Price and Patrick Mills have appeared in more than 100 games.
At 6'8, Griner was able to dominate the women's game in the post because of her superior size advantage over the competition, but those same physical attributes would most likely translate into a wing player by NBA standards.
Whether or not Cuban, or any other league owner, would actually roll the dice probably won't be cleared up until draft time. But the discussion of whether Griner could hold her own against the men at pro level has already been the topic of debate over the past few seasons.
Griner responded to Cuban via Twitter after his comments went public stating she would welcome the challenge.
"I would hold my own! Let's do it," Griner wrote.
Griner finished her collegiate career with 3,283 points and 748 blocked shots.
Cuban also stated that even if he doesn't use a draft pick on Griner he would be more than welcome to invite her to try out for the Mavericks' summer league squad.
Loading ...
Are The Dallas Mavericks Toast?
The Dallas Mavericks have reached the playoffs for 12 consecutive seasons but their streak is in serious jeopardy after losing Tuesday night to the (ninth place) Los Angeles Lakers. The Mavericks now sit in the tenth spot in the Western Conference standings and are two and a half games behind the Utah Jazz for the eighth and final playoff spot.
Mavs head coach Rick Carlisle didn't mince words when it came time to discuss the team's latest loss and also admitted there is a level of frustration in the air.
"It is a hit. It is a game we needed," Carlisle said according to the Associated Press. "I think everyone is frustrated. I mean, Dirk [Nowitzki] understands what this stage is about. We have some inexperienced guys that haven't been here, so this is a valuable learning experience for them, but it has a price."
The Mavericks have eight games remaining to catch Utah and Los Angeles in the standings. The team is on the road for their next three contests versus Denver, Sacramento and Portland. Four of the Mavs' five final games of the regular season are at home versus Phoenix, Denver, Memphis and New Orleans.
HOOPSWORLD's March Madness Coverage
The Final Four match-ups are set. Michigan will face Syracuse and Louisville will face Wichita State. HOOPSWORLD has plenty of content to ensure you're up to speed on the 2013 NCAA Tournament.
You can find previews for every game here. They have in-depth stats, players to watch and a poll so that you can vote on which team will win. Once it tips off, feel free to discuss the game in the comment section.
If you want to take a look at the bracket, we've been updating it here.
Who were the studs and duds of the Elite Eight? Find out here and here.
We will continue to push out NCAA Tournament coverage over the next few days so be sure to check back regularly.
NBA Chats
If you are looking for upcoming NBA chats, click here. If you are looking for previous NBA chats, click here.