NBA AM: Free Agent Market For Nick Young
The NBA's 2013 free agent class lacks star power at the shooting guard position, but there's quality depth for contending teams looking to reload or rebuilding franchises searching for veterans to surround their young talent. Available shooting guards include O.J. Mayo, Tyreke Evans, J.J. Redick, Randy Foye and Kevin Martin. The class could also be bolstered by Monta Ellis and J.R. Smith should they choose to decline their player options for next season.
Another name sure to attract plenty of interest is Philadelphia 76ers guard Nick Young. The sixth-year veteran has averaged 10.9 points on 36 percent shooting from three-point range this season for Philadelphia after signing a one-year deal last summer. Young has been a free agent for consecutive years, but this summer he's making it clear that his priority is to finally lock in a long-term deal.
"I'm just trying to get a long-term contract," Young said. "I'm just going to weigh my options and see what goes on. Free agency is crazy. I've been in it the last two years. I'm just hoping for the best."
The Sixers acquired former All-Star center Andrew Bynum from the Los Angeles Lakers last summer and Young was signed by the team because of his outside shooting prowess. But Bynum, who was expected to be the franchise cornerstone, never played a game for the Sixers this season due to recurring knee issues. As a result, the Sixers have struggled throughout the campaign and a team that was just one win away from the Eastern Conference Finals a year ago is now on the outside of playoffs looking in this season.
Young believes the presence of Bynum would have dramatically shifted the Sixers' fortunes and admitted the center's injuries were constantly on the team's mind throughout the year.
"I think it is in the back of everybody's head," Young said on Bynum's injury woes. "Obviously he didn't get a chance to play and touch the court, but if he did it would probably be a little different right now.
"We're just trying to go out on top and play hard to the end. You know, it's still a little bit of season left so we can't give in now. Got to play until it's over."
While Young didn't rule out considering a return to the Sixers next season, the guard expressed optimism about being able to go through the free agency process and evaluate his options. Young says the trade market will have a big influence on not only his situation, but the rest of his peers' free agency value as well this summer.
"The last couple of years during my free agency we had a couple of big names traded," Young said. "We'll see what happens this year. We'll see where people get traded because there's always some big trades that pick teams up. That's the tough part because everybody needs a team."
Young signed with the Sixers for $5.6 million last summer after splitting the 2012 campaign with the Washington Wizards and the Los Angeles Clippers. While with the Clippers, Young got his first taste of the postseason and it would appear a playoff contender would have the inside track of securing his name on a long-term deal.
"There's nothing like the playoffs," Young said. "It's the atmosphere, the TV and everybody is watching. It's just the crowd and being in that environment is crazy."
Check out HOOPSWORLD's full interview with Nick Young where he also discusses the emergence of former teammate and Washington Wizards guard John Wall, a breakthrough he admits he didn't see coming.
Loading ...
Frustration Mounting For Kyle Lowry In Toronto
The season hasn't progressed the way fans in Toronto had hoped, but from a talent standpoint the Raptors are in a much better place compared to recent memory. The Raptors haven't reached the playoffs since 2008, a five-season drought.
At 30-48, it's not surprising that frustration in the locker room is rising to the surface. Veteran guard Kyle Lowry, acquired by the team last summer, has been hampered by injuries for most of the season and says the campaign has been a disappointing one to stomach up until this point.
"For me personally? Very frustrating, very disappointing," Lowry said, according to Doug Smith of the Toronto Star.
Lowry's play has been up and down this season and at times erratic, but the team seemingly made it clear by dealing veteran guard Jose Calderon at the trade deadline that he is the point guard of the future. Raptors head coach Dwane Casey believes in Lowry and trusts his game. Lowry, simply put, is Casey's guy.
Lowry says despite his frustration, he's still confident in his Raptors teammates and believe a summer of growth will lead to improved results.
"I'm confident in all my teammates, I think they're all confident in me and I think we're all confident in each other," Lowry said. "We've got some young pieces, some learning to get better in the summer. We had a disappointing year but we'll bounce back."
Despite the team's struggles this season, Toronto is on track to improve its win percentage for the second consecutive season after enduring a 22-60 campaign in 2011 – the first season without All-Star forward Chris Bosh.
Mavericks Forward Shawn Marion Talks Future, Retirement Plans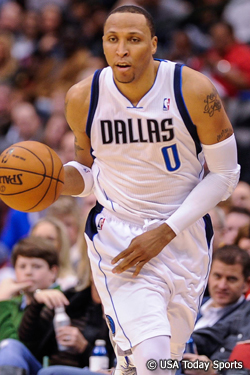 The Dallas Mavericks are on the verge of missing the playoffs for the first time since 2000, barring a miraculous finish and epic collapse by the Los Angeles Lakers and Utah Jazz. Although the season hasn't gone along as planned, there have been a few bright spots for the franchise coming from their veteran talent. Former All-Star Vince Carter has been able to transition his game and remain highly effective while Shawn Marion, also a former All-Star, has remained very productive and been one of the Mavericks' best defenders.
Marion, who is in his 14th season, knows time is winding down on his career. He can opt out of his contract and become an unrestrcited free agent this summer. Marion understands and is fully aware father time will eventually be knocking on his doorstep. He also admits the end of his run is nearing.
"I can't play basketball forever," Marion said to Dwain Price of the Fort Worth Star Telegram. "I've got to have a little life. It's been a great run so far and when it comes at an end, it's going to come to an end sooner than later."
Marion will turn 35 in less than a month and is currently the Mavericks' leading rebounder. If the veteran does decide to opt out of his contract there will be multiple title contenders lining up for his services with the Mavericks potentially in a state of rebuilding.
"If I feel like I want to go play some more and I think I've got the opportunities to go and help somebody and compete for a contender, anything is possible," Marion said. "You've got to be optimistic right now and be looking at the future.
"When you play as many years as we've played — especially the vets — and you've got 13, 14 and 15 years in the league, you don't have much left in the tank. So you've got to look at what you want to do and how you want to leave your legacy, how you want to go out and what terms you want."
Marion was selected to four All-Star games, the last coming in 2007. He has never averaged less than double figures in scoring throughout the course of his career.