NBA AM: Top Five Free Agent Point Guards
VIDEO OF THE DAY - James Southerland
Syracuse sharpshooter James Southerland is out to show that he's one of the best shooters in the draft. However, there's more to his game than just shooting. He talks about that and more in today's video of the day.
Watch More Video Here
Ranking the Top Five Free Agent Point Guards
The 2013 NBA Postseason is in full swing with eight teams currently fighting to see who will end up in the Conference Finals – and eventually the NBA Finals. However, that means there are 22 teams currently on vacation with another four set to join them within the next week.
Talk about the 2013 offseason is beginning to heat up as teams are in the process of formulating game plans heading into the NBA draft and free agency period that are each less than two months away. One of the deepest positions heading into free agency is at point guard, where plenty of big names are set to populate the free agent list.
With that in mind, let's take a look at an offseason shopper's guide to the top free agent point guards this summer:
Top Five:
5. Jose Calderon, Detroit Pistons (Unrestricted)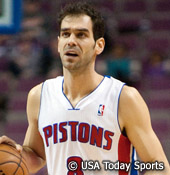 A key component of the Rudy Gay trade this season, Calderon will come off the books for the Pistons after a brief stint in Detroit. Calderon has proven to be a pass-first point guard over the course of his eight-year NBA career and should get plenty of attention once the bigger names start coming off the free agent board.
Career averages of 10.1 points and 7.2 assists per game to go along with 48.3 percent shooting from the floor and 40 percent from 3-point range suggest Calderon will be in high demand. Calderon never quite fit in with Detroit over the course of 28 games and hasn't committed to re-signing with the Pistons.
4. Jeff Teague, Atlanta Hawks (Restricted)
Teague broke through this past year with Atlanta and helped a revamped roster finish with the sixth-best record in the Eastern Conference in 2013. The fourth year player led the Hawks in both steals and assists this season while setting career-highs in both points (14.6) and assists (7.2) per contest.
At just 24-years old, Teague is at the end of his rookie deal which means Atlanta has the opportunity to submit a qualifying offer – this making the young point guard a restricted free agent. Given his age and talent level, it's tough to see Atlanta letting Teague go.
3. Jarrett Jack, Golden State Warriors (Unrestricted)
Another player who has earned some extra cash this offseason with his superb postseason play is Stephen Curry's backup in Golden State, Jarrett Jack. Coming off of the bench for the Warriors this season, Jack averaged 12.9 points and 5.6 assists per game – solid numbers for some starters in this league.
This postseason, Jack has been even better.
The eight-year veteran is second on the Warriors in scoring (17.1 PPG)  and assists (5.3 APG) while helping to guide the young Warriors to a 2-2 series tie against the mighty San Antonio Spurs. Jack will be in high demand this postseason as teams scramble to find a veteran leader who still has the talent to make a steady contribution.
2. Brandon Jennings, Milwaukee Bucks (Restricted)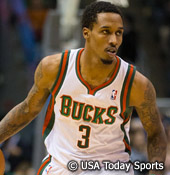 A player with tons of upside that could be had for the right price this offseason is Bucks' starting point guard Brandon Jennings. The top potentially restricted free agent point guard on the market, Jennings has both the playmaking and scoring acumen that teams salivate over. The 23-year old set a career-high with 6.5 assists per game this season and that number will seemingly only go up as Jennings gains NBA seasoning.
Milwaukee is going to have to decide just how much Jennings is worth when offers come rolling in this offseason, as the Bucks have plenty of decisions to make that will dictate how different this roster looks next season.
1. Chris Paul, Los Angeles Clippers (Unrestricted)
Arguably the top player in the 2013 free agency class, Paul is going to have plenty of suitors this summer. Paul finished the 2013 regular season at second in the NBA in assists per game (9.7) and led the league in steals (2.41) per contest. Still in the prime of his career at 28-years old, Paul is a player that will almost assuredly keep up his elite level of play for the duration of his next contract.
The Clippers' first round exit doesn't help their case for keeping the All-Star point guard but there's little doubt that LA has the talent (and the cash to offer) to try to convince Paul to stay. It's likely that Paul stays in LA this summer but teams are going to give him their best pitch to try to lure him elsewhere.
Honorable Mention:
Chauncey Billups, Los Angeles Clippers (Unrestricted)
The former NBA Finals MVP will be entering his 17th season in 2013-14 but that doesn't mean the grizzled vet doesn't have plenty to offer a prospective team. A starter at the two over the last few seasons with the Clippers, Mr. Big Shot still has value as a veteran point guard who isn't afraid to take, and make, a crucial shot in crunch time.
Nate Robinson, Chicago Bulls (Unrestricted)
Even after a dreadful, 0-12 performance last night against the Miami HEAT, Robinson has been superb this postseason for the Bulls. In guiding the team to the second round, Robinson has been huge for a surprising Chicago team this postseason and has earned himself some extra cash this offseason.
Non-Guaranteed and Team Option Contract Notables:
Kyle Lowry, Toronto Raptors (Non-Guaranteed):
When healthy, Lowry has proven to be a more-than-serviceable starting point guard in this league capable of putting up solid numbers across the board on any given night.
Mario Chalmers, Miami HEAT (Team Option):
Due $4 million next season, it's unlikely the HEAT let their championship starting point guard go.
Loading ...
Miami HEAT Cruising to Third-Straight Finals Berth
Can anyone beat the HEAT?
In the Eastern Conference, that answer is looking like a resounding NO as Miami continues to pummel its way through the postseason. After sweeping the Milwaukee Bucks is the first round, the HEAT are on the verge of taking out the hobbled Chicago Bulls.
Following their Game One home blunder, Miami has dominated Chicago – winning the last three games by an average of over 23 points per contest. This included a bounce-back 115-78 victory in Game Two that netted the Bulls their worst playoff loss in franchise history.
"It's concentration. It's not a matter of want," Spoelstra told USA Today Sports' Jeff Zillgitt. "It's not a matter of not necessarily bringing effort. It's focusing on details, and for us on both ends of the court, we had mentally lackadaisical plays."
In winning seven of their first eight playoff games, there's simply hasn't been much challenge over the first two rounds of the playoffs for Miami. Even the winner of the New York Knicks-Indiana Pacers series that will meet Miami in the Eastern Conference Finals doesn't have much of a shot. Realistically, either one of those teams might have a shot at forcing a Game Six – and that's if everything goes right.
Seemingly the only thing that could prevent Miami from another Finals berth – and potentially a second-straight NBA championship – is the status of Dwyane Wade's hobbled right knee. Wade missed plenty of time this season trying to recuperate from the injury and frankly Miami hasn't needed much from him with the competition they've faced this postseason.
However, as the competition begins to stiffen – and it will culminate with whoever makes it out of the brutally talented Western Conference in the Finals – Miami will need a healthy Wade in order to secure a title. Wade has averaged a career-playoff low 12.3 points per game and the HEAT will need that to change if back-to-back NBA Championships are a realistic goal.
"We've got his back as a team, and then I definitely pick it up even more because I know what he's going through," NBA MVP LeBron James said. "I'm around him each and every day. It's difficult for him, but he hasn't made an excuse. He's just trying to give us what he's got right now until it starts to feel better."
Still, while the West's best beat one another up over the course of six and seven game series throughout the conference playoffs, Miami will likely be relatively well rested after breezing through the East. For the Knicks or Pacers sake (and for the sake of every NBA fan who wants to see an entertaining series), maybe the HEAT will actually get a challenge in the Eastern Conference Finals.