NBA AM: Who Helped Themselves At The Combine?
Trey Burke - VIDEO OF THE DAY
Michigan's Trey Burke believes he is a candidate for the top overall pick and while Burke did not compete in the drills he did meet with teams and says he is willing to go head-to-head with anyone in the class.
Watch More Video Here
Who Helped Themselves At The Combine?:  The 2013 NBA Draft Combine wrapped up in Chicago this weekend, and while the true test of a player's draft value won't be known until the June 27 NBA Draft in Brooklyn, there were several players that created some positive buzz about their situation and have clearly elevated interest in their stock with NBA teams.
Trey Burke – 6'1.25″ – Point Guard
Burke didn't necessarily raise his stock, but by measuring in at a legit 6'1.25" in shoes he helped solidify himself as a top prospect. There was a real consensus among NBA executives on Wednesday night that Burke might not measure in over 6-feet tall, which would have created something of a problem for Burke. Most NBA teams use some level of advanced metrics in evaluating a player's potential in the NBA and a lot of those models start with physical attributes such as height, wingspan and standing reach in determining a baseline for guys. Burke coming in bigger than expected helps his cause tremendously, especially with so many executives openly questioning his speed and quickness at the next level. More than one executive commented that "college speed is different than NBA speed" and wondered how Burke would fair. Coming in bigger than expected helps knock down one obstacle, winning some head-to-head workouts might knock down a few more.
Jackie Carmichael – 6'9″ – Power Forward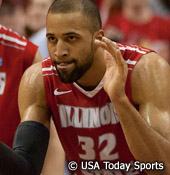 It might be because we spent so much time with Carmichael prior to the combine, but executive after executive commented on him almost as much as anyone in the draft. Carmichael is likely still a fringe first-rounder, but informal surveys asked of more than a dozen NBA executives consisting of "who do you like?" yielded Carmichael in almost every list of players provided. Carmichael has a nice all-around game and an incredibly engaging demeanor that makes him easy to like. It is doubtful Carmichael locked himself into serious first-round discussion, but given the interest expressed in Chicago it's hard to imagine him not getting drafted somewhere in the second round.
James Ennis – 6′ 7″ – Small Forward
Like Carmichael, Ennis was a name mentioned by a number of NBA executives. Coming from a small school like Long Beach State, Ennis had solid performances at the Portsmouth Invitational and combine that likely put him on the radar of several teams. Ennis will have to back things up in individual workouts, but it seems if the buzz matches the draft stock, Ennis is someone clearly on the rise.
Tim Hardaway Jr. – 6'6.25″ – Shooting Guard
Hardaway Jr. did very well for himself in the combine process. Teams that met with him raved about his maturity and poise. He shot the ball well in drills and seemed to establish himself as a legit first-round candidate. Hardaway looks the part of a late first-round pick, especially for veteran teams that need someone who can play right away. The problem for Hardaway is there is a logjam of guys that look and play like he does and that's going to make individual workouts extremely important for him. Coming into Chicago, Hardaway was considered by most to be on the back side of the draft, but today he seems like he is firmly in the middle and that's before working out for anyone.
Colton Iverson – 7'0″ – Center
Like Hardaway, Iverson answered the call. He measured in a legit 7-feet tall in shoes. He ran drills very well, consistently being the second or third big down the court. He shot the ball better than expected and, overall, handled the process very well. The knock on Iverson was shooting and quickness and he proved in drills that neither were significant barriers. Iverson is still in a logjam of bigs fighting for the final spots in the first round, but after a solid showing in Chicago it seems almost a lock that Iverson gets drafted. The question now becomes can he work his way into the first round with some good head-to-head matchups in workouts.
Myck Kabongo – 6'2.75″ – Point Guard
Kabongo was another guy that looked good at the combine. He measured in at 6'2.75" in shoes. But more importantly, he answered a lot of teams' questions about his maturity and his past eligibility issues at Texas. Kabongo really comes across as mature and poised and while he may not be a first-round pick just yet, he surely put himself in the discussion for a late first or early second selection. There are a number of teams looking for point guards out of this draft and Kabongo looks like he could be in the mix as the fourth or fifth point guard off the board.
Shane Larkin – 5'11.5″ – Point Guard
Unfortunately for Larkin, he measured in small. His 5'11.5" in shoes is a huge setback for a guy that exploded in every other testable area. He put up one of the best max vertical jumps in combine history. Larkin clocked in amazing lane agility scores and put up 14 reps on the bench press. A point guard that is fast, strong and can jump out of the gym and has a reputation as a mean and tough guy is a great combination of assets. However, three inches is going to matter on draft day, but what it really means is Larkin could be on the board in the mid-to-late 20s. It is hard to imagine Larkin not being drafted in the first round; he brings way too much to the table. Larkin just needs to find the team willing to take a shot on a smaller guard and his combine scores should help his cause greatly.
Ricardo Ledo – 6'6″ – Shooting Guard
Ledo had eligibility issues at Providence and that's really all teams knew about him. The face-to-face meetings opened a number of teams eyes about Ledo and while few people saw him last year, he's been on the NBA radar for a while coming out of high school and in the AAU circuit. Ledo is going to be a little unknown to fans, but it seems NBA teams are far more comfortable with Ledo after a week with him in Chicago. The hype of him being a late first-round pick is very real. Ledo did well for himself in meetings and in drills. He'll really cement his draft stock in workouts, but the one thing he did this week was answer some very serious questions and apparently did so extremely well. Watch for Ledo's stock to rise over the next month.
Shabazz Muhammad – 6'6.25″- Small Forward
A lot was made of Muhammad's decision to participate in drills on day one of the combine; most top-level picks forego the drills as they have nothing to gain from them. Muhammad wisely took advantage of being the only major name on the floor and forced his game on arguably lesser players. What Muhammad did on the floor will mean very little about who drafts him, but what it did do was force NBA teams to talk about something other than his age and the ho-hum season at UCLA. Muhammad is going to be drafted and he is going to be drafted in the upper part of the first round, but what he doesn't have right now is a floor – that team he will not get past and that's something he'll work toward in team workouts. The one thing Muhammad did do in Chicago is remind people that he is an elite level athlete, something he only showed flashes of at UCLA.
Dennis Schroeder – 6'2″ – Point Guard
Schroeder was a little unknown coming into the combine after a strong showing at the Nike Hoops Summit last month. A number of NBA teams were intrigued by Schroeder and this was really their first chance to sit him down and get to know him. Based on the buzz around the combine, it's looking more and more likely that Schroeder could be the third or fourth point guard taken on draft night, which considering how little people knew about him two months ago is a huge leap. Individual workouts will help solidify his stock, but Schroeder had a lot of fans in Chicago and most of them work for NBA teams.
Adonis Thomas – 6'5.75″- Shooting Guard
Let's be real for a minute, if you saw Thomas in his final games at Memphis you saw a kid who was a little fluffy around the middle and not motivated. That's the last image most NBA teams had of Thomas. In Chicago, Thomas arrived about 15 pounds and about seven percent body fat lighter, his body was defined and lean and his jump shot was really falling. Thomas had bounce and energy that reminded everyone that he once was one of the top high school players in the nation. Thomas also got to explain his train wreck of a season at Memphis and it seems that teams liked what they saw and heard. Thomas now finds himself deep in the discussion as a second rounder coming out of the combine with a chance to move his stock up in individual workouts.
Nate Wolters – 6'4.75″ – Shooting Guard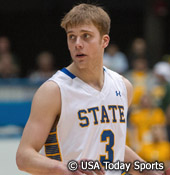 Unfortunately for Wolters, he strained a hip flexor and was unable to really showcase his game in drills. The one thing he was able to do is sit with teams and let them hear his story. One executive with a pick in Wolters' draft range said "he's an easy guy to root for." Wolters is a flat out scorer and while he's not a major athlete, teams are interested in working him out in a few weeks once his hip clears up a little. Wolters didn't catapult himself, but he did gain a few new fans and for a kid sitting squarely in the discussion for the a second round selection he might have created a little competition for his services, which could push his stock higher than the 45-55 range most have him projected at.
HOOPSWORLD sat down with virtually all of the players invited to the 2013 NBA Draft Combine and you can find all of those interviews here.
We Want To Know:
Loading ...
The NBA Draft is just around the corner, so HOOPSWORLD has everything you need to get ready. Want the Top 100 Players? They are right here. How about detailed Draft Prospect profiles? Got those rights here too. Need some NBA Mock Drafts? Bookmark the NBA Draft page. Who is going to have Salary cap space? Checkout the most detailed and hyper accurate NBA salary data anywhere. The offseason is right around the corner and HOOPSWORLD has you covered.
Noel's Knee Isn't An Issue:  Drafting an injured player happens a lot. Kenyon Martin was drafted first overall with a broken leg. The Boston Celtics have drafted two players with broken bones in their feet, so Nerlens Noel's torn ACL isn't a killer for his chances of going number one overall in June, although it is something people like to talk about.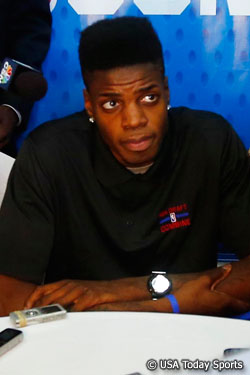 Much has been made of this being Noel's second knee related injury – several years ago he suffered a fractured growth plate in his left knee, which according to teams has little to do with anything.
The ACL injury is a little concerning simply because of the development time Noel is going to miss, however no one seemed overly worried about the ACL tear because of how common ACL injuries are and how the rehab treatment is in the NBA.
Having spent time with a number of team executives in Chicago this week, there wasn't as much concern about Noel's injury as you'd think, there was actually more talk about whether he was the best player, regardless of his health.
The story most executives spin is that Noel is the top guy, but that the top of this draft risky. There is no quicker way to be subpar than to botch the draft and the prospects sitting at the top of the draft are not as appealing to teams as the ones sitting in the middle.
One executive with multiple picks raved about his teams situation saying they had a chance to scoop up two really serviceable players in the middle of the draft and that the concept of moving up had little appeal for his team.
Equally, teams sitting at the top openly questioned whether there would be a market to move down.
Noel is clearly the favorite in the clubhouse by most of the dozen or so teams that talked about the situation, and that is fairly impressive considering he won't return to the court until November and may not be ready to play until December or January.
Noel dismissed his 206 pound Combine weigh in as having dropped weight due to injury and says he feels like he get can back to his 225 pound playing weight once he gets back in the gym.
Teams considering Noel number one have to serious look at the big picture with Nerlens. He is super raw and has instinctual shot blocking skills. He has had one minor knee injury that did not impact his play in high school or in college and he had a torn ACL after a freaky twist and fall at Kentucky. He is a very young guy, so there is a lot to work with and its clear teams see that, but as one executive joked, believing Noel to be the top pick and actually pulling the trigger on drafting him are two entirely different things.
Noel is expected to meet with several NBA teams sitting at the top of the draft board; although Noel has yet to select an agent for the process.
Its clear Noel is going to go early in the draft, the question is will he go number one overall and that seems to have more to do with who lands the pick than any concerns about Noel's knee.
More Twitter:  Make sure you are following all of our guys on Twitter to insure you are getting the very latest from our team: @stevekylerNBA, @AlexKennedyNBA, @TheRocketGuy, @LangGreene, @EricPincus, @joelbrigham, @SusanBible, @DPageNBA , @stevesraptors, @TommyBeer and @YannisHW.
NBA Chats: There are two NBA Chats scheduled for today starting with HOOPSWORLD's Bill Ingram at 11am. Bill's chats do fill up fast so getting in early is always wise. HOOPSWORLD's Stephen Brotherston will hold down his weekly NBA chat at 3pm EST. You can always find the next NBA Chat here: http://www.hoopsworld.com/upcoming-chats and if you are looking for Previous Chats try here: http://www.hoopsworld.com/previous-chats