NBA AM: Who Is Draftable From Last Night?
Who Is Draftable?:  Congratulations to the University of Louisville on a great National Championship win last night in Atlanta. They took Michigan's best punch, came back from a 12-point deficit in the first half and sealed the deal with inspired play from a number of unexpected players.
With the nets cut down and the NBA season rounding out the next week, let's look at the notable names from last night and how they may project in the 2013 NBA Draft. (Stats are from last night's championship game)
Trey Burke – 6'0 180 lbs. – 24 points, 4 rebounds, 4 assists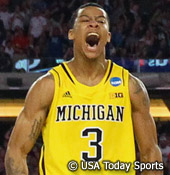 Burke might be the best point guard in the nation. He has an all-everything game and there is no doubting that he fits well into what NBA teams look for in a guard. Burke may not have star potential and that could see his draft stock dip a little as teams looking for a franchise-type assets with a top five pick might look past him. He had a solid tournament that's shown all the parts of his game – good and bad.
Draft Range: Top 12
Glenn Robinson III – 6'6 210 lbs. – 12 points, 2 rebounds, 2 assists
There are a lot of pundits that believe if Robinson stays at Michigan for another year he could develop himself into a top 15 talent. The problem is what's going to be left at Michigan after such an unexpected run to the championship game? Historically we've seen special teams band together for another run and that's possible with Michigan, although unlikely. Robinson is far from the player his NBA star father was, but he is an interesting, albeit somewhat unpolished prospect. If Robinson comes he has a chance to be a late first round draft pick, but it's more likely he slides into the early second.
Draft Range: 25 to 35
Mitch McGary – 6'10 250 lbs. – 6 points, 6 rebounds, 1 assist
McGary has been the darling of the tournament, going from unheard of bench guy to spotlight star. He came down to earth against Louisville, but he may have done enough in the tournament to get NBA teams to give him a very serious look in the first round. A good comparison for McGary might be Orlando's Andrew Nicholson – wasn't thought of highly until he put his game on display in the tournament and turned that into a first round draft pick. Turner Sports broadcaster Steve Kerr dropped an interesting talent label on McGary comparing him to Golden State's David Lee, which might be a solid comparison. McGary isn't nearly as developed as Lee was coming into the draft, but McGary could find himself in the same kind of draft situation: bottom of the first round if he opts to come out.
Draft Range: 20 to 35
Nik Stauskas – 6'6 190 lbs. – 3 points, 2 rebounds, 2 assists
Stauskas has been a fun storyline throughout the tournament, but the truth of the matter is he is not an NBA player, at least not yet. Stauskas would be best served returning for another year at Michigan. He has been noticed, if he can improve his game next season he could put himself on the radar next year. Hard to see Stauskas drafted in 2013.
Draft Range: 55 to undrafted.
Tim Hardaway, Jr. – 6'5 185 lbs. – 12 points, 5 rebounds, 4 assists
Much like Robinson, Hardaway is a far cry from his superstar father, but he has put together a nice season and an even better tournament. Hardaway is unlikely to be a coveted pick, but his size and all-around ability are likely going to get him drafted.
Draft Range: 25 to 45
Spike Albrecht – 5'11 170lbs. – 17 points, 1 rebound
Like Stauskas, Albrecht has been a fun storyline for the tournament, but his body of work isn't nearly developed enough to believe he is a draftable player this year. Another strong season at Michigan and Albrecht might have a chance for a look, but if he declares after his freshman season he is more likely than not undrafted.
Draft Range: 55 to undrafted.
Peyton Siva – 6'0 185 lbs. – 18 points, 6 rebounds, 5 assists, 4 steals
Siva had a great game last night and might have helped himself in being considered at the next level. Despite his size, Siva is an interesting NBA prospect mainly because he plays so hard and so fast – those are skill sets NBA covet. Siva isn't much of a shooter and he's not going to be a coveted guard, but there is a chance the Siva is playing for a NBA team next season, but it might be after a second round draft selection.
Draft Range: 35 to 55
Gorgui Dieng – 6'11 245 lbs – 8 points, 8 rebounds, 6 assists, 3 blocks
Dieng is everything NBA teams covet in the draft process. He is big, athletic and has a little bit of a face up game. Dieng is arguable one of the better draft prospects that played last night and it won't be surprising to see teams clamor after him in the late lottery portion of the draft. A good NBA comparison might be Milwaukee's Ekpe Udoh and he went sixth overall. It is unlikely Gorgui goes sixth, but he could be gone before 16.
Draft Range: 9 to 18
Russ Smith – 6'0 160 lbs. – 9 points, 1 rebounds, 2 assists
Russ Smith did a lot for his NBA stock as one of the elite scorers of the tournament, now if he can measure in a legit six foot at the draft combine he could find himself drafted in the late first round. Smith compares to a Jason Terry, Jamal Crawford or Jordan Crawford at the next level. Those guys don't go top 15, but they are generally gone during the next 16. There is almost no doubt that Smith is a NBA draft pick today, and considering most pundits had him the 80's and 90's four weeks again, he has done well for himself.
Draft Range: 20 to 40
Chane Behanan – 6'6 250 lbs. – 15 points, 12 rebounds, 1 assist
Behanan put up a monster game last night; however he is not a NBA player, at least not yet. His sophomore season did not produce monster numbers and he might be best served using his junior year to solidify his game. If Behanan comes out he is a stretch to be drafted. He has NBA size and showed flashes of NBA ability throughout the tournament, but he simply isn't on the radar enough to say he'd be anything more than a very late second rounder or undrafted.
Draft Range: 55 to undrafted.
Wayne Blackshear – 6'5 230 lbs. – 8 points, 1 rebound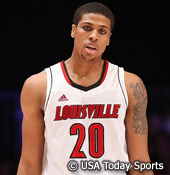 Like Behanan, Blackshear is not a NBA player this year. If he opts to return for his junior year there is a lot to like about Blackshear and maybe having Peyton Siva and Russ Smith out of the way, Blackshear could flourish a bit more. The reality is that if he opts to come into the draft, he might go undrafted.
Draft Range: 55 to undrafted.
Luke Hancock – 6'6 200 lbs. – 22 points, 1 rebound, 3 assists, 5-for-5 from three
For two straight games Hancock has been a killer from deep, an explosive scorer and an emotional leader for Louisville. The question becomes is he Kevin Love or is he Jon Diebler? The truth of the matter is NBA teams are going to want to look at Hancock because he does all the things NBA teams covet. He plays big in the moment, he can shoot it and he is a leader. Hancock is hardly a first round prospect, but considering how little anyone thought of him before the tournament there is no doubting that Hancock is a second round draft pick, assuming he forgoes his senior season at Louisville.
Draft Range: 35 to 55
The 2013 NBA Draft isn't until June 27, however the NCAA has established a April 16 withdrawal deadline for those players opting to leave school early. This date is something of a myth, because players can leave after that date, they simply won't have the option to return.
The NBA's Early Entry deadline is April 28 at 12pm EST, meaning all underclassman have to submit in writing their intention to enter the 2013 NBA Draft.
The 2013 NBA Draft Combine is set for May 15 in Chicago and is two full weeks earlier than in previous years. The other interesting wrinkle is that this year's Combine will take place before the NBA Draft Lottery which is set for May 22.
Checkout the latest 2013 NBA Mock Draft from Yannis Koutroupis posted Sunday and the latest Top 100 Player Prospects powered by Draft Expres.
From The In Case You Missed It File:  It is hard to argue that the Orlando Magic didn't get a steal in acquiring Tobias Harris from the Milwaukee Bucks at the NBA trade deadline in their deal to send out J.J. Redick.
With the Bucks coming into Orlando tomorrow, Tobias Harris talked with HOOPSWORLD last week about his new situation in Orlando and why he has emerged with the Magic after a seemingly disappointing run in Milwaukee.
We Want To Know:
Loading ...
It's The Final Week of the weekly HOOPSWORLD Pick'em game. The game is completely free to play and takes a couple of seconds to sign up for. They way it works is we give you roughly 12 weekend NBA games, and you simply pick who you think will win. Get the most correct games and you'll win an adidas HOOPSWORLD T-Shirt. Win the most weeks in the season and you could win an iPad or Apple Store gift card. Week 24 is ready for your picks. Log in and play here.
Burkle Out Of Ownership Group:  Billionaire supermarket mogul Ron Burkle is officially out as part of the group trying to keep the Sacramento Kings in Sacramento. It was announced yesterday that due to conflicts of interest in Burkle's investment in Relativity Media, which also operates Relativity Sports, that Burkle would be stepping out of the group.
The word from Sacramento is that Burkle will still be involved in building the new arena and additional construction associated with the project, he simply will not own a stake in the team if the Sacramento group is given the chance to purchase the team.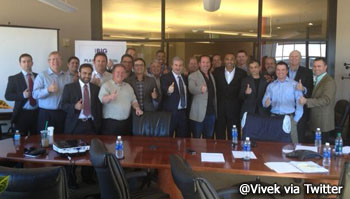 TIBCO Software CEO Vivek Ranadive, 24 Hour Fitness Founder Mark Mastrov and the Jacobs family that founded Qualcomm are considered the majority stake holders in the bid to the keep the Kings in Sacramento, although there are more than 20 minority owners said to be involved in the new ownership group.
Another interesting tidbit that's surfaced on the fight over the Kings is a report from Daniel Kaplan of SportsBusiness Journal suggesting that the NBA is digging deeper into the financing plans for both groups, with Kaplan reporting that the Chris Hansens' Seattle group is looking to finance $250 to $300 million in arena debt, and carry the full $175 million allowed by the NBA on the purchase of the team.
[blackbirdpie id="321325863369064449"]
The Sacramento counter-offer is expected to contain far less debt on both sides.
Interest payments on debt tend to be one of the areas of biggest concern for the league, as that tends to be where NBA teams book the biggest losses.
Kevin Love Done:  The Minnesota Timberwolves have been decimated by injuries all season, so news that Kevin Love would be calling it a season and undergoing a clean out of scar tissue in his left knee is simply one more nail in the coffin of the 2012-13 season.
Love has missed most of the season due to a broken bone in his hand sustained while doing knuckle push-ups, the injury resurfaced after an extensive rehab.
Love is expected to miss anywhere from 4-6 weeks and should be 100 percent for training camp in October.
More Twitter:  Make sure you are following all of our guys on Twitter to insure you are getting the very latest from our team: @stevekylerNBA, @AlexKennedyNBA, @TheRocketGuy, @EricPincus, @joelbrigham, @alexraskinNYC, @SusanBible, @DPageNBA , @stevesraptors, @TommyBeer and @YannisHW.
NBA Chats: There will be one NBA chat scheduled for today featuring Dr. Travis Heath, who will hold down his bi-weekly NBA Chat at 4pm EST. Travis is a practicing psychologist, a former consultant for the Timberwolves and a long-time contributor to HOOPSWORLD. You can always find the next upcoming chat here: Upcoming NBA Chats. If you are looking for a completed chat, check the Chat Archive.