NBA AM: Will Chris Paul Stay With Clippers?
Nate Wolters - VIDEO OF THE DAY
After being one of the most productive players in college basketball over the last four years at South Dakota State, Nate Wolters is out to achieve his ultimate goal of playing in the NBA.
Watch More Video Here
Will Chris Paul Stay With the Los Angeles Clippers?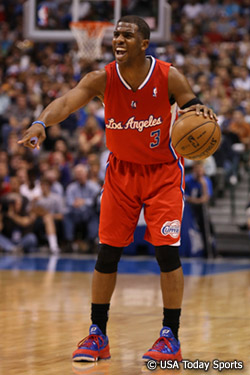 The 2013 NBA season for the Los Angeles Clippers came to an abrupt end this past week after the team posted the best regular season in franchise history. Los Angeles won a franchise-best 56 games over the course of the year, culminating in the first division title in franchise history. The Clippers rode that momentum into the first round of the 2013 NBA postseason, winning the first two games against the Memphis Grizzlies in impressive fashion.
Then the wheels came off.
L.A. was blown out in four straight contests by an average of 14 points per game at the hands of the Grizzlies, bringing the Clippers' season to a sudden and unexpected end.
Despite averaging 22.8 points on 53.3 percent shooting and dishing out 6.3 assists per game, Clippers' point guard Chris Paul was ousted in the first round of the playoffs for the third time in five career postseason appearances. The Clippers' most consistent player over the course of the team's brief postseason, and a free agent to-be this summer, Paul was understandably frustrated after his team's early exit.
"This right here was unacceptable," Paul told ESPN LA's Arash Markazi. "We lost in the first round to a good Memphis team but a team we were capable of beating. There are no moral victories … I have nothing to do. This is unreal. We only played two weeks long than everyone else that didn't make the playoffs. That sucks. That stings."
Which brings us to the Clippers' most important question heading into the offseason: Will Paul stay in Los Angeles?
Seemingly a no-brainer after the Clippers' stellar regular season, Paul now has a decision to make regarding whether or not this team gives him the best shot at winning a championship. Through two seasons in Los Angeles, the Clippers have made it out of the first round just once – making it to the Conference Semifinals last year before being swept by the San Antonio Spurs.
The top point guard on the free agent market this summer, and arguably the best player overall in a free agent class that includes Dwight Howard and Josh Smith, Paul will have plenty of options this offseason.
"All season long, it's something that I said I would address after the season and I really didn't think about it all during the season," Paul said. "The season's not even 24 hours from being over, so I really haven't thought about it. The craziest thing is that this season is over. I still haven't got that wrapped around my brain.
"I don't know how this whole thing is going to play out," Paul said. "I'm going to pray about it. We'll see."
One team that's had Paul in their sights over the past few years and that will have the money and assets to bring him to town is the Dallas Mavericks.  The Mavericks have just four players with guaranteed roster spots next season, giving Mark Cuban plenty of flexibility in trying to lure Paul away from the Clippers.
The only problem is that, if Paul indeed decided that he wanted to bolt the young and upcoming Clippers, Dallas would rely on Paul, Dirk Nowitzki and Shawn Marion to carry the Mavs. Along with Vince Carter coming off of the bench, Dallas would have to finagle a makeshift team to flesh out the rest of the roster.
While Dwight Howard is likely their number one choice this summer, the Houston Rockets could also be a player for Paul. The Rockets have an opportunity to clear roughly $16 million in cap space this summer in non-guaranteed contracts in order to try to lure a max-level player. Like the Clippers, Houston can persuade Paul with plenty of young talent to build around and a superstar-level player (a la Blake Griffin) in James Harden.
What both Texas teams have going for them is the lack of a state income tax. While neither can give Paul the years (five) or money ($108 million) that Los Angeles could, the savings in the income tax department (at least $6 million by my novice accounting skills) could make the difference somewhat more negligible.
Another sleeper team to land Paul could be the Atlanta Hawks. Atlanta has just three players guaranteed to be on the roster next season and, with some keen maneuvering, could conceivably acquire two blockbuster free agents this summer. Acquiring both Paul and Howard is a long shot, but re-signing Josh Smith and bringing in Paul to play with Al Horford would be an intriguing possibility.
That being said, the safe money says Paul plays it safe and stays in Los Angeles. The Clippers have built a stout team around Paul and Griffin, while setting themselves up to contend in the brutal Western Conference for many seasons to come.
"I'm going to take my time," Paul said. "I haven't even thought about it. I'm trying to figure out what I'm going to do the rest of the day. I might go home and swim with my son or something. This is nuts. I don't know what to do. I purposely didn't put anything on my calendar because we're supposed to still be playing."
As teams continue to thin out this postseason, the emphasis around the league is going to gradually shift to the summer of 2013. With many quality players expected to hit the market this summer, it's safe to assume there's going to be a fair share of movement this offseason.
Loading ...
Knicks Need Efficient Anthony to Advance
Heading into the 2013 NBA postseason, it seemed as though we were watching the evolution of a changed, MVP-level player. After all, New York Knicks' All-Star Carmelo Anthony had just wrapped up the most productive season of his NBA career – winning a scoring title and receiving praise from his teammates on team leader's overall impact.
While the leadership aura remains intact, the efficiency Anthony displayed over the majority of the season has evaporated through seven Knicks' postseason contests. Anthony's shooting percentage has dropped over seven points from the regular season to these playoffs, with the last four games having been particularly brutal.
Over the final three games of the first round series against the Boston Celtics and one game into the Conference Semifinals, Anthony has made just 35 of 110 shot attempts (31.8 percent shooting). Anthony has also been dismal from three-point range, making two of his last 22 attempts from behind the arc – an area in which he set the second-best percentage of his career (37.9 percent) this season.
Not surprisingly, New York has lost three out of its last four games culminating in the Knicks coughing up home court advantage in a Game 1, 102-95 loss to the Indiana Pacers Sunday afternoon.
"You chuck out the X's and O's, they just flat-out played harder than we did," Anthony told ESPN New York's Ian Begley after yesterday's Game 1 loss. "They outplayed us, outworked us. Nothing else needs to be said.
"They beat us on the glass, the hustle plays and they outworked us," Anthony said. "It had nothing to do with them being more physical."
There's no doubt that Anthony's sore left shoulder has played a key role in his struggles over the past week but the Knicks are going to need more efficiency out of the MVP-vote getter in order to advance. The Knicks have faced their fare share of injuries all season long but the most important player in New York's title hopes is Anthony.
When healthy, New York features one of the most talented rosters in the Eastern Conference and represents the East's best shot at dethroning the reigning champion Miami HEAT. However, this all predicates on Anthony being able to find a happy medium between elite scorer and volume shooter. Anthony had no problem finding that sweet spot during the regular season and he'll need to turn it around soon in order to avoid a quick exit at the hands of the gritty Pacers.