NBA AM: Workouts Will Raise Draft Stocks
Tim Hardaway Jr. - VIDEO OF THE DAY
Former Michigan guard Tim Hardaway Jr. is training for the 2013 NBA Draft. HOOPSWORLD caught up with him to discuss his game and give you a glimpse of his workouts.
Watch More Video Here
Players Who Could See Stocks Rise in Workouts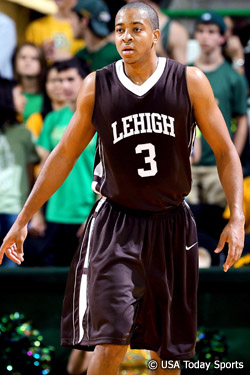 The 2013 NBA Draft Combine gets underway Thursday in Chicago, which means 61 of the top draft-eligible players will descend upon the Windy City with the intention of impressing team officials and finding themselves a potential home in the greatest professional basketball league in the world.
The combine is just the start, however.  In the weeks that follow, players will get the opportunity to work out for teams and really give them a sense of what they're all about.  Some players, like Nerlens Noel and Ben McLemore, have already made names for themselves and are almost certainly top five picks no matter what they do from here on out. Others, however, will need to use these opportunities to showcase their talents and move up the draft board come June 27.
The following are players that could see their stocks improve after the combine and subsequent workouts:
C.J. McCollum, G, LeHigh – If McCollum, a terrific offensive player from little ol' LeHigh, does end up going higher than expected in June's draft, he'll have Damian Lillard's Rookie of the Year campaign to thank for it. Lillard proved that you don't have to come from a huge school to be successful offensively in the NBA, especially from the point guard position, and teams hoping to find a diamond in the rough may think McCollum is the best lottery-level talent available to be the next big small-school star.
Kentavious Caldwell-Pope, SG, Georgia – In a draft that feels pretty top-heavy with defensive-minded players ostensibly headed for NBA bench rotations rather than starting lineups, it may end up proving challenging to find truly gifted scorers like Caldwell-Pope. There simply aren't a lot of great, young shooting guards in today's NBA, meaning plenty of teams will likely find an excuse to fall in love with this athletic shooter.
Gorgui Dieng, C, Louisville – Discovering Dieng's official wingspan has the potential to be one of the more entertaining moments of the combine, as this long center has already drawn comparisons to Oklahoma City's Serge Ibaka. He's still very raw, but with his athleticism and defensive instincts he's exactly the kind of player teams drool over this time of year. He has solid measurables, comes from a championship program and has potential oozing out of his pores like sweat. That's a recipe for success, at least as far as draft position is concerned.
Tim Hardaway Jr., SG, Michigan – People who have seen Hardaway work out over the course of the last few weeks swear he's got the stuff to be a first-rounder. He has excellent size and length for his position, he's athletic and he can definitely score the ball. Plus, he's a name brand in the NBA already, thanks to his father, and that's the kind of thing that makes it easier to buzz about the guy.
Glen Rice Jr., SG, NBDL – NBA teams have already had a great opportunity to see Rice do his thing as a member of the NBDL's Rio Grande Valley Vipers this season, filling it up from all over the floor and even winning a league championship. If he can run away from character questions surrounding his dismissal from Georgia Tech, he's a guy that's going to draw a ton of interest from teams looking for a seasoned scorer. The late first-round could even be possible for him.
Myck Kabongo, PG, Texas – A former McDonald's All-American, Kabongo has proven at times to be one of the most entertaining college basketball players in the country, but he's relatively small for an NBA point guard and turns the ball over at too high a rate. Still, if given the opportunity, his charisma and pass-first mentality could make him an interesting find as a backup point guard. Plus, he's getting better shooting the ball, so in a best-case scenario he could eventually evolve into someone not unlike Mike Conley, Jr.
Jackie Carmichael, PF, Illinois State – You don't see a lot of NBA talent come out of Illinois State University (Doug Collins and Jeff Wilkins were the only ones who ever really amounted to anything), but Carmichael looks like he has the stuff to make it in the league. He's a big, strong guy with four years of college experience, and his combination of versatile post moves and aggressive rebounding are going to make him a favorite among second-round teams looking to snag one of the round's biggest steals.
James Ennis, SG, Long Beach State – Like a lot of players on this list, Ennis is a shooting guard, which is a position at which a lot of NBA teams need help. This particular shooter has great range, though, and is one of the better deep threats in the pool of potential second-rounders. He's built like an NBA player and has NBA athleticism; he just needs to prove he deserves the opportunity to be drafted.
Ricardo Ledo, G, Providence – Players this tall (6'6) with the ability to play both guard positions are extremely interesting to NBA teams, which means he's likely to get a good, hard look late in the second round. Why does a player this good fall that far? Ledo failed to meet NCAA academic standards as a freshman and so never played a single minute of college ball. That means he's untested on a higher level of hoops, but the combine and workouts will be a great place for him to show he's worthy of some team's pick.
Isaiah Canaan, PG, Murray State – While Canaan played point guard in college, he's more of a scorer than a true distributor, which means it might be hard for him to find a spot in the NBA. But if it worked for Isaiah Thomas in Sacramento, it could work for him, and Canaan is hoping to make that point over the course of the next few weeks during workouts.
Colton Iverson, C, Colorado State – If a last name like "Iverson" makes you think of Allen, then you're in for a big surprise as it pertains to Colton, who is basically the opposite of AI in almost every way possible. Iverson is a hard-working big with a very strong 6'10, 260-pound frame. He has a solid post game and is strong enough to hang with the big boys in the NBA. While players like Cody Zeller and Mason Plumlee are clearly better overall prospects, getting a big man that can at least bang with those guys for a fraction of the price is going to make Iverson a great late-draft possibility for a lot of teams.
The combine and the workouts that follow are the perfect opportunity for these players show potential employers what they're made of. In the next few weeks, we'll hear more and more about players that nailed it in a workout, and that's when we'll start finding ourselves able to get some solid ideas about which players teams like.
And the combine on Thursday and Friday is where it all starts. We'll have extensive coverage of everything, so keep your eye on the website and follow @SteveKylerNBA, @YannisHW and @AlexKennedyNBA for the most up-to-date news out of Chicago.
Loading ...
What If Marquis Teague Had Stayed at Kentucky?
Chicago Bulls rookie Marquis Teague is currently Chicago's fourth-string point guard, which is why he's averaged only nine minutes per game during these playoffs despite the fact that the top two on the depth chart—Derrick Rose and Kirk Hinrich—have played only four games between the two of them.
It's easy to look at a case like this and say that Teague made the wrong choice by leaving the University of Kentucky after only his freshman year. As the 29th pick in the 2012 NBA Draft, he was barely even a first-round pick, despite the fact that there are plenty of people that claim he would have been a lottery selection had he just waited another year.
Teague, though, is looking on the bright side of his situation in Chicago, even though he's playing so few minutes.
"When you're getting drafted, you want to get picked high," Teague admitted. "But then in times like this when you're in the playoffs and you're getting to experience this kind of atmosphere, playing in these kinds of games, I'm happy."
Ironically, Teague has gotten more postseason experience playing for a team that doesn't have three of its five best players than he would have had he stayed in Kentucky. The Wildcats not only missed the NCAA Final Four tournament in the wake of losing six bodies to the NBA this season, but they also couldn't even win a game in the NIT.
"I like to think if I stayed, it would have been different, though," Teague grinned.
He may be right, that Kentucky would've been more successful with him at the helm, but losing Anthony Davis, Michael Kidd-Gilchrist, Terrence Jones, Doron Lamb and Darius Miller would have hurt that team no matter what Teague decided to do.
"I don't pay attention to the past. That's never going to happen, because I'm already here, so I don't really worry about it too much," he said. "I'm happy with the decision I made, so I'm just going to keep moving forward."
That forward motion should elevate Teague to a meatier role next season, as Nate Robinson isn't expected back. Even with Rose back in the lineup, that could open up some minutes for him. As we've seen with Jimmy Butler, who hardly played as a rookie but has broken out this season with a bigger opportunity, Bulls head coach Tom Thibodeau will give a young player an chance if he earns it.
"[Jimmy] told me at the beginning of the season, 'Just wait. Your time will come. People get injured. A lot of things happen in this game, so just make sure you always keep your head right and be ready; make sure you get your work in every day.'"
Good advice from a player who so recently lived it. Should Teague get the same opportunity Butler has, he'll be in a good place to shut up anybody who ever said he should've stayed in school. He's getting a pretty good education just playing for Thibodeau.