NBA Contenders vs. Pretenders
During our weekly chat sessions, we're often asked to rank/list/rate players and teams throughout the NBA on a fairly consistent basis. Even though my general practice is to avoid predictive articles of that nature when possible due to the the laundry list of unforeseen events that can impact outcomes, I wanted to address the inevitable "Contenders" vs. "Pretenders" questions that are becoming a regular thing as we eagerly await the season.
To be clear, the categories that follow are generalized, and it is not uncommon for teams to shift between multiple tiers over the course of an 82-game season.
Top of the Mountain
Miami HEAT: Nothing is absolutely etched in stone, but these Miami HEAT should enter the 2013-14 NBA season as the initial favorites against the field. We've all heard about how difficult it is to merely return to the Finals in four consecutive years, as the last two teams to do so were the Boston Celtics (1984-87) and Los Angeles Lakers (1982-85). Like those great teams from the past, this HEAT team has found a way to continue reloading and building upon what has proven to be a dominant core of players. While the questions about the signing of Michael Beasley and Greg Oden are entirely fair, let us not forget how significant of an impact the far less-heralded Chris "Birdman" Andersen had on last year's title squad.
Obviously, Andersen wasn't solely responsible for the 37-2 run the HEAT finished the season on, but the significance of his presence and steady contributions cannot go unnoticed. The Big Three may make Miami dominant, but the contributing players accepting and flourishing within their roles is what makes them unbeatable at times. If they are able to simply pace themselves throughout the season, while fully acclimating a healthy Beasley and Oden (limited minutes), then this team is destined to be right back in the Finals mix yet again. Of course, there's a reason why we play these games, as absolutely nothing is guaranteed. Injuries, the eventual impact of consecutive deep runs, and improving teams around the league can be the great equalizer.
Contenders: Teams that pose the greatest immediate threat to knocking off the defending champions.
San Antonio Spurs: If you are still trapped in the "too old, too boring" narrative that, frankly, is neither original nor accurate, then it's time to get over it. If 2012-13′s run to one of the better Finals in recent history wasn't enough to disprove that stance then nothing will. The question for this year's Spurs team will be whether Kawhi Leonard can take that next step and fully embrace his role as a member of their Big Three.
That isn't a slight to veteran and champion Manu Ginobili, as the Spurs quietly re-signed the reserve guard to a two-year deal in the offseason, but for the Spurs to continue this run and even compete in another Finals, Leonard must be as special as he was in key moments of the playoffs in 2012. If Leonard goes as far as a "Paul George-type" progression, which is certainly possible, then the Spurs could, once again, be a top team.
Indiana Pacers: Speaking of Paul George, it was nice to see him sign a five-year extension that will pay him between $80-90 million based upon incentives. Following significant improvement in 2011, and an all-out breakout season in 2012, the sky truly seems to be the limit for the fourth-year swingman. Working well with a returning Danny Granger is likely to be an adjustment, but not one that is expected to cause any chemistry issues. If Roy Hibbert can bottle and reproduce his most recent playoff performances on a consistent basis, then Indiana might really have something here.
Pretenders: Teams that are a threat, but still have significant questions to answer.

Los Angeles Clippers: After the franchise's greatest individual season that featured its first Pacific Division banner, the Clippers are no longer a team that can sneak-up or surprise anyone. Along with the roster improvements and hiring of Doc Rivers as their head coach and Senior Vice President of Basketball Operations come expectations.
Serious expectations.
The type that will no longer accept first-round exits when holding homecourt advantage. Will this team find the consistent interior toughness and productivity they need to sustain a deep run into the playoffs? If the duo of Rivers and point guard Chris Paul cannot lead, what is undoubtedly the best roster this franchise has had in over a decade, beyond the opening round, then I don't know anyone that can.
Brooklyn Nets: With the war of words, expectations and predictions among NY-area teams in full-swing, the Nets might finally be in a position to change the pecking order from on on-court perspective. Of course, if the Los Angeles Lakers' failed 2012 experiment taught us anything, it is that nothing is guaranteed in the NBA, and that health (especially with older players) is the most vital aspect of the NBA's marathon season. Not just for the aging vets like newly added Kevin Garnett and Paul Pierce, but for Deron Williams and Brook Lopez as well. They'll need Lopez to have a repeat of his 74-game performance from last year, and are hopeful with Williams as the ninth-year point guard is officially out of his walking boot (ankle) and optimistic about the team's opener.
OKC Thunder: Once Russell Westbrook is back and fully healthy, the Thunder should be right back in the title discussion. Despite an ever-improving Western Conference, the duo of Kevin Durant and Westbrook is still one of the league's more devastating combinations. Due to the news of Westbrook's recent arthroscopic procedure on his right knee that will result in him reportedly missing 4-6 weeks, the Thunder could get off to a slower start than in recent years. This team will need Serge Ibaka to continue expanding his game, beyond developing range for corner-threes. Double-digit rebounds, and a more consistent mid-range and mid-post game should suffice. Bench scoring could be a concern if players like Jeremy Lamb, Reggie Jackson and rookie Andre Roberson are slow to develop.
New York Knicks: With Carmelo Anthony appearing to be in great shape, based on the Knicks' Media Day photos, things continue to look promising for the team in the league's largest market. They're hoping the additions of Metta World Peace and Andrea Bargnani, while questioned by some, are what it takes to finally get the Knicks back into the Conference Finals and championship discussion. Amar'e Stoudemire has yet to begin basketball activities, so his availability to start the season remains unknown. What is known, is that these Knicks return with a roster and philosophy that remains heavily upon the outside shot. They'll need both Tyson Chandler and Stoudemire to remain relatively healthy this season, otherwise the lack of an interior presence might once again be their downfall.
Chicago Bulls: When Derrick Rose first tore his left ACL in Game 1 of the 2011-12 playoffs against the Philadelphia 76ers, he couldn't have possibly imagined it would take nearly 550 days to return to official action with his Chicago Bulls. While some may question the length of time it took him to return, those with personal experience with an injury as potentially catastrophic as his understand just how long it can take for someone to feel as though they can fully trust and rely upon a repaired joint, especially when that someone is a supreme athlete that had previously based his game nearly in its entirety to bursts or speed and his ability to rise above defenders.
Now, as the former league MVP returns to action, Rose is armed not only with the confidence of being completely sound in body, but also having been able to work on all aspect of his game in order to return as a more complete player. Bull fans and his teammates alike couldn't be happier about the return of an even deadlier Rose once the season kicks off. The challenge remains the same, but Rose and his teammates have to hope the continued emergence of players like last year's standout Jimmy Butler along with the continued health of Rose, Luol Deng and Joakim Noah are enough to finally get them over the hump.
Just Outside the Mix: Dangerous teams just on the precipice of being great.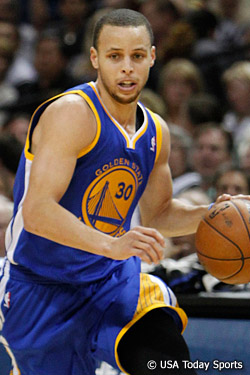 Golden State Warriors: Arguably one of the league's most surprising and exciting teams of 2012-13, the Warriors return not only with the experience of a playoff run, but an improved roster as well. Not to discredit the contributions lost with the departures of Jarrett Jack and Carl Landry, but the signing of Andre Iguodala could be exactly what coach Mark Jackson needed to take his young squad to the next level. In Iguodala, the Warriors now have an elite-level perimeter defender and the type of multifaceted player that can turn a very good team into a great one.
The continued emergence of the young core of Steph Curry, Klay Thompson and Harrison Barnes should be expected, but Coach Jackson could have his hands full with finding enough minutes to distribute due to a glut at the shooting guard and small forward positions. If you ask any coach from around the league, that isn't necessarily a bad problem to have.
Houston Rockets: The addition of Dwight Howard, on the heels of a breakout season from James Harden, has the potential to be a game-changer. Questions regarding the makeup of the roster and eventual offensive philosophy remain unanswered, but the Rockets will undoubtedly be improved in 2013-14.
With a fully-healthy Howard, you'd have to imagine the 28th-ranked defense from 2012 would have to improve. Even if not quite the physical specimen we witnessed from 2008 to 2010, Howard is still the league's most agile and versatile defensive big men. Head coach Kevin McHale is charged with the responsibility of molding his offensive philosophy and approach around Howard's skillset. Finding the right mix of traditional back-to-basket post-up looks and pick-and-roll scenarios to keep Howard fully engaged even when not the primary scoring option could be the key.
Memphis Grizzlies: First-year head coach Dave Joerger could certainly have done worse in terms of his initial lead role in the NBA. With one of the league's best defensive units, Joerger's task will be finding a way to improve upon the league's 27th-ranked offense (93.4 points per night) from just a year ago. The twin-tower action has been great with Zach Randolph in the post and Marc Gasol at the high post, but the Grizzlies will need their small forwards and shooting guards to be playmakers at times.
Mike Miller's return to the franchise should provide shooting and leadership off the bench, but this team will need steady contributions from guys like Jerryd Bayless, Quincy Pondexter and Tayshaun Prince in support of the main core. Can Mike Conley continue to emerge? In what has become a "Murder's Row" of a Western Conference playoff scenario, Memphis may need him to in order to simply remain in this discussion.