NBA MVP Watch: 10/15/13
Last week, we started examining the 2013-14 NBA MVP race by breaking down the first five candidates. This list is bound to expand and change throughout the season, and while you are certain to see some familiar faces, don't be surprised to see a few names you may not have considered along the way.
Traditionally, there has always been a bit of a debate as to what exactly the appropriate criteria should be when determining what an "MVP" should be. While there are those that base their opinions solely upon the raw data/statistics, others tend to take the team's record into account. For the purpose of these lists, we'll attempt to account for a blend of personal productivity and the overall impact each candidate has upon their respective team's eventual success.
Here is the second crop of players to watch throughout this year's MVP race:
#10 – Dwight Howard – Houston Rockets
2012-13 Averages (with Lakers): 17.1 points, 12.4 rebounds, 2.4 blocks, .578 percent FG
Regardless of what you may feel about the way Howard has gone about making his decisions, he's now found a home in Houston. At least, presumably, for the next four-five years. Now that Howard seems comfortable in his decision, it will be nice to simply return the focus back to his play. When healthy, as he finally appears to be following two seasons of dealing with pre/post back surgery issues, Howard can be a dominant force once again.
Even if slightly slowed due to the wear-and-tear, Howard is still probably the most physically gifted big man in the game. He is literally like a one-man wrecking-ball on defense, in that he can go from tracking a player down in transition, to defending the rim, to recovering in time to help break up a pick-and-roll situation all on the same defensive possession at times. Houston is certain to need these types of virtuoso performances from Howard in 2013-14.
#9 – Stephen Curry – Golden State Warriors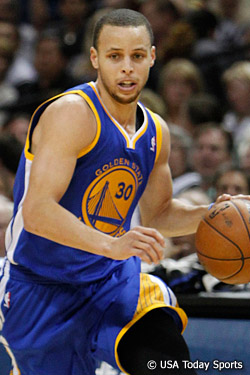 2012-13 Averages: 22.9 points, 4.0 rebounds, 6.9 assists, .450 percent FG
Last year was truly a breakout season for Curry, as not only did he enjoy his best statistical season from a personal perspective, but his Warriors came on to surprise many fans with their best record since 2007-08 (47 wins), and best finish in the Pacific Division since the 1991-92 season (second place).
The Warriors went on to beat the Denver Nuggets in the first round, before dropping an entertaining series against the eventual Western Conference Champion Spurs. Curry, to no one's surprise, led the charge with numbers that impressed to the tune of 23.4 points, 8.1 assists, while making just under .400 percent (.396) of his 8.8 three-point attempts per night in the postseason. As long as his health doesn't become an issue, it will be fun to watch Curry try to take the next step as he enters the 2013-14 season with even more weapons at his disposal on the 2013-14 Warriors roster.
#8 – Paul George – Indiana Pacers
2012-13 Averages: 17.4 points, 7.6 rebounds, 4.1 assists, .419 percent FG
When we last saw Paul George in action, in games that counted, he was almost-heroically leading Indiana's charge against the the league's eventual champion Miami HEAT in the Eastern Conference Finals. After showing signs of promise in 2011-12, George has elevated into the league's top-15 player discussion in just a short period of time.
As George continues to develop on a personal level, leadership and a capability to make things work with Danny Granger back in the lineup will be this season's goal. The two of these men can be dynamic scorers, but if the Pacers are going to emerge from the pack in 2014, they'll need someone to step fully into that leadership role, and George seems poised to fully embrace it.
#7 – James Harden – Houston Rockets
2012-13 Averages: 25.9 points, 4.9 rebounds, 5.8 assists, .438 percent FG
Wait, what? Two teammates appearing on the same MVP candidate's list? Relax, folks, as it isn't quite as uncommon as you might think. In fact, interestingly enough, two of the last teammates to do so were Kobe Bryant and Shaquille O'Neal, as the (then) league's best big/small combo finished third and five (respectively) during the 2002-03 MVP voting.
Harden, beard and all, is one of the league's most versatile players at this point. With the ability to not only score and create plays for other, but to also provide above-average defensive pressure along the perimeter, Harden's overall impact is actually easy to even overlook at times if you are only going by the numbers. Do yourself a favor in 2013-14, and take an in-depth look (at least) a few of Houston's games over the course of the season. It isn't the "highlight" play from Harden that will shock you, although he will pull those out of the bucket at times. Harden's ability to monitor, maintain, and impact the pace of a game places him in the discussion with the league's top-10 players.
#6 – Chris Paul – Los Angeles Clippers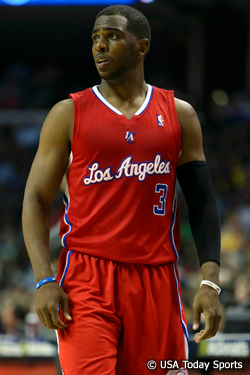 2012-13 Averages: 16.9 points, 3.7 rebounds, 9.7 assists. .481 percent FG
For years, we've all watched in awe at some of the things Chris Paul has been able to do on the court. From a leadership standpoint, Paul has received rave reviews from players, coaches and fans alike since the moment he entered the league with the New Orleans Hornets (Pelicans). Quite frankly, fans tend to gravitate toward Paul, not only because of his greatness, but due to being able to somewhat relate to him.
At just around 6′, Paul's ability to navigate through a sea of 6′-to-7′ bodies as though he were the biggest and baddest player on the block is something that leaves fans in both awe and envy. The general consensus was, if Paul were to ever have a "championship roster" around him, the league would be his playground to dominate.
Well, the jury is still out on whether the 2013-14 Clippers will develop into a title contender, but it can be said with certainty that this is the best scenario Paul has ever been in to date. Along with guidance from head coach Doc Rivers, Paul's mission will be to find a way to get the most out of his talented roster of teammates, specifically, his highly-athletic frontcourt. We've seen Paul lead upstart rosters, and have enjoyed the whole "Lob City" process. Now, it is time to see if Paul can lead a very talented bunch out beyond the semi-final round, as he has yet to do in his career.
Coming up next week: A stat-stuffer, a wounded legend, and a few young up-and-comers.
Hoopsworld Chat Session: I make a real effort to answer every question submitted, provided it is not a duplicate. You can also go ahead and submit a question for my next chat, which will be next Thursday at 3 p.m. ET, by clicking here!