NBA MVP Watch 10/29/13
Throughout the preseason, we examined the 2013-14 NBA MVP race as we think it could turn out. Keep in mind, beyond the initial 10 players, there could easily be a revolving door of at least 10-15 additional players mentioned and discussed throughout the season. Of course, there's always the possibility that several players that overachieve or progress at such a rate that we are unexpectedly forced to bring them into the discussion. We can only hope for that scenario.
Think: James Harden or even Paul George from 2012-13.
With a refreshing amount of compelling storylines bound to play out throughout the league, this could be one of the best MVP races in recent history. From reigning champions, to returning superstars, to an elder statesman (or three) still ferociously fighting off 'Father Time' in an effort to make one last attempt at glory, the action should be fantastic.
#10 – Dwight Howard – Houston Rockets
2012-13 Averages (with Lakers): 17.1 points, 12.4 rebounds, 2.4 blocks, .578 percent FG
When Dwight Howard soared into Houston via free agency over the summer, he did so knowing there would be some blowback. Not only from jilted fans of his previous two teams, but by a surprising percentage of even the casual NBA fan simply tired of the vapor trail of turmoil Howard seems to leave behind. Howard may have stepped out of the spotlight of Hollywood, but don't take that to mean all eyes won't still be on him once the NBA season officially tips off on Tuesday.
#9 – Stephen Curry – Golden State Warriors
2012-13 Averages: 22.9 points, 4.0 rebounds, 6.9 assists, .450 percent FG
Curry could have one of the better, young teams the league currently has at his disposal as we head into the 2013-14 season. Coming off his best year as a professional, Curry will need to duplicate and even exceed that type of productivity this season if his Warriors have hopes of building upon what they did last season. Even though Toney Douglas is a solid reserve guard, in Jarrett Jack's absence (signed with Cleveland in the offseason), Curry could be called upon to be more of a playmaker at times. You'll remember, Jack was actually used as the offense's initiator down the stretch of many games last season. Someone will have to pick up the slack, and Curry is likely the guy that will have the ball in his hands in the final quarter.
#8 – Paul George – Indiana Pacers
2012-13 Averages: 17.4 assists, 7.6 rebounds, 4.1 assists, .419 percent FG
While the Pacers may have gotten off to a slow start to the preseason, a period of transition while they work in new and returning players was to be expected. George appears determined to build upon his breakout season of a year ago, and the Pacers are more than willing to stand behind him, as the organization reportedly re-signed the All-Star forward to a five-year deal worth $80-90 million depending upon the incentives. A commitment like that, to go with a roster chock-full of multi-talented players surrounding him, mean Indiana expects George to be a contender for the award for many years to come.
#7 – James Harden – Houston Rockets
2012-13 Averages: 25.9 points, 4.9 rebounds, 5.8 assists, .438 percent FG
A reminder, this is not the first time teammates find themselves on an MVP list. Kobe Bryant and Shaquille O'Neal finished the 2002-03 MVP race in third and fifth place, respectively. Not that Howard and Harden compare to the devastating forces that were a young Kobe and Shaq, but relative to today's league, they are currently in the running for the league's best guard/center combo. Harden has been tested as a player in each of the past couple seasons, and this year will come as no exception. Following a run to the Finals with the Thunder, Harden was unexpectedly shipped to Houston just prior to last season, and placed in a position to prove (which he did) whether he could lead a team. Now, the task at hand will be sharing the responsibility and the spotlight with another player that is seemingly motivated by it. Should be very fun to watch their development.
#6 – Chris Paul – Los Angeles Clippers
2012-13 Averages: 16.9 points, 3.7 rebounds, 9.7 assists, .481 percent FG
Perennially considered one of the league's top players who not only maximizes his own talent, but also finds a way to extract the most from his teammates by encouraging team chemistry while instilling a belief within each man. Even though his hands-on approach may have been met with a bit of resistance from some of the team's younger players in his first few franchise-altering seasons with the Clippers, these Clippers absolutely need Paul to utilize any and every form of motivation he can. For as much as this new found winning appears to be the growing norm, rather than merely a trend, those that have watched this league for long enough know a team's 'Championship Window' generally only lasts for a few seasons, if that long. Not saying Paul has to lead the Clippers to a title after so many years of organizational futility, but you don't bring Doc Rivers in to be your head coach and Senior Vice President of Basketball Operations on the heels of the team's most successful regular season in history without rings in mind.
#5 – Tony Parker – San Antonio Spurs
2012-13 Averages: 20.3 points, 3.0 rebounds, 7.6 assists, .522 percent FG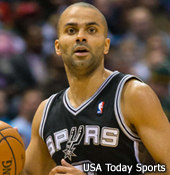 Whether you view him as one of the league's top point guards or simply its best European player, Parker is now the unquestionable leader of the San Antonio Spurs. Sure, Tim Duncan enjoyed a truly renaissance year last season, but Parker remained the driving force behind most of what the Spurs did, and continued to do so throughout their run to one of the best Finals in recent years. While players like Kawhi Leonard and Danny Green are looking to continue emerging, at 31 years old, Parker is likely to maintain this role for years to come.
#4 – Carmelo Anthony – New York Knicks
2012-13 Averages: 28.7 points, 6.9 rebounds, 2.6 assists, .449 percent FG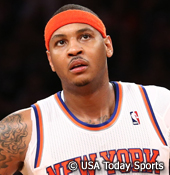 It appears the general basketball-loving public has finally accepted Anthony for what he is: one of the league's best offensive weapons of this generation. Anthony, when motivated and in top-form, literally has the ability to score in every way on the court. Even still, that doesn't mean the level of expectation for the 11th-year forward. From the mid-post, to the mid-range, to well beyond the arc on a fastbreak, Anthony is sure to send the Garden into a frenzy during scoring binges throughout the season. Thing is, fans of the Knicks are hoping Anthony can finally turn them into a contending team in the East, as they know it will take as much leadership as it will scoring to get them beyond the semi-final round for the first time since Jeff Van Gundy was manning the sidelines as a head coach.
#3 – Derrick Rose – Chicago Bulls
DNP 2012-13, 2011-12 Averages: 21.8 points, 3.4 rebounds, 7.9 assists, .435 percent FG
Whether you believe his claims of being more explosive, simply having Rose back on the court after so long is reason enough to be excited. Rose not only returns with great confidence within himself from a physical standpoint, but he can return with the confidence in teammates that were able to fight, claw, and scratch their way to a 5th seed, and a Game 7 road victory at Brooklyn's expense all without his services in 2012-13. Expect great things from Rose in 2014, as his sights are appropriately set on making his team a contender.
#2 – Kevin Durant – Oklahoma City Thunder
2012-13 Averages: 28.1 points, 7.9 rebounds, 4.9 assists, .510 percent FG
Back in April, Durant said he was tired of being considered "#2." Sorry, KD, let's just say you still have plenty of time to stake your claim at the regular season crown, if you so choose. If Durant's Thunder are going to continue to contend in an ever-improving West, they'll probably need him to play like the league's MVP. Especially, without the services of teammate Russell Westbrook for up to six weeks to start the season. Durant has developed into one of the league's most dynamic scorers, and looks to continue the trend as improving as a playmaker. Having already averaged nearly five assists per game in 2013-14, the Thunder will need Durant to leave his imprint in just about every facet of the game. The scary thing is, (still) at just 25, Durant has the ability to do just that.
#1 – LeBron James – Miami Heat
2012-13 Averages: 26.8 points, 8.0 rebounds, 7.3 assists, .565 percent FG
Did somebody say, "doing everything out there on the court?" If you're going to have that discussion, while there are several players on this list that clearly fit that bill, the buck, or perhaps more appropriately, the ball stops here. James is currently the game's greatest player, and actually appears to be getting better. While the historical comparisons are as premature as they are tiresome, it cannot be denied that some of what James has been doing of late will one day be the things legends are spoken of. For the here and now, James is looking to join Bill Russell (five), Michael Jordan (five), and Kareem Abdul-Jabbar (six) as the only men with more than four regular season MVP awards. It certainly won't be easy, as the rest of the field does everything in their power to dethrone his Miami HEAT. For James, the challenge remains the same. His opponents had better give him their best shot, because they are guaranteed to get his.
Who do you think will win the 2013-14 NBA MVP award? Be sure to leave your thoughts in the comment section below! Also, don't forget you can always join me for my weekly chat session each Thursday at 3pm ET or leave your question here in advance.