NBA MVP Watch: 10/8/13
Last year, HOOPSWORLD nailed the exact order of the top-five 2012-13 NBA MVP finalists, which resulted in LeBron James earning his fourth regular season MVP award. With his 26.8 points, 8.0 rebounds, and 7.3 rebounds per night, James become one of only five men who have won the award four times, alongside Kareem Abdul-Jabbar (six), Michael Jordan (five), Bill Russell (five) and Wilt Chamberlain (four). In fact, only James and Russell (1961, 62, 63, and 65) have won the award in four out of five seasons.
Keep in mind, this list will fluctuate with the action throughout the season, but here are the initial candidates for the award as we head into 2013-14:
#5 – Tony Parker – San Antonio Spurs
2012-13 Averages: 20.3 points, 3.0 rebounds, 7.6 assists, .522 percent FG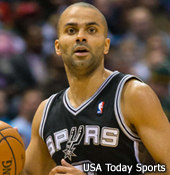 There are some out there probably wringing their hands at the computer screen in protest of my placement of Parker on this list ahead of Los Angeles Clippers point guard Chris Paul or any other of their respective "favorite" players. The reality is, while I'm actually a huge fan of Paul, and would probably take him over any other point guard of starting an NBA franchise right now, you simply cannot deny Parker's ability to not only keep his Spurs in the Finals discussion year after year, but his overall improvement (over the years) while doing it.
The run Parker had down the stretch in Game 1 of the 2013 NBA Finals was all you needed to know about Parker. When the circumstances are tough, or things are on the line, Parker is "money." No question about it.
#4 – Carmelo Anthony – New York Knicks
2012-13 Averages: 28.7 points, 6.9 rebounds, 2.6 assists, .449 percent FG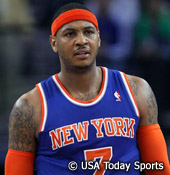 Anthony enjoyed increased productivity in nearly every major statistical category, but assists (down one), in 2012-13. In fact, his 28.7 points per game (second-best mark of his career) was enough to help lead the Knicks to 54 wins and a trip to the second round of the postseason for the organization's first time since 2000.
As one of the league's most versatile scorers over the past 25 years, Anthony also possesses enough of a well-rounded skill set to be even more of a consistent playmaker in my opinion. Heading into his 11th season, Anthony has seen his fair share of individual accolades and accomplishments. A run to the Conference Finals or beyond has to be the goal heading into the season. Even with the status of Amar'e Stoudemire unknown, Anthony should still have enough talent around him to help keep the Knicks relevant enough to keep him in the MVP race.
#3 – Derrick Rose – Chicago Bulls
2012-13 Averages: N/A -  21.8 points, 3.4 rebounds, 7.9 assists, .435 percent FG (in 2011-12)
Allow Rose to reintroduce himself. After nearly 520 calendar days since the time of his injury back in April of 2012,  it must feel fantastic for the fans of Chicago to finally have their native son return to action. Even though the Bulls were a more-than-respectable 45-37 (fifth seed) in 2012-13 without him, these Bulls ascend to another level altogether when Rose is in the lineup.
Scary to think, but Rose recently reported his vertical leap actually increasing by five inches (37″ to 42″) during his layoff as a result to all of the strengthening and conditioning he did in order to recover for the torn ACL. Reports are, Rose also worked on his mid-range game in order to make things even more difficult for defenders. So let me get this straight, Rose is potentially more explosive and even more well-rounded upon returning from over a year away from the game?
All of those "fans" that ridiculed him for not returning before he was mentally ready to his the court following a horrendous injury probably won't stand by those criticisms once Rose fully returns to speed with an improved supporting cast around him. Both the MVP and playoff race(s) in the Eastern Conference could really be one for the ages in 2013-14 thanks to Rose being back in the fold.
#2 – Kevin Durant – Oklahoma City Thunder
2012-13 Averages: 28.1 points, 7.9 rebounds, 4.9 assists, .510 percent FG
With running mate Russell Westbrook reportedly on the shelf for the first 4-6 weeks of the regular season, or the equivalent of anywhere from 14-23 games, Durant will absolutely need to play like a man possessed in order to maintain the Thunder's position of power within the ever-improving Western Conference.
At just 25 years old, the seven-year veteran is coming off one of his best seasons in which he officially became a member of the vaunted "50-40-90″ club by posting a .510 field goal percentage, .416 percentage from beyond the arc, all while maintaining a .905 percent mark from the charity stripe. With Westbrook potentially missing more than the first month, don't be surprised to see Durant match and even exceed his impressive productivity from last season
#1 – LeBron James – Miami Heat
2012-13 Averages: 26.8 points, 8.0 rebounds, 7.3 assists, .565 percent FG
Remember when folks would ask when or even "if" James would ever win a title? Yeah, it's becoming a distant memory in my mind as well, as the man has literally done just about everything he could possibly do from a basketball perspective, and he hasn't even reached the age of 30 yet. The reality is, the debates over his place among the historical All-Time greats are a bit premature and extremely tired. Not to mention, it's entirely unfair to James as a player to have his ongoing career measured up against those with complete stories.
No, those discussions will be left to the fine folks in the barbershops and virtual barbershops (A.K.A. Twitter, Facebook, etc…), as I prefer to speak in terms of the here and now. Right now, James remains atop the league as it's best and most dynamic player, and it is as simple as that. While there are several candidates, even beyond this initial list, that could dethrone him in 2013-14, James begins where he left off – Above the rest.
Who do you think is going to win the 2014 Most Valuable Player award? Leave your thoughts in the comment section below!