NBA MVP Watch: April 11th
Here we are with one week left in the regular season and the Most Valuable Player race is as tight as it's been all year.
While LeBron James looks to be headed for his fourth MVP award in five seasons, Carmelo Anthony has put together some of his most impressive numbers of the season in the month of April. Even with his success this month, Anthony still hasn't done enough overall for him to knock James off of the throne. What separates the two players is James' ability to affect the game even when he's not scoring. In order for Anthony to be effective for the Knicks, he has to get shot attempts. Even though Anthony is averaging more points per game than James, Anthony averages four shots more than James a night. Until Anthony can learn how to help his team win even when his shot isn't falling, the idea of him winning an MVP award over the course of 82 games just won't be possible. Regardless, it should be an exciting final week of the season.
Now, on to the rankings:
#5 – Kobe Bryant – Los Angeles Lakers
27.0 points, 6.1 assists, 5.5 rebounds, 1.4 steals
At times it seems like the Los Angeles Lakers are playing like a team that has already solidified their spot in the playoffs. Other times this team shows the dominance that many thought they were capable of after their huge offseason. What has been consistent has been the play of Bryant. He currently ranks second in field goals made, third in points per game and fourth in points per 48 minutes. He has also scored 30 or more points 32 times this season.
Although Bryant's defense continues to leave something to be desired, he's proven that he can be more than just a scoring threat. His 6.1 assists this season are a career best. In the Lakers' last five games Bryant is averaging 10 assists per game. He's reached double digits in assists 11 times.
It's hard to imagine where this team would finish if Bryant hadn't been as great as he's been this season. As long as Bryant and the Lakers end up in the playoffs, he should end up in the top five.
#4 – Chris Paul – Los Angeles Clippers
17.0 points, 9.6 assists, 3.7 rebounds, 2.4 steals
One of the tougher decisions to make this week was whether to include Paul or Tony Parker in the top five. While Parker and the Spurs have had another impressive season, I decided on Paul due to the fact that the Spurs are 11-3 when Parker has sat out this season. It's also important to note that Tim Duncan has had a pretty impressive year in his own right.
Paul is very much the pulse of the Los Angeles Clippers. He leads the team in assists and steals. He's also second in points per game and fifth in rebounds per game. His ability to run the fast break and distribute to the open man is vital to what makes the Clippers dangerous.
This season Paul leads the NBA in steals per game, assist-to-turnover ratio and assists per 48 minutes. Paul is also third in player efficiency behind Kevin Durant and LeBron James. Although Paul and Parker have both been vital to their respective teams, the Clippers have shown this season that Paul needs to be in the lineup for them to be successful.
#3 – Carmelo Anthony – New York Knicks
28.6 points, 6.6 rebounds, 2.6 assists, 0.8 steals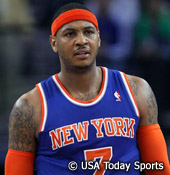 Anthony may have passed LeBron James in jersey sales this year, but he won't pass him in the MVP standings. Anthony has missed 13 games this season and he's lacked the consistency and overall dominance that James has showed all season. But I don't want to be too hard on Anthony, he's been the best player in April and will likely win the Player of the Month award for this month.
This week alone, Anthony has passed Durant as the league leader in scoring. He's averaging 40.6 points on 61 percent shooting in his last five games. He's also helped extend the Knicks' winning streak to a season-high 13 games. Anthony not only leads the league in points per game, he's also first in points per 48 minutes and third in free throws per 48 minutes.
Do I think Anthony can catch James? No. But I do believe that if he continues to play this well for the last five games, he could finish as the runner-up.
#2 – Kevin Durant – Oklahoma City Thunder
28.3 points, 7.9 rebounds, 4.5 assists, 1.4 steals, 1.3 blocks
Although he's now second in the NBA in scoring behind Anthony, Durant has still managed to string together some pretty impressive games as of late. On Tuesday, Durant was one assist away from recording his fourth triple-double of the season in the Thunder's 90-80 win over the Utah Jazz. On Friday, Durant scored 34 points while shooting 61 percent from the field in a win against the Indiana Pacers. Durant has scored at least 20 points in the Thunder's last 16 games.
What separates Durant from everyone not named LeBron is Durant's historic shooting this year. He's shooting 50 percent from the field, 41 percent from the three-point line and 90 percent from the free throw line. Durant would be the sixth player in NBA history to join the 50-40-90 club if he's able to keep this pace. He's has also improved in every major category besides rebounding from last season.
Regardless of his accomplishments this season, it won't be enough to catch James for the MVP. Motivation for next season perhaps?
#1 – LeBron James – Miami HEAT
26.9 points, 8.1 rebounds, 7.2 assists, 1.7 steals, 0.9 blocks
It's hard to argue against James for MVP if you consider that James has won the NBA's Player of the Month award for five straight months (November-March). While James probably won't win April due to rest, no player in NBA history has won the award five months in a row.
If that doesn't convince you, James is fourth in points per game, seventh in field goal percentage and 10th in assists per game. He's also the only player with a player efficiency rating in the 30's. Despite winning the MVP last season, James improved his field goal percentage (56 percent), three point percentage (40 percent), rebounds per game, assists per game and turnovers per game (3.0).
On top of the HEAT holding the best record in the NBA, James is having the best season of his career. With a second consecutive NBA championship in his sights, James will likely win the MVP convincingly.
Honorable Mentions:
Tony Parker, San Antonio Spurs: 20.6 points, 7.5 assists, 3.0 rebounds, 0.8 steals
James Harden, Houston Rockets: 25.9 points, 5.9 assists, 4.8 rebounds, 1.8 steals
Will LeBron James win the MVP award unanimously? Can Carmelo Anthony catch Kevin Durant? Does Kobe Bryant deserve to be in the top five? Who's your pick for MVP after 23 weeks? Leave your thoughts in the comment section below! Check back next week for the final MVP watch for the 2012-13 NBA season.
Also, don't forget to cast your vote for the MVP using #KiaMVP. The fan votes will be tallied and count as one vote out of 123 total votes.