NBA MVP Watch: March 7th
LeBron James once again sits atop the list of 2012-13 NBA MVP candidates. The Miami HEAT continued their dominance in the 18th week of the season. Their winning streak now stands at 15 games and with three of the HEAT's next five games against teams that are below .500, the schedule is pretty favorable.
The HEAT are currently 18 wins away from tying the record for longest winning streak in an NBA season, but they're just seven games from catching the 2007-08 Houston Rockets for second place. While James has been playing out of this world this season, Dwyane Wade has also been stellar for Miami. In his last five games, Wade is averaging 27.4 points, 7.8 assists and 6.4 rebounds. Wade has made it into the honorable mentions for the first time this season.
Here are this week's top five candidates for the 2012-13 MVP:
#5 – Kobe Bryant – Los Angeles Lakers
27.4 points, 5.5 assists, 5.4 rebounds, 1.3 steals
For the second week in a row, Kobe Bryant sits in the fifth spot. He continues to carry the Los Angeles Lakers, and last night he contributed 42 points, 12 assists and seven rebounds in the win over the New Orleans Hornets. In the Lakers last six games, Bryant is averaging 34.0 points, 6.5 rebounds and 5.1 assists. Kobe ranks first in the NBA in minutes played this season. While the injury that Bryant recently sustained doesn't seem serious, the Lakers will need Kobe to be on his A-game for the remainder of the season if they want to sneak into the playoffs. Since the All-Star break, the Lakers are 5-2 and have shown signs of the team that many thought they would be this season.
#4 – Tony Parker – San Antonio Spurs
21.0 points, 7.6 assists, 3.1 rebounds, 0.9 steals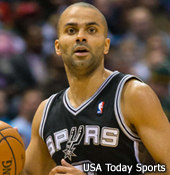 As Tony Parker traded in his kicks for crutches on Saturday, the Spurs didn't seem to miss him all that much on Sunday night when they embarrassed the Detroit Pistons, 114-75. While Parker is having one of the best seasons of his career, this Spurs team owes most of its praise to head coach Gregg Popovich. The Spurs are 4-1 when Parker isn't in the lineup this season. They're also 17-3 when either Parker, Tim Duncan or Manu Ginobili aren't in the lineup this season. It's a testament to how deep this team is and how well they're coached. Regardless of the Spurs' success without their superstars, Parker leads the team in scoring and assists. He also ranks sixth in the NBA in assists, ninth in points scored and sixth in assist-to-turnover ratio. Parker's ability to slash and kick out to any one of the Spurs' sharpshooters is key to the success of this team this season. They may be able to win some games without him in the regular season, but the Spurs are going to need Parker at full strength in order for them to go deep into the postseason.
#3 – Chris Paul – Los Angeles Clippers
16.4 points, 9.5 assists, 3.6 rebounds, 2.5 steals
What makes Chris Paul so dangerous is the fact that he can change his game depending on what the Clippers may need each night. On Thursday night, Paul showed off the scoring side of his game by putting up 29 points on 61 percent shooting. The very next day, CP3 decided to be the facilitator. He dished out 15 assists and had no turnovers. Both of these games were victories for the Clippers. Paul is currently leading the league in assists-to-turnover ratio, steals and assists per 48 minutes. He trails only Rajon Rondo in assists per game. Paul should receive some MVP votes, but it would take an astonishing run by the Clippers for Paul to catch Kevin Durant for second place. Still, the Clippers currently have the fourth-best record in the NBA and they seem built to make a strong run in the playoffs this year.
#2 – Kevin Durant – Oklahoma City Thunder
28.6 points, 7.9 rebounds, 4.6 assists, 1.6 steals, 1.3 blocks
Yes, Kevin Durant leads the NBA in points per game. He is third among small forwards in assists and fifth in the league in defensive rebounds. Durant also has three triple-doubles this season. He's done everything this year. What has impressed me the most about Durant is the fact that he is shooting at least 50 percent from the field, 40 percent from the three-point line and 90 percent from the free-throw line. The Thunder also have the second-best record in the Western Conference. But even after all of those amazing statistics, Durant is still miles away from catching LeBron James for the MVP this season.
#1 – LeBron James – Miami HEAT
27.0 points, 8.2 rebounds, 7.2 assists, 1.8 steals
LeBron James is having one of the more impressive seasons we've seen since Michael Jordan retired from the NBA. Here are some of the things that James and the Miami HEAT have been able to accomplish this season.
To start the 2012-13 season, James scored at least 20 points in the HEAT's first 33 games.
In late December, LeBron went six games without committing a single foul.
In February, James set an NBA record with at least 30 points on 60 percent shooting in six consecutive games.
The HEAT are currently on a franchise-record 15-game winning streak.
Not only does James look to be on pace for his fourth MVP award, the HEAT, who have the second best record in the NBA, are playing like a team that is ready to defend their NBA championship.
Honorable Mentions:
James Harden, Houston Rockets: 26.2 points, 5.7 assists, 4.8 rebounds, 1.9 steals
Dwyane Wade, Miami HEAT: 21.7 points, 5.1 rebounds, 5.0 assists, 1.6 steals
Is LeBron James having the best season of his career? Will Tony Parker's injury influence voters at the end of the season? Does James Harden deserve to be in the top five? Who's your MVP after 18 weeks? Leave your thoughts in the comment section below! Check back next week to see who moved up and down in the race for the 2012-13 NBA MVP.
Cast Your Vote: Click here and
Tweet #players name and the hash tag #dunkuary