NBA PM: 2013′s Most Underrated Addition
VIDEO OF THE DAY – Josh Kroenke
Nuggets' president Josh Kroenke talks about his team's offseason, the direction the franchise is taking and what he expects this season.
Watch More Video Here
Andrew Bynum: The Offseason's Most Underrated Acquisition
This offseason, an All-Star center joined an up-and-coming team and, if all goes as planned, this dominant big man will take the franchise to another level. After all, when healthy, this center is one of the best interior presences in the league. The 7'0 star will be playing alongside an electrifying guard, who has established himself as one of the NBA's most exciting scorers despite being relatively young.
No, that paragraph wasn't about Dwight Howard joining the Houston Rockets. It was about Andrew Bynum joining the Cleveland Cavaliers, which may ultimately go down as the most underrated acquisition of the 2013 offseason.
Bynum signed a partially guaranteed deal with Cleveland that will pay him between $6 million and $24.79 million over the next two years. Only $6 million of the first season is guaranteed and none of the money is guaranteed in the second season.
This is a low-risk, high-reward signing for the Cavaliers. If it doesn't work out, the Cavaliers only wasted $6 million and a roster spot on Bynum. If it does pan out, Cleveland may be getting one of the best centers in the league at a discount price. And unlike in previous years, Bynum must stay healthy and perform at a high level if he wants to get his big payday.
The Cavaliers are determined to make the playoffs in the 2013-14 season, which is why they were willing to take a chance on Bynum. Cleveland believes that Bynum is exactly what they need – a low-post presence who can attract double-teams and form an inside-outside attack with Kyrie Irving. At his introductory press conference in mid-July, Bynum said that the Cavaliers are "definitely a playoff team" before adding that he's "definitely excited about this roster."
Bynum's resume is certainly impressive, with two championship rings, an All-Star appearance and All-NBA Second Team honors under his belt. It's even more impressive that he achieved all of these things before his 25th birthday and while dealing with numerous injuries.
Those injuries are the reason that more teams weren't lining up to sign Bynum when he was testing free agency this summer, but he should be healthy after taking the entire 2012-13 season away from basketball. He didn't play a single game for the Philadelphia 76ers last year, but let's not forget just how effective Bynum was the last time he was able to take the court.
Two years ago, Bynum averaged a career-high 18.7 points and 11.8 rebounds en route to his first All-Star selection. The center also posted the best efficiency rating of his career (23.00), which ranked ninth among all NBA starters. Only LeBron James, Chris Paul, Dwyane Wade, Kevin Durant, Kevin Love, Dwight Howard, Blake Griffin and Derrick Rose finished with higher PERs. It was the best season of Bynum's seven-year career, and a legitimate argument could be made that Bynum was the best center in the league.
One of the biggest reasons for Bynum's breakout campaign was the hiring of Mike Brown as the Los Angeles Lakers' head coach. Brown made Bynum a focal point of the Lakers' offense, increasing his minutes and touches. Under Phil Jackson in 2010-11, Bynum played just 27.8 minutes per game and attempted just 7.6 shots per game. In his lone season with Brown, Bynum averaged 35.2 minutes and 13.3 attempts. Now, with Brown and Bynum reuniting in Cleveland, it's not hard to imagine the center duplicating that success. Bynum may even be able to top those numbers since he'll have an increased role in Cleveland, no longer playing in the shadows of Kobe Bryant and Pau Gasol. Irving should also make life easier for Bynum, who has spent most of his career with Derek Fisher as his floor general.
If Bynum succeeds in Cleveland and becomes a long-term answer at center for the team, he'll reach his prime around the same time as his young teammates Irving, Tristan Thompson, Dion Waiters and others. Because Bynum entered the NBA straight out of high school and is approaching his eighth season, it's easy to forget that he's only 25 years old and still has a lot of room to grow as a player.
The Cavaliers may enter the 2013-14 season with one of the most talented – albeit most fragile – frontcourts in the league. Not only have they added Bynum down low, they'll get Anderson Varejao back from the blood clotting issue that sidelined him for all but 25 games last year. Much like Bynum, Varejao was playing at an All-Star-caliber level before an injury got in the way, averaging a career-high 14.1 points, 14.4 rebounds, 3.4 assists and 1.5 steals.
If both of these players can return to form and avoid injuries, Cleveland will have two skilled big men down low who can make their presence felt on both ends of the court. In a league starved for big men, that would give them a huge advantage over most teams (literally and figuratively).
While the Cavs' acquisition of Bynum didn't receive nearly enough press this offseason, it could be the move that puts Cleveland over the top and solidifies them as a playoff team in the Eastern Conference. The Cavaliers scooped a well-rested, top-tier center out of the bargain bin and gave him a contract that can easily be shredded if things don't go as planned.
Howard to Houston may have been the biggest addition of the summer, but Bynum to Cleveland may have been the most underrated.
Loading ...
Grizzlies Expected to Increase Tempo
From a personnel standpoint, the Memphis Grizzlies will look very similar entering the 2013-14 season. While the team added role players like Mike Miller and Kosta Koufos to the roster, they didn't make any significant changes to their core.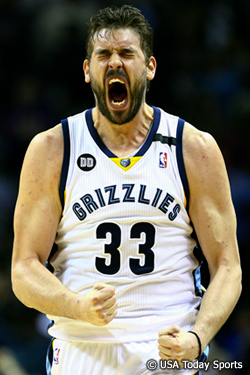 On the sideline, however, there will be some changes.
Rather than bringing back head coach Lionel Hollins following last year's franchise-best 56-win season and run to the Western Conference Finals, the organization decided to go in a new direction. Hollins' contract wasn't renewed and he was replaced by first-year head coach Dave Joerger. Joerger had been on Hollins' staff, but this will be his first time stepping into the head coaching role.
One of the changes that will come with Joerger's promotion is a faster pace, according to Grizzlies star Marc Gasol.
"He's going to push the tempo and have a lot of plays from his pocket that he's told me [about]," Gasol told ESPN.com. "And I'm excited about next season."
Joerger's familiarity with the Grizzlies' players should help make his transition down the bench easier.
"Coach Joerger has been there for six years; he knows us pretty well," Gasol said. "He knows how we play. He knows us personally, how we like to play basketball. He, of course, wants to push the tempo, which has been a problem for us, getting up and down the floor to score easy buckets. Because when you always go inside, everybody collapses on you in the paint and it's hard to operate down there."
While it's always tough for a team to lose their head coach, the Grizzlies are trying not to focus on that as they prepare for the season.
"Lionel, we had a lot of ties with him," Gasol said. "It's been an emotional process. But one thing Lionel taught us was never to make excuses, and we're not going to do that now."
The Grizzlies open their season on Oct. 30 against the San Antonio Spurs, the team that swept them in last year's Western Conference Finals.