NBA PM: Best Friends Reunite in Philly
Arron Afflalo - VIDEO OF THE DAY
Magic guard Arron Afflalo talks about his off-season, getting healthy and dealing with trade rumors.
Watch More Video Here
Nerlens Noel, Michael Carter-Williams Reunite in Philly
Michael Carter-Williams dribbled the ball up the court and made eye contact with Nerlens Noel. They were the two most athletic and talented players on the court, but their biggest strength seemed to be that they were always on the same page. In this instance, they were in sync for an alley-oop. Carter-Williams waited for Noel to spin around his defender and then lobbed the ball toward the basket. Noel swiped the ball out of midair, slamming it with authority and shaking the backboard.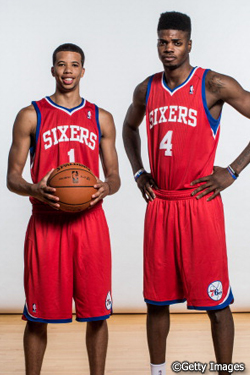 While this sounds like something out of a Philadelphia 76ers practice, this sequence occurred years ago. Long before Carter-Williams and Noel were teammates on the 76ers – long before Noel had the recognizable flattop – they were playing side by side on the same AAU team. The duo played for the Boston Amateur Basketball Club, one of the most prestigious AAU teams in the country. They were coached by Leo Papile and were a dominant duo, as expected.
The two players had an excellent connection on the court, but they were even closer off of the court. They were thrilled when, on draft night, the 76ers acquired both of them. After all of these years, they can't believe that they're reuniting in Philadelphia. Sixers general manager Sam Hinkie did his homework on the players and wanted them to be the cornerstones of his franchise for years to come.
"I'm really excited," Carter-Williams said. "Me and Nerlens grew up together.  We're best friends.  We played on the same AAU team in high school.  It's like a dream come true.  We always talked about how we were both going to make it to the NBA.  For us to end up on the same team is a blessing.  It means a lot. … I played two or three years with Nerlens. I was surprised he went sixth, but it's how things end up. It was meant to be. I'm sure he has a chip on his shoulder now, and who knows, maybe that's what he needed for him to be great in the NBA. Maybe this pushes him to work harder. That's what it should do for him. I know he's happy as ever to play with me, also. So to look at it in that perspective is great."
"Once I got back to the room, I had heard that Michael Carter-Williams had gotten drafted by the Sixers as well and I was just thinking, 'What are the odds of that? What a coincidence,'" Noel said with a smile. "Sam is just a genius, thinking of something like that – drafting two players who played AAU together and already have a great relationship. And it's the point guard and big man relationship too, which is big. You have to give Sam a lot of credit for that, for building that as the foundation of the organization."
The 76ers are clearly in rebuilding mode, trading away All-star Jrue Holiday and building around rookies. However, Hinkie believes he's assembling one of the best up-and-coming cores in the league, taking a step back in the short-term in order to form a very strong young nucleus in the long-term.
"As the draft started this year, we were very focused on finding more talented players to add to our team, finding players who are hard workers and compete every day, finding players who could add to this pipeline of what we're trying to build here in Philadelphia," Hinkie said."This is a really big step for us."
Carter-Willians and Noel are excited to be the faces of the franchise in Philadelphia.
"I'm ready," Carter-Williams said. "I think I'm a quick learner and I'll adapt to the NBA fast. I have the keys to the car. I have a lot of confidence in myself, and Philadelphia has a lot of confidence in me.  I'm going to go there and play my best.  I'm just going to go out there and perform every night like I can. … There is some pressure there, no doubt about it, but I'm just going to use it as motivation and just work hard every day to try to get better and better. I've been dealing with a lot of pressure coming from Syracuse and having the ball in my hands my sophomore year after a bunch of guys left, and it was my job to lead the team. It's not the exact situation, but it's a similar situation. I'm just going to do my best."
"I definitely feel that I'm ready," Noel said. "It's going to be a lot of pressure, but I feel that if I perform at my highest level then the pressure will be gone. I'm definitely ready to take that on and face that challenge. There will be no excuse to not progress the way that I want to progress. Basketball will be the number one priority. That will be my main focus and it's going to take up most of my time. I'll be able to really work on it as a craft and bring my development along."
Both players are aiming for greatness, hoping to eventually become one of the best players at their respective positions.
"If I want to be the player that I want to be, those high expectations are going to be there – that comes with wanting to be great," Carter-Williams said. "I think that me being a bigger guard helps me out a lot. I can defend well, see over the little guards and rebound well. I think offensively, I have a point guard mindset. I've come from the point guard position. I think on the defensive end since I'm a bigger guard, I'm going to be able to defend two or three positions. Either way, basketball is basketball, but I think that I'm a point guard at heart."
"I definitely feel that way," Noel said when asked if he can become one of the NBA's elite players. "I know it will take a lot of work, but I definitely want to put the time and work in to be one of the top players in the NBA. That's a dream come true and I'll definitely take advantage of it so I definitely feel that I can become one of them and reach my full potential. I definitely feel that I can be [the best defender in the league]. I have to do a lot of work and make sure I bring it every night, but I think I can get there."
When Carter-Williams and Noel were younger, they imagined that they were Jason Kidd and Kevin Garnett, dominating their high school peers.
"Growing up, I always modeled my game after Jason Kidd in his prime," Carter-Williams said. "He was a great defender, and I think I'm capable of being a great defender. He passed the ball really well. Of course our games are a little bit different, but we have that foundation. Also, he's a winner and I like to win. Every team I've been on, we've gone pretty far and competed and won pretty much everything."
"I definitely try to watch Kevin Garnett a lot, and I definitely try to model my game after him," Noel said. "I try to play how he plays, especially on defense and especially his passionate nature. I've been watching him play and studying his game from a young age."
The duo can't wait for the season to get started. While Noel likely won't make his Sixers debut until closer to December, he and Carter-Williams are anxious to get back on the court together and attempt to duplicate their AAU success.
"I'm looking forward to it," Carter-Williams said. "I know it's going to be a learning experience. We're going to have a lot of young guys, but we're also going to have some veterans so we're going to learn from them. We're just going to try to bring everything together as a team and be the best we can."
Jeff Teague Expecting Breakout Season
After signing a four-year, $32 million deal with the Atlanta Hawks earlier this offseason, Jeff Teague can't wait for the season to start and live up to his new contract. He believes he's going to have a breakout year for the Hawks.
"It's definitely a relief [getting the contract situation out of the way]," Teague said earlier this offseason. "I have a lot of expectations for myself and I just want to keep getting better every year. I've been doing that so far so hopefully it just continues. The sky is the limit. I just have to go out there and do what I do. It's all about opportunity and my opportunity is here. I just got to seize the moment and do what I do. I have a great team for this opportunity and a great coaching staff behind me.
"I definitely want to step into that leadership role. It's part of the business, you get new teammates every year. It just happens to be a whole new team this year. But I'm excited for the opportunity and I'm ready to work with all of the guys. I'm excited to get to training camp."
As a restricted free agent, Teague signed an offer sheet with the Milwaukee Bucks. The Hawks matched the offer and kept him from joining the Bucks, but Teague believes everything worked out for the best.
"I understand it's a business so I don't take it personally or anything like that," Teague said. "I knew Atlanta loved me and I knew Milwaukee wanted me to so I was really comfortable with either situation. Now, I'm glad to be a Hawk again. This summer, I've just been working on getting better at everything and trying to stay injury free."
Last season, the Hawks exceeded expectations, winning 44 games despite the fact that they had traded Joe Johnson and taken on a lot of short-term contracts. Teague has gotten used to being overlooked, and he believes the team will exceed expectations again this year.
"Every year we get written off," Teague said. "Every year. We weren't supposed to make [the playoffs] last year either. I love it. Last year, they told us that we weren't going to make it because we had all free agents and one-year contract guys. We weren't supposed to do too much. We weren't supposed to do anything. But I think we had a pretty good season, and I expect the same thing this year."